VietNamNet Bridge – Most of the members of the list of 40 under-40 richest millionaires in Vietnam have made their fortunes through inheritance. Some others built their assets themselves, starting business at an early age.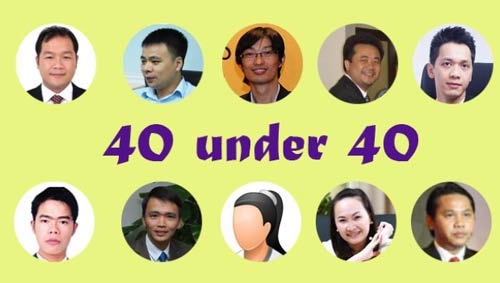 VnExpress, an online newspaper, reported that 395 individuals had stock assets worth one million dollars and more by the end of 2014. This means that 80 new names have been added to the list of Vietnamese stock market millionaires.
The figure was released after the newspaper and its partner – VnDirect Securities Company – analyzed the securities accounts of more than 8,000 individuals who hold shares of companies listed on the Hanoi and HCM City bourses.
The total assets of the millionaires are worth VND96.4 trillion, an increase of VND16.24 trillion over the last year. Meanwhile, the total assets of the 100 richest millionaires have reached VND81.68 trillion, increasing by 15 percent.
The majority of the richest stock market millionaires are aged between 45 and 60. However, some are under 40 years old. Some others now hold important positions in big enterprises.
The total assets of the 40 under-40 millionaires, if calculating in accordance with the December 25 stock closing prices, are worth VND6.8 trillion. The figure is still a little lower than the asset of Doan Nguyen Duc, chair of Hoang Anh Gia Lai Group, which has invested in many different fields, from real estate to agriculture projects. Duc was the second richest stock millionaire in 2013.
The richest person on the list of 40 under-40 millionaires reportedly holds the volume of shares worth VND952 billion, while the 40th position of the list belongs to one who has VND29 billion worth of stocks.
Of the 40 millionaires, many are siblings, including Tram Trong Ngan, Tram Thuyet Kieu and Tran Khai Hoa, who are all children of Tram Be, a well known banker and one of the most influential Vietnamese businessmen.
There are also other famous names on the list, including Tran Phuong Ngoc Thao and Tran Phuong Ngoc Giao of the Phu Nhuan Jewelry Company, and Dang Hong Anh and Dang Huynh Uc My, the members of the famous family of Dang Van Thanh, the founder of Sacombank. However, Thanh has quit the banking sector and gathered his strength in the sugar industry.
Of the top 10 under-40 millionaires, four have assets created by themselves, not through inheritance. They are Dinh Anh Huan and Dieu Chinh Hai Trieu from The Gioi Di Dong, the largest mobile phone distribution chain in Vietnam, and Trinh Van Quyet and Le Van Huong from JVC.
Kim Chi