Automobile imports near record high
The total import turnover of Completely Built-Up (CBU) automobiles in Viet Nam this year reached US$1.446 billion, which nearly matched the record level of $1.5 billion.
Further, the General Department of Customs revealed that the country imported 66,025 vehicles, as of December 15.
The General Statistics Office estimated last month that the total import turnover of automobiles in the first 11 months of the year would be $1.292 billion with 60,000 units. However, the latest figure disclosed by the General Department of Customs reflected different data from estimates. The most recent figures showed that the country reached 61,595 units, with a turnover value of $1.345 billion.
Moreover, the amount attained this year would reach a record level of imported automobiles, as estimated figures were double those of last year, in terms of both quantity and value.
In addition, imported automobile prices nearly reached $40,000 per unit. This amount followed those in Russia and the United States.
Further, the latest numbers announced by the Viet Nam Automobile Manufacturers Association revealed that the assembled and CUB imported units into Viet Nam in the first seven months of the year rose by 24 per cent and 62 per cent, respectively, compared with the same period last year.
Central Institute for Economic Management Deputy Director Vo Tri Thanh added that the local automobile sector has not chosen a suitable development strategy.
The sector's strategy should be based on two basic factors — economic scale and association.
Thanh noted that the local sector had been disorganised in its manufacturing processes, opening markets and trade liberalisation.
Truong Dinh Tuyen, former minister of Industry and Trade, said that Viet Nam's automobile industry has not created competitiveness, though automobiles brought high profits and diversified market demands.
Tuyen said that tax protection should not be the sole tool offered to the enterprises, if the country wants to develop the sector.
However, Viet Nam should maximise automobile production costs to develop the industry, he added.
Oil refinery exceeds annual targets
Binh Son Oil Refinery Co Ltd reported at a conference on Wednesday that it produced 5.81 million tonnes of oil this year, earning VND127.8 trillion (around US$6 billion) or 128 per cent of its yearly target.
In 2014, the company imported 6.4 million tonnes of crude oil, completing 119 per cent of its yearly plan.
The company contributed VND23 trillion ($1.1 billion) to the State budget, surpassing its plan by VND11 trillion ($524 million). Located in the central province of Quang Ngai, the Binh Son Co's Dung Quat Oil Refinery has imported 33.6 million tonnes of crude oil and achieved output of 30.6 million tonnes since it opened. The firm aims to produce more than 5.86 million tonnes of various products and earn VND120.6 trillion ($5.7 billion) in 2015.
At the conference, the company was also granted an investment certificate to upgrade and expand the refinery. The $1.9 billion expansion will increase annual capacity by 2 million tonnes to 8.5 million tonnes.
The company began providing bio-fuel E5-RON 92 in July in seven cities and provinces, in accordance with the bio-fuel development roadmap approved by the Government.
Supply Chain Day to be organised in April
Following the success of World Supply Chain Day, which started in 2008, the Viet Nam Supply Chain Community plans to mark the day on April 16.
Events include open days, debates and visits to schools and colleges. Promotional videos and blog posts will highlight opportunities in the logistics and supply chain field.
More than 650 companies took part in a similar event in Germany last year, offering participants first-hand experience in the world of supply chains. VSC will be the primary contact point for all Viet Nam-based Supply Chain Day activities. The event is held under the umbrella of the European Logistics Association & BVL.
Quang Ninh to build $128m industrial park
Nam Tien Phong Industrial Park and Seaport will be built next year in the northern province of Quang Ninh.
A joint venture between Hong Kong's Rent A Port and Infra Asia Investment Limited and Belgium's International Port Engineering and Management, the US$128 million project will take up 487ha in Quang Yen town and feature modern technological infrastructure.
Speaking at the license granting ceremony on Wednesday, chairman of the provincial People's Committee Nguyen Van Doc asked local authorities to provide all possible support in site clearance, making it easy for construction to begin soon.
RoK – largest investor in Vietnam for 2014
The Republic of Korea (RoK) is Vietnam's largest investor for calendar year 2014, according to the latest statistics from the Foreign Investment Agency (FIA), under the Ministry of Planning and Development.
The total inbound newly-registered and supplementary FDI from RoK enterprises reached US$7.32 billion for the year, accounting for 36.2% of  foreign cumulative investment.
The RoK was followed by Hong Kong, Singapore and Japan in second, third and fourth places, respectively.Among the 50 cities and provinces nationwide attracting FDI, Thai Nguyen, Ho Chi Minh City and Binh Duong topped the list.
As of the end of the year, the number of new FDI projects jumped 9.6% over the end of 2013 to1,588 projects with registered FDI of US$15.64 billion.
The total number of supplementary projects added during the year was 594 with registered FDI of US$4.58 billion.
The manufacturing and processing sector led in attracting foreign investment with 774 new projects and FDI of US$14.49 billion, followed by the real estate and construction sectors.
Vietnam Airlines runs first int'l flight at new terminal
The national flag carrier Vietnam Airlines on December 25 officially operated its first international flight at the Noi Bai International Airport's new terminal T2.
The flight, coded VN661, took off at 10:45am (local time), bringing passengers from Hanoi to Singapore.
All areas serving Vietnam Airlines' flights are well-arranged and equipped with modern facilities, providing the best conditions for passengers.
At the new wing of the Noi Bai Airport, the airline has studied and installed an information technology system serving the operation of modern aircraft such as A350 and B787.
As planned, its international flights from Hanoi to Singapore, Kiaohsiung and Taipei (Taiwan) and Kuala Lumpur (Malaysia) will depart and land at the new terminal from December 26.
The four-storey terminal was built at a cost of 960 million USD. It can serve 10 million passengers each year, significantly reducing the burden on the existing terminal, which saw 12 million passengers last year.-
Agriculture exports hit 31 billion USD
The agricultural sector has recorded an export turnover of nearly 31 billion USD this year, a year-on-year increase of 11.2 percent, the Ministry of Agriculture and Rural Development reported on December 25.
Among the high export revenue earners were coffee, cashew, pepper and rice, the ministry said at a workshop held to review the sector's performance this year and discuss plans for next year.
Farm produce topping the 1 billion USD export mark include rice, coffee, rubber, fruits and vegetables, shrimps, tra fish and forest products, the report said.
It was the first time that the export of Vietnamese fruits posted a turnover of more than 1.5 billion USD, a year-on-year increase of 34.9 percent.
The agriculture sector's GDP growth rate was 3.3 percent, higher than the set target of 3.27 percent.
The results can be attributed to positive changes made in the agricultural restructuring process and effective implementation of the national programme on building new rural areas, said Agriculture Minister Cao Duc Phat.
Better disease prevention and control has also helped, he said.
Welcoming the achievements, Deputy Prime Minister Hoang Trung Hai said the agricultural sector still had great potential and advantages for further development.
He said this year's positive results would create the momentum needed for strong development of the sector in 2015.
However, he also pointed to several shortcomings.
Farmers' incomes remained low, the application of science and technology in agricultural production still lagged behind, there was gap between research work and their application in the field, and a lack of linkages between farmers, scientists and businesses, he said.
Hai said the agriculture sector needs to continue its restructuring process, increase output and quality of produce, and become more competitive.
He said the sector should implement policies to attract investment into processing and stressed the need to develop more export markets for farm produce.
Minister Phat said that the sector aims to increase its production value by 3.5-3.7 percent in 2015 and reach an export turnover of 32 billion USD.
Towards this, there would be added focus on research to produce better crop varieties, apply modern technology in processing and preservation as well as reducing post-harvest losses, the Minister added.-
Banknetvn and Smartlink officially merged
The two largest payment card networks in Vietnam, Vietnam National Financial Switching Joint Stock Company (Banknetvn) and Smartlink Card Services Joint Stock Company (Smartlink), were officially merged on December 25.
The two firms started merging works since 2012 under the direction of Governor of State Bank of Vietnam (SBV).
On December 22, 2014, the Prime Minister allowed the pair to enjoy a 5-year economic concentration status. Another 5-year extension will be automatically awarded if no breaches are found.
Speaking at the merger contract signing ceremony, SBV Deputy Governor Nguyen Toan Thang expected the merged company would complete several key tasks, notably building a national standard for chip cards to be compatible with international ones and ensure national benefits at the same time.
He expressed his hope that the alliance will open up opportunities for the development of smart card payment in Vietnam and become a regional rival.
The firm will examine and rearrange the commercial banks' ATM and POS systems to improve the effectiveness and service quality, reduce costs and develop added-value services on a unified switching system.-
Can Tho enjoys 970 million USD trade surplus
The Mekong Delta city of Can Tho recorded a trade surplus of 970 million USD in 2014, according to the municipal Department of Planning and Investment.
The city earned 1.35 billion USD from exports while spending 380 million USD on imports.
Duong Nghia Hiep, Vice Director of the municipal Department of Industry and Trade, attributed the performance to the city's efforts to boost the promotion and production of key export items, namely rice, seafood and garments. The three items brought a combined turnover of 950 million USD, making up a 70.3 percent of the locality's total export this year.
Dong Nai aims for 1 billion USD in trade surplus in 2015, with its total export of 14.4 billion USD, up 14 percent, and import of 13.2 billion USD, a 9 percent rise.
Falling crude price to positively influence VN's economy
Fall in price of crude oil would positively influence the Vietnamese economy, helping the country gain stronger growth in 2015, commented an article posted in The Diplomat, a magazine specialising for the Asia-Pacific region affairs.
The article, run on December 23, said given the fact that crude oil exports account for about 10 percent of Vietnam 's state budget, Minister of Planning and Investment Bui Quang Vinh held that at each US dollar drop in the price per barrel would mean a concurrent drop of between roughly 46 USD to 56 million USD in the budget.
The country is now much less reliant on oil exports for revenues than it was before, with the current 10 percent a far cry from the previous 20-25 percent rate, stated Vinh.
The article quoted experts' opinions as predicting that the impact on the State budget may also be offset in 2015 by other positive effects on economic growth for Vietnam , which exports around 16 million tons of crude oil but also imports 10 million tons of petroleum products annually. Reduced spending on imported petroleum products may mean lower inflation in 2015.
All in all, Glen B. Maguire, ANZ bank's chief economist for the Asia-Pacific, said the oil price would have negligible impact on GDP growth in Vietnam in 2015 relative to other economic factors. Maguire said he expects that even if the oil price declines by 10 percent for four successive quarters, Vietnam's GDP will only lose 0.1 percent while inflation would be cut by 2.6 to 2.7 percent.
Meanwhile, the Asian Development Bank recently raised Vietnam 's projected GDP for 2015 from 5.7 percent to 5.8 percent, citing loosened credit conditions and improved domestic investment.
Frontier Strategy Group (FSG) predicts that Vietnam 's GDP growth in 2015 could rise from the current forecast of 5.9 percent to 8.5 percent, and that oil prices stabilising at 50 USD per barrel in 2015 could in fact propel this rate to over 10 percent. FSG attributes this to significant improvements in consumer spending power and business margins.
The Vietnamese government could also take steps to help mitigate potentially negative economic effects. Already, earlier this month the Ministry of Finance raised tariff caps on petroleum products to help offset a state budget deficit.
Other measures could be mulled, including selectively reducing drilling activities if prices fall further as it would reduce the profitability of some oil exploitation for companies like the national oil and gas giant PetroVietnam. This could prove trickier, however, as Vinh, the minister, said that a reduction of oil output by 30 percent would cause GDP to fall by between 0.8 to 1.2 percent in 2015.
Coffee meets new standards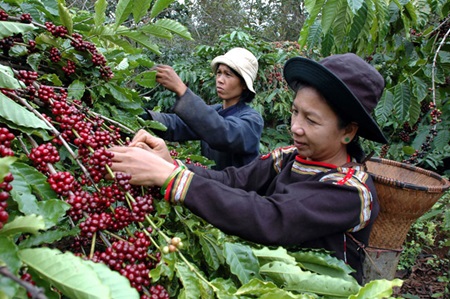 Around 19,000 coffee farmers in Vietnam have adopted the international 4C (Common Code for Coffee Community) standards for sustainable production and trading with assistance from authorities and food giant Nestle.
The number is up 51 percent year-on-year, according to a report on their programme dubbed NESCAFE Plan by Nestle Vietnam and Western Highlands Agriculture and Forestry Science Institute.
In the last three years, they have organised 923 training courses for farmers in Dak Lak, Dak Nong, and Lam Dong provinces in modern methods to lower their costs and improve their skills.
The programme has also offered technical assistance to 31,000 farmers.
Le Quang Dung, a coffee farmer in Dak Nong province's Dak Wer commune, said by taking part in the programme and training courses, farmers like him have progressively improved their practices so that they can grow produce meeting international standards.
Around 20,000 hectares have been certified as adopting 4C standards, twice last year's figure under the programme.
These standards have enabled Vietnamese farmers to sell their coffee at higher prices in the world market.
The standards, developed by the Germany-based 4C Association, are a set of social, environmental, and economic principles that farmers must comply with to progressively improve sustainability.
Compliance helps them also increase output and protect the environment.
Coffee is one of Vietnam's key agricultural exports, with 90 per cent of the output being shipped abroad, according to the Vietnam Coffee and Cocoa Association. The country exported 1.66 million tonnes of coffee for 3.4 billion USD this year, an increase of 17.2 percent in volume and 12.5 percent in value.
Private equity investors keen on Vietnam
Private equity investors are paying more attention to Vietnamese market and ready to put additional resources here in expectation of better long-term returns, according to the Grant Thornton global private equity report 2014-2015.
The report made reference to the bi-annual 12th survey that was conducted in the fourth quarter, 2014, involving decision-makers and investors working in the private equity (PE) sector both in and outside Vietnam.
In the survey, respondents' positive sentiment towards the economy achieved its highest response rate in the last two years, reaching 72 percent.
They intend to maintain or even increase investment fund allocation to Vietnam, in the next 12 months, with responses by 64 percent and 87 percent, respectively.
Education, real estate, food & beverages, and retail are, again, the leading sectors which are seen as especially attractive for investment.
While the role of market growth as a driver of value growth increased from 35 percent to 43 percent among respondents, performance improvement decreased from 49 percent to 35 percent, reflecting the current market condition.
When considering an investment into a Vietnamese private company, transparency in business activities is considered the most important factor with 21 percent of the respondents choosing this category, showing no change compared to the last survey.
Twenty percent of respondents said they are concerned most about corporate governance in Vietnam.
There is an increase among respondents to 41 percent who believe the cost of debt will decrease slightly in the next 12 months.
Nevertheless, the economy is still facing many challenges, including slow reforms in the state-owned sector, inadequate infrastructure, difficulties in obtaining debt financing, corruption, and the complications in government red tape and legislation.
In terms of unattractive ranking, there is a portion of respondents who no longer see the country as a potential destination (5 percent compared to nil in the last survey).
According to the ASEAN Business Outlook Survey conducted by the American Chamber of Commerce in Singapore, the most attractive countries for new business expansion are Indonesia, followed by Vietnam and Myanmar.
Lam Dong moves to expand trade
The Central Highlands province of Lam Dong organised a trade promotion conference on December 25 with a view to inviting more investors to the locality and the region at large.
The conference brought together 200 domestic and foreign businesses, which reached 16 deals covering various industries.
Lan Dong, Dak Lak, Dak Nong, Gia Lai and Kon Tum form the Central Highlands region with a population of over 5.4 million people, 25.7 percent of which are ethnic minorities.
In the first nine months of 2014, the Central Highlands have over the past nine months attracted 177 FDI projects with a total registered capital of 926 million USD, 66 percent of the capital went to Lam Dong.-
Thai Nguyen posts record economic growth
The northern province of Thai Nguyen posted an economic growth of 18.6 percent this year, 3 percent higher than the set target, and the highest annual rate ever.
Also according to statistics provided by the provincial People's Committee, the province overfulfilled the targets for industrial production and export value. Industrial output was estimated at 160 trillion VND (7.27 billion USD), which is a 3.34-fold increase over the yearly goal, while exports earned the province 8.1 billion USD, a 7.1-time hike.
The results were attributable to the province's effective solutions to improve investment climate and reform administrative procedures, People's Committee Chairman Duong Ngoc Long said.
The acceleration of infrastructure projects for transport, electricity and water supply created favourable conditions for manufacturers based in Thai Nguyen to establish trade and production links with their partners in northern economic hubs like Hanoi , Quang Ninh and Hai Phong, he added.
In addition, several major investment projects in support industry, mineral processing, and high technology, including the hi-tech complex of Samsung group, became operational during the year, creating a breakthrough in local industrial production.
High-output industrial products include mobile phones – which account for 71 percent of the total export turnover, garment and textile, coal, iron and steel products and cement.
In 2015, Thai Nguyen aims to maintain an economic growth of 15 percent and an industrial production value of 260 trillion VND (123 billion USD).
Local authorities will continue to build infrastructure at industrial parks for support industry projects to serve the Samsung hi-tech complex, and push efforts to enhance the provincial competitive capacity.
Lao-Viet Bank builds new branch in northern Laos
The Lao-Viet Bank began the construction of its new branch in Phonsavan town, the Lao province of Xiengkhouang , on December 25 in a move to expand its services to the country's northern localities.
Somvang Vongvilay, General Director of the Chitchareune Construction Co. Ltd, said the project's location in populous downtown Xiengkhouang is favourable for doing business.
The five-storey building, covering 2,800 square metres, will be built by Chitchareune at a cost of 4.65 million USD.
Xiengkhouang Governor Somkoth Mangnomek, who is also the Secretary of the provincial committee of the Lao People's Revolutionary Party, spoke highly of the bank's efforts to expand its services to serve local people, helping carrying out the Vietnamese and Lao Governments' cooperation agreement on assisting Xiengkhouang and Huaphan provinces until 2020.
The Lao-Viet Bank, founded on June 22, 1999, is a joint venture between the Bank for Investment and Development of Vietnam (BIDV) and the Banque Pour Le Commerce Exterieur Lao Public (BCEL). It currently headquarters in Vientiane and has three services units, and seven branches, including two branches in Vietnam.
Vietnam Customs does well on int'l integration in 2014
The customs agency has performed well its role as coordinator for the ASEAN Single Window and National Single Window in 2014, it was reported at the agency's year-end online meeting on December 25.
The Vietnam General Department of Customs has connected the Ministries of Finance, Transport and Industry & Trade on schedule, while putting the Vietnam Automated Cargo and Port Consolidated System/Vietnam Customs Information System (VNACCS/VCIS) into operation at all its units nationwide by mid December.
The system has served 49,880 enterprises, processing 5.17 million customs declarations with a total import-export value of 182.45 billion USD.
Customs officers had detected 18,448 law violations in the field involving more than 400 billion VND (18.7 million USD) worth of goods during the year.
In particular, the sector submitted the draft law on customs to the National Assembly for approval in June and is working on related guidance documents.
The department also collected 243.81 trillion VND (11.4 billion USD) for the State budget, which were equal to 108.4 percent of the estimate.
Next year, the agency plans to step up its efforts to link more ministries and agencies to the national single window towards the ASEAN Single Window.
Vietnam Customs does well on int'l integration in 2014
The customs agency has performed well its role as coordinator for the ASEAN Single Window and National Single Window in 2014, it was reported at the agency's year-end online meeting on December 25.
The Vietnam General Department of Customs has connected the Ministries of Finance, Transport and Industry & Trade on schedule, while putting the Vietnam Automated Cargo and Port Consolidated System/Vietnam Customs Information System (VNACCS/VCIS) into operation at all its units nationwide by mid December.
The system has served 49,880 enterprises, processing 5.17 million customs declarations with a total import-export value of 182.45 billion USD.
Customs officers had detected 18,448 law violations in the field involving more than 400 billion VND (18.7 million USD) worth of goods during the year.
In particular, the sector submitted the draft law on customs to the National Assembly for approval in June and is working on related guidance documents.
The department also collected 243.81 trillion VND (11.4 billion USD) for the State budget, which were equal to 108.4 percent of the estimate.
Next year, the agency plans to step up its efforts to link more ministries and agencies to the national single window towards the ASEAN Single Window.
MOIT urged to work harder for smoother information flow
Deputy Prime Minister Vu Duc Dam has asked the Ministry of Information and Technology (MOIT) to work harder to smooth the way for information to create social consensus and fuel the country's rapid and sustainable development.
He made the suggestion at a video-teleconference on December 25 to review the MOIT's operation in 2014 and draw out tasks for 2015.
The Deputy PM urged the ministry to create all possible conditions for IT and telecommunication enterprises to engage strongly in ensuring equal development of IT in all regions across the country.
Meanwhile, the ministry should encourage the involvement of various economic sectors in the publishing industry, while ensuring the quality of all publications introduced to the public, he said.
Commenting on the ministry's performance in 2014, the Deputy PM said this year witnessed strong reforms regarding the ministry's direction, management, and production activities.
As many as 21 projects built and consulted by the MOIT were approved and issued by the Politburo, the Government and the Prime Minister throughout the year, the highest number so far, he noted.
At the same time, the ministry also sped up the restructuring of enterprises operating in information technology and communication, especially the Vietnam Post and Telecommunication Group (VNPT), he said.
Minister Nguyen Bac Son submitted a variety of proposals, including the one on the establishment of departments for information security and local information since they are crucial for guaranteeing cyber information security and popularisation at grassroots level.
Tourism sector records highest growth in revenue
The tourism sector posted the highest ever increase of 15 percent year-on-year to 230 trillion VND (10.9 billion US D) in revenue despite an array of difficulties in 2014.
So far this year, Vietnam welcomed 37.5 million domestic and 8 million international tourists, respective rises of 7.14 percent and 5.64 percent on an annual basis.
The results were attributed to the sector's efforts to expand key tourism markets and stimulate domestic tourism demand, heard a press conference on selecting the top 10 culture, sports and tourism events of the year held in Hanoi on December 25.
Vietnam is home to 22 world heritage recognised by the UNESCO, including two natural heritage sites (Ha Long Bay and Phong Nha-Ke Bang National Park); five cultural heritage (the Central Sector of the Imperial Citadel of Thang Long, the Citadel of the Ho Dynasty, the Complex of Hue Monuments, Hoi An Ancient Town, My Son Sanctuary), and one mixed heritage (Trang An Landscape Complex).
The country also boasts nine cultural practices winning UNESCO's intangible heritage status, namely Hue's royal court music, Gong space culture in Tay Nguyen (Central Highlands), the northern province of Bac Ninh's love duet singing, the Giong festival, Ca Tru ceremonial singing, Xoan singing, Don Ca Tai Tu music, the worship of Hung Kings, and the Nghe Tinh Vi-Giam folk singing.
Can Tho plans big for aquaculture
The Mekong Delta city of Can Tho is working hard for a target of producing 380,000 tonnes of aquatic products by 2020, mostly for export, doubling that of 2014, according to the municipal Department of Agriculture and Rural Development.
Currently, the city is implementing 12 aquaculture projects to realise the goal, said Pham Van Quynh, head of the department.
From 2015, Can Tho will expand total fish and shrimp farming areas to 26,000 hectares, focusing mostly in Thot Not, Vinh Thanh, Co Do, and Phong Dien districts.
In order to ensure sufficient supply of breeding stock for the local aquaculture sector, Can Tho is speeding up the construction of a breeding centre with a capacity of providing 2 billion fry of various species every year.
At the same time, the city will encourage the application of science and technology in aquatic farming, particularly the adoption of good aquaculture practices meeting national and international standards, including the VietGAP and GlobalGAP.
In addition, Can Tho will build a number of new processing factories with a total capacity of 122,000 tonnes per year, enabling the city to process 200,000 tonnes of raw seafood materials each year by 2020.
This year, the city's aquatic output is expected to reach 200,000 tonnes, according to the chief of the Department of Agriculture and Rural Development.
Next year, Can Tho targets 205,000 tonnes of total output, a rise of 6.7 percent year on year, while shipping abroad 120,000 tonnes of processed products for 485 million USD, up 27 percent.
Currently, key markets of Can Tho's aquaculture products include those in Asia, Europe, America and Middle East.
No strong tra export growth forecast for next year
The General Department of Fisheries under the Ministry of Agriculture and Rural Development has forecast the nation's tra fish export next year would range from US$1.75 billion to US$1.85 billion, compared to this year's US$1.8 billion.
The department plans to keep the farming area steady at 5,500 hectares in 2015 with output of 1.1-1.2 million tons. A source from the department said the export target would stay unchanged because there is little sign of a consumption improvement in major markets.
Statistics showed the export volume of tra fish in January-November was 718,000 tons worth US$1.58 billion, increasing 0.5% in quantity and 0.4% in value over the same period last year.
Nguyen Hoai Nam, deputy general secretary of the Vietnam Association of Seafood Exporters and Producers (VASEP), forecast the export volume of tra fish in the entire year will be at US$1.8 billion, rising only 0.2% compare to 2013.
Regarding the registration of export contracts, Vo Hung Dung, vice chairman and general secretary of the Vietnam Pangasius Association (VN Pangasius), said his agency has processed 6,672 requests from 193 exporters to ship 368,954 tons of tra in the last three months.      
According to him, 18% of the export volume was sent to the EU, 10% to the U.S., 12% to Hong Kong and China, 9% to Mexico, and the remainder to Brazil, Russia, Colombia and others.
Of the total registered production of nearly 370,000 tons, 80-86% were frozen fillets, 6-10% whole cut fish, while the remainder comprised value-added products and tra by-products.
Short-term recovery not in sight
The local stock market could not recover in the short term given falling global oil prices, according to brokerages.
However, Viet Dragon Securities Company suggested investors take advantage of market volatility to acquire shares with good fundamentals and restructure their portfolios.
The VN-Index lost a steep 5.5% last week against the week earlier and closed at 523.09 while the HNX-Index dropped around 3.8% to end at 81.32.
Local investors' anxiety rose as OPEC, the cartel that pumps around 30% of the world's oil, said it would keep oil output unchanged despite an oversupply on the world market. Therefore, they offloaded oil and petroleum tickers such as GAS, PVD, PET and PXS, pushing their prices down strongly in the first three sessions of last week.
These stocks however gained Thursday, spurring the VN-Index. But the portfolio restructuring of two exchange traded funds Market Vectors ETF (ETF VNM) and FTSE Vietnam Friday caused negative impact on the main index as large-cap tickers like VCB, VIC, MSN and FLC faced sell-offs.
Meanwhile, liquidity on the Hochiminh Stock Exchange jumped nearly 14% against the previous week with matching volume of 623.5 million shares while it inched up 1.7% on the Hanoi market with volume of 285.4 million shares.  
Foreign investors remained on the selling side on both bourses. They net sold over VND490 billion (some US$22.9 million) worth of shares on the HCMC market, mainly STB, MSN, PPC and FLC, and their net sales totaled around VND57.6 billion (some US$2.7 million) on the Hanoi Stock Exchange.
Noticeably, they bought over VND577 billion (some US$26.9 million) worth of SSI shares as this ticker was added to the portfolios of the two ETFs.
Dau tu Chung khoan newspaper quoted Alan Pham, chief economist of VinaCapital, as saying foreigners net sold shares so as to adjust their portfolios rather than withdraw capital out of the domestic market.
They will continue to make investments as Vietnam's recent macro-economic data was positive. On the other hand, prices of stocks with good fundamentals declined, giving them an opportunity to take profit.   
Foreign capital on the domestic market is estimated at around US$200-250 million this year, US$5-10 million lower than last year, due to the global oil price decline, Alan Pham added.
Forex lending to exporters, fuels importers continues
Exporters having foreign currency revenues and fuels importers securing quotas from the Ministry of Industry and Trade can continue to take out loans in foreign currency until the end of next year, according to the central bank.
Nguyen Thi Hong, deputy governor of the State Bank of Vietnam (SBV), said this decision comes after SBV governor Nguyen Van Binh's review of foreign currency lending in the banking system and the National Assembly's approval of the gross domestic product (GDP) growth target of 6.2% for 2015.
The move will prop up exporters of goods and importers of fuels, she said.
Circular 29/2013/TT-NHNN that allows goods exporters and fuels importers to take out short-term foreign currency loans expires on December 31 this year, hence the central bank's fresh move.
The extension of the rule will help enterprises lower costs of borrowing as the exchange rate is stable and interest rates for Vietnam dong loans remain high. Meanwhile, it also assists banks to expand credit growth as targeted by the central bank, Hong added.
Interest rates for U.S. dollar short-term loans range from 3.5% to 4% a year while the rates for Vietnam dong loans are from 7% to 9%.
Outstanding loans in foreign currency for fuels importers and goods exporters account for around 30% of total outstanding loans in foreign currency in the banking system.
Ceiling airfares set to fall next year
In response to dropping world oil prices, the Ministry of Finance decided last week to lower the ceiling price of economy-class tickets for domestic flights from VND5,000 to VND4,250 per kilometer from early next year.
The Civil Aviation Authority of Vietnam (CAAV) will set specific airfares based on transportation costs and actual market conditions at the request of airlines.
CAAV will consider airfares for five groups of distance, announce the list of domestic air routes grouped by distance, and work with relevant agencies to review input costs to timely adjust fares.
The ministry's decision, which will take effect on January 1, 2015 and replace Decision 2967 issued on December 6, 2011, keeps airfares within the levels set by CAAV.
Airlines are required to offer different ticket prices, and register their fares with the authorities prior to any adjustment.
On December 16, CAAV proposed lowering the ceiling of airfares for domestic services as the price of Jet A1 fuel had slumped on sliding world oil prices, resulting in a 17% reduction in airlines' operating costs.
However, airlines said the ceiling airfare cut would not affect ticket prices much as they are offering multiple price levels that are normally 10-20% lower than the cap.
Flaws found in HCMC region planning
Experts have pointed out numerous flaws in the 2008 planning of the HCMC region and called for new ideas to adjust it, heard a seminar last week.
The HCMC region consists of eight provinces, namely HCMC, Binh Duong, Binh Phuoc, Tay Ninh, Long An, Dong Nai, Ba Ria-Vung Tau and Tien Giang.
At the seminar on the planning of the HCMC region until 2030 with a vision towards 2050 held by the Southern Institute for Spatial Planning of Vietnam, deputy head of the institute Ngo Quang Hung said the planning implementation at central and local levels is not consistent.
Urbanization has spiraled out of control and satellite towns have yet to be developed to ease overcrowds in the center of town. Therefore, there need to be ideas to adjust the planning and make it fit long-term goals.
Talking about problems of the planning, Huynh The Du, lecturer at the Fulbright Economics Teaching Program in HCMC, said the planning of the HCMC region is not effective as population growth is inaccurately assessed, making the planning soon obsolete.
For instance, in the planning between 1993 and 2010, the city's population was estimated at five million people. However, there were more than five million people in 1998 and 7.4 million in 2010.
In addition, financing solutions to the planning are normally unrealistic and issues concerning land use and transport policies are not considered properly. Currently, there are lots of plans which conflict with one another.
The transport development plan is one of the most unrealistic ones. Total capital for transport projects in HCMC in the 2007 planning was estimated at US$43 billion but actual investments in the past five years were US$2.1 billion (5.08%).
Learning from urban planning in big cities, Professor Frank Schwartze, head of the consulting group for the HCMC region, said the city needs to develop towards the north and the east (Dong Nai and Ba Ria-Vung Tau provinces) to adapt to climate change and retain open space in urbanized areas.
The overall planning should be regulated by a single body instead of different agencies.
Urban planning expert Ngo Viet Nam Son proposed HCMC prioritize expressways leading to localities in the region.
Besides, it is necessary to build a metropolitan authority to effectively manage the urban network.
63 businesses receive national brand awards
Sixty three businesses received the Vietnam Value Awards for national strong brand names at a ceremony in Hanoi on December 23.
The award winners, selected from more than 1,500 applicants, are operating in various fields such as engineering, machinery and equipment; garment-textile and footwear; electronics, information technology and telecommunication; agriculture, forestry and seafood; finance and banking; food and beverages; trade services; construction and real estate.
It is noteworthy that there are 23 businesses having won the award for four consecutive times, including the Vietnam Post and Telecommunications Group (VNPT), the Vietnam Electric Wire and Cable Corp (CADIVI) and the Tien Giang Food Company.
The biennial programme is the only one implemented by the Vietnamese Government with a view to promoting the national image and trade names via goods and services brands.
Businesses are encouraged to improve the quality of products, increase innovation and creativity, and build a system to protect their brand names, said Deputy Minister of Industry and Trade Do Thang Hai.
Participants to the programme also get the State's support in protecting and registering their trade names at home and abroad, he added.
In addition, the Trade Promotion Agency will assist prize-winning businesses in building marketing strategies on an annual basis, he said.
Despite an array of economic difficulties, the award winners have proved their capacity in both domestic and international markets, Deputy Prime Minister Hoang Trung Hai said.
He urged businesses to become more active and creative to promote their brands and said the Government will create favourable business climate and help enterprises gain access to bank loans.-
CapFin Asia eyes major Chan May-Lang Co deal
The US' CapFin Asia has expressed interest in developing an integrated technology, education, hotel and entertainment complex in the central province of Thua Thien-Hue's Chan May-Lang Co Economic Zone.
CapFin Asia's director Daniel Berke revealed the firm's plan last week in a meeting with the local officials.
Nguyen Que, deputy head of the Chan May-Lang Co Economic Zone Management Authority confirmed the project proposal with VIR and added that the project was expected to cover 200 hectares.
"The potential investor said they would carry out a feasibility study for this project within the next six months and conduct planning before applying for an investment certificate," Que said.
According to Que, CapFin Asia's proposal matches the government plans for the area and would be particularly suitable for the Chan May-Lang Co Economic Zone.
Located between the central cities of Hue and Danang, and located on the Central Vietnam Heritage Road which includes attractive tourist destinations of Phong Nha-Ke Bang National Park, Hue, Hoi An and My Son, and located on the East-West economic corridor, the Chan May-Lang Co Economic Zone is regarded as one of 15 important coastal economic zones throughout the country.
Over the past six years, Lang Co has witnessed dramatic socio-economic development with revenues from the local tourism sector increasing by 25-30 per cent, with the area witnessing 95,000 visitors per year.
The Chan May-Lang Co  Economic Zone has so far attracted 34 investment projects with the combined registered investment capital of $2.28 billion, comprising of 10 foreign-invested projects capitalised at $1.3 billion and 24 domestic projects worth $968.5 million. Large projects in the zone include the Laguna Lang Co integrated resort developed by Laguna Vietnam, a subsidiary of Singapore's Banyan Tree Group with the total registered investment capital of $875 million.
VEF/VNA/VNS/VOV/SGT/SGGP/Dantri/VIR