VietNamNet Bridge – The Ministry of Finance (MOF) has decided to lower the ceiling airfare for domestic air routes, but airlines say the air ticket prices will not go down.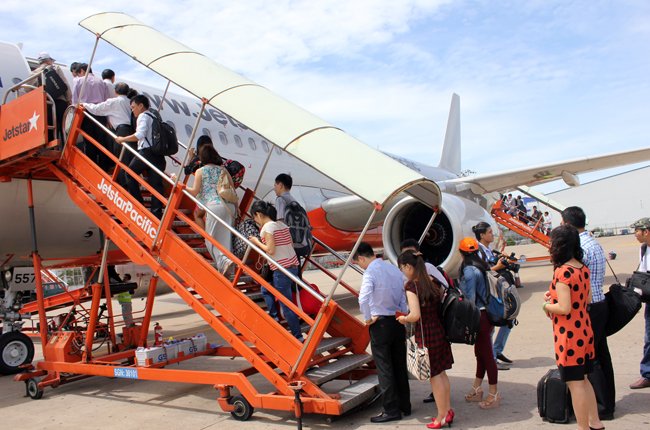 The decision on lowering the ceiling airfare was released late last week following the continued crude oil and air fuel price decreases. However, air carriers say this will not affect their pricing policies, because their current price levels are lower than the ceiling level set by the watchdog agency.
With the new decision, the ceiling economy-class airfare has been cut from VND5,000 per kilometer per passenger to VND4,250.
A senior executive of Jetstar Pacific, a budget airline, said the average airfare in 2014 is 10 percent lower than that in 2013, while the airfare in the last months of 2014 has been 20 percent lower than that of the same period of 2013, thanks to fuel price decreases.
He said Jetstar Pacific's airfare is 13-18 percent lower than the ceiling level, depending on the air routes. With the current flexible pricing policy being applied by the air carrier, passengers have the opportunities to buy tickets at reasonable prices.
The representative of Vietnam Airlines, the national flag air carrier, also said the carrier offers different ticket price levels, depending on supply and demand, but its highest price level is still lower than the ceiling level.
With the current ceiling airfare set by MOF, the highest airfare for  Hanoi – HCM City flights would be VND3.4 million, and if counting taxes – VND3.87 million. Meanwhile, the highest airfare set by Vietnam Airlines is just VND3.067 million. The price level would be a little higher, at VND3.287 million on Tet holiday, when the demand is high.
As for Jetstar Pacific, the highest airfare could be raised to VND2.8 million on the same air route, to be applied for flights during Tet.
In general, the senior executive said the airfare on ordinary days is 10-20 percent lower than during Tet.
He went on to say that all the airlines offer airfares lower than the ceiling airfare. Since the competition on domestic air routes is very stiff, air carriers have to thoroughly consider the demand in order to have reasonable pricing policies.
This always happens that on days just before Tet, flights from HCM City to Hanoi are full of passengers, while the flights from Hanoi to HCM City have a low occupancy rate. The opposite thing happens on the days just after Tet. Therefore, he said, air carriers have to raise the airfares to offset the loss from the empty flights.
Thanh Mai