Vietnam's Minister of Industry and Trade Vu Huy Hoang and Minister in charge for Trade of Asia – Europe Economic Committee Andrei A. Slepnhev have signed a joint statement on conclusion of negotiations on the Free Trade Agreement (FTA) between Vietnam and the Customs Union of Russia, Belarus and Kazakhstan.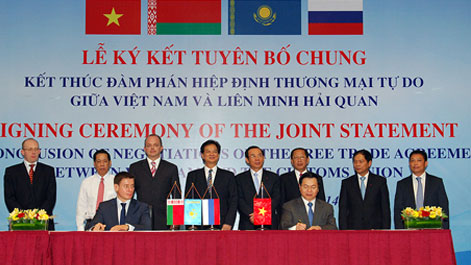 The signing ceremony took place in Phu Quoc island district, Kien Giang province on December 15 under the witness of Prime Minister Nguyen Tan Dung.
Launched in Hanoi on March 28, 2013, the FTA has undergone 8 official rounds of negotiations and several mid-term technical meetings. The two sides reached consensus on the key content of the agreement with high commitments to ensure mutual benefits while taking into account specific conditions of each side.
The agreement covers trade in goods, rule of origin, trade safeguard, services, investment, intellectual property, sanitary and phytosanitary (SPS) measures, customs facilitation, technical barriers to trade (TBT), e-technology, competition, and legal and institutional issues.
The Customs Union has offered tariff incentives to Vietnam, opening up new opportunities for local key products like farm produce, seafood, garment, footwear and wooden products to boost exports to the market.
Vietnam agreed to open market under specific roadmaps for some Customs Union's products, such as husbandry products, machinery, equipment and means of transport, which are not competitive with local products but help diversify the domestic consumer market.
Commitments on services, investment, intellectual property, competition, trade safeguard, handling trade disputes, SPS, TBT were all agreed in line with World Trade Organisation (WTO) regulations and Vietnam law.
The Customs Union is Vietnam's traditional export market with 170 million customers and industrial and scientific and technological potential and strength.
In recent times, Vietnam's investment in the Customs Union has grown significantly. Meanwhile, this is the first FTA that the Customs Union will sign with a foreign country.
The two sides will soon tackle pending technical issues and necessary procedures to prepare for the signing of the agreement in early 2015.
At the signing ceremony, Minister Vu Huy Hoang emphasised that this is a new generation and comprehensive FTA, covering from trade in goods, services to investment. The agreement will help Vietnam and the Customs Union to promote bilateral trade cooperation as well as cooperation between the Customs Union with ASEAN and regional countries.
For his part, minister Slepnhav said the signing of the agreement will stimulate two-way trade turnover, reduce barriers, enhance bilateral investment and generate more jobs for workers.
VOV/VNN