Three Japanese enterprises jointly invested in the Sendo Joint Stock Company, a subsidiary of FPT Corporation, recently to get a 33 per cent stake in it.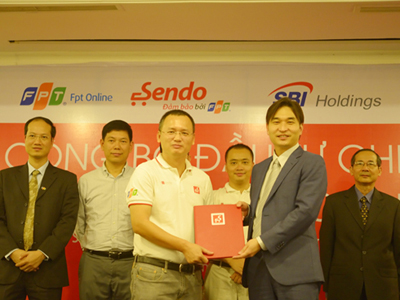 Sen Do JSC chairman Nguyen Dac Viet Dung (left) and Ryosuke Hayashi deputy general director of the overseas business of SBI Holdings, representative of Japanese investors. The three Japanese enterprises invest in the company to own its 33 per cent stake. 
The Japanese firms are SBI Holdings Inc, Econtext ASIA Ltd and BEENOS Inc. SBI Holdings Inc is an Internet-based financial group with more than 17 million customers, while Econtext ASIA offers online payment services and e-commerce solutions. BEENOS is a cross-border, e-commerce and investment Internet company, which invests in and supports more than 80 internet service providers in countries such as the United States, India and Indonesia.
Speaking at an event to announce the investment in Sendo, FPT Deputy General Director Nguyen The Phuong expressed the belief that the future of e-commerce market in Viet Nam was the reason for the corporation to invest in the sector.
"Partners of Sendo are leading groups involved in Internet services and online payment solutions in Japan. The co-operation will bring essential contribution to Sendo's development process in the coming time," he said.
Sendo Chairman Nguyen Dac Viet Dung said that strategic partners from Japan will help Sendo to approach their networks of customers and partners in the globe. In addition, it will assist the company to increase its management capacity through sales training, human resources development and goods expansion.
Ryosuke Hayashi, deputy general director of the overseas business of SBI Holdings, said that the company decided to invest in Sendo after seeing its growth and realising the potential of Vietnamese e-commerce.
Sendo JSC, founded in March 2012, provides nearly two million products from 70,000 stores on two websites www.sendo.vn and www.123mua.vn. Sendo acquired e-commerce floor 123mua.vn from Viet Nam's Internet and technology corporation VNG for an undisclosed price.
In September 2014, Sendo was granted Payment Card Industry Data Security Standard (PCI DSS) Level 1 Certification by Case Control (USA), after it met 12 strict international standards on information security policy, data processing and computer network structure for systems. 
VNS/VNN