VietNamNet Bridge - The big brands in the beverage industry of Vietnam are becoming an investment target for foreign investors.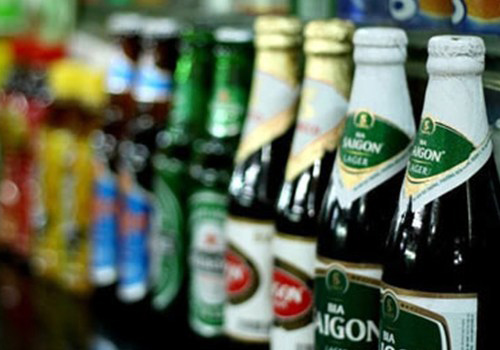 According to Business Monitor International (BMI), Vietnam's food and beverages market has an annual growth rate of 9.43%. Sales of carbonated beverages has risen. by 6.9 percent.
Deputy Minister of Industry and Trade Ms. Ho Thi Kim Thoa said the prospect of this industry was very bright because beverages are an indispensable item for daily consumption. It is forecast that sales of beverage in 2016 will show a two-digit percentage increase.
Many foreign investors have eyed Vietnamese beverage companies. Most recently, ThaiBev, owned by the 3rd richest billionaire in Thailand, revealed intentions to buy major stakes of the Saigon Beverage Corporation (Sabeco). Earlier, ThaiBev's officials met with Vietnamese government officials to present their intentions. ThaiBev evaluated Sabeco's value at $2 billion.
Sabeco is planning to set up a restructuring council and sell up to 53% of shares to one or several strategic investors. The government currently owns 89% of this company. Mr. Phan Dang Tuat, Sabeco Chairman, said the firm had known about ThaiBev's proposal but the Ministry of Industry and Trade must make a final decision.
According to Euromonitor, Sabeco currently holds 46% of the Vietnam beer market with brands such as 333 or Saison Beer. The financial statements of Sabeco show that in the first half of 2014, the company sold 649.8 million liters of beer, an increase of 4% over the same period last year. Its revenue during the period increased 6% from last year to $680 million USD.
This year Sabeco aims for VND29.322 trillion of revenue and pre-tax profit of VND3.672 trillion, 3% up for both compared to the same period last year.
Several domestic beer brands are owned by foreign investors. In late 2011, Carlsberg (Denmark) bought  Huda Beer. Carlsberg also owns 55% of a beer factory with a capacity of 50 million liters a year in Ba Ria-Vung Tau province.
In the Halida joint venture with Viet Ha Beer Company, Carlsberg owns 60% and 30% in the joint venture with the Ha Long Beer Company. With Habeco, Carlsberg owns 17.23% of the charter capital and it has proposed to increase that amount to 30%.
The third richest billionaire in Thailand also wants to own a large number of shares in Vietnam's top milk company Vinamilk. His company F&N Dairy Investments Pte Ltd completed acquisition of 15 million shares of Vinamilk on August 21.
F&N Dairy Investments Pte Ltd holds 110.4 million shares of Vinamilk, equivalent to 11.04% of the charter capital. It is now the second largest shareholder of Vinamilk after the State Capital Investment Corporation (SCIC).
Tran Bao Minh, a marketing specialist, said that in Vietnam, Vinamilk and Sabeco are leading companies in their sectors, so foreign investors target these firms because they are a shortcut to the Vietnamese market.
Na Son