VietNamNet Bridge - Mui Ne in Phan Thiet city in Binh Thuan province has long been dubbed the "resort capital" of Vietnam and has been considered the most attractive resort destination of foreign tourists. However, it is facing a risk of losing this position to Nha Trang and Phu Quoc.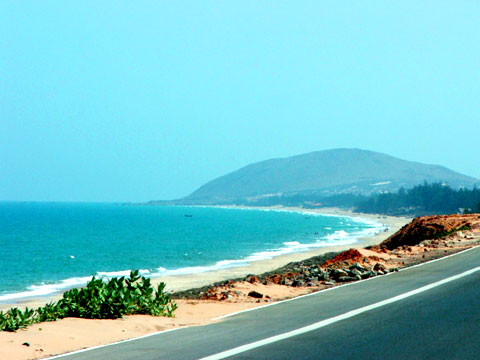 The beach of Mui Ne.
In late October, Nguyen Dinh Chieu Road, the home to luxury resorts, hotels and restaurants in Mui Ne, was unusually quiet. This area was bustling only on the weekends thanks to Vietnamese tourists. Previously, this used to be the favourite time for foreign tourists, particularly Russians, to visit here.
The director of a 4-star resort in Mui Ne said that the biggest reason was that tourists are moving to new locations like Nha Trang and Phu Quoc.
He said in 2011 many of Nha Trang's businesses came to Phan Thiet and Mui Ne to learn about the resort business model. But in the past year, while Mui Ne did not make many changes, Nha Trang has moved a big step forward in terms of tourism services.
After the Cam Ranh and Phu Quoc International Airports became operational, international visitors coul travel to Nha Trang and Phu Quoc. Charter flights have directly taken Russian tourists to Nha Trang or Phu Quoc instead of Phan Thiet.
"After a more than 10-hour flight, it takes them a few dozen minutes to go to resorts in Nha Trang and Phu Quoc instead of spending five hours of travel from HCM City to Mui Ne by bus," he said.
He added that previously foreigners, especially Russians, loved to go to Mui Ne to avoid the winter, but in the past two years the number of tourists has dropped sharply, even in peak season (from November to April). Resorts have slashed service prices to lure customers, but their revenues are still down.
According to this businessman, a resort only needed to lease a bungalow for one month to earn enough to pay basic salaries to the entire staff, but now it needs to lease two to three bungalows.
Four to five years ago, a bungalow was priced $300 but now the price is only $65. Moreover, the resorts also are under great pressure as more and more small resorts offer bungalows for $40-$45.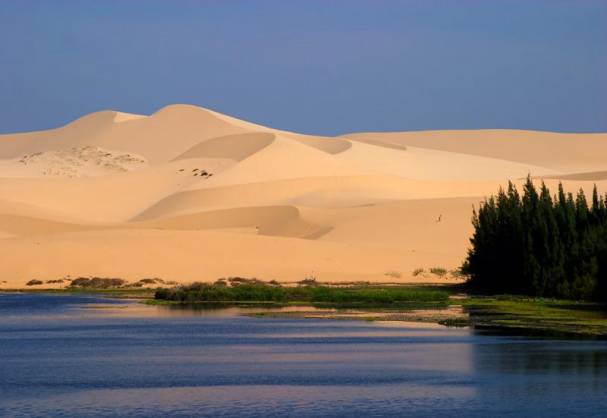 Mui Ne sand dunes.
Ms. Lan, who manages a convenience store on Nguyen Dinh Chieu Road, said sales had fallen by a half due to the drop in foreign visitors. "Previously, 90% of tourists were foreigners but now the percentage is less than 50%. Therefore, instead of five salesmen, now I only have two," she said.
Ms. Hoang Thi Phong Thu, Chair of Sunshine Travel Company, said most foreigners who visit her company decide to go to Nha Trang. And the number of foreign tourists to Phu Quoc is on the rise thanks to more favorable traffic to the island by boat and air.
Her company is now focusing on charter flight services to serve Russian tourists. On October 28, a charter flight of Nordwind Airlines brought 287 Russian tourists to HCM City, with 186 of them going to Phu Quoc and 101 to Phan Thiet.
Thu said from now until April 30 next year her company will have one charter flight per week to take Russian tourists from Moscow, Irkusk, Ekaterinburg and Krasnoyarsk to HCM City and then to coastal resorts.
According to the Vietnam National Administration of Tourism, Mui Ne still lacks recreational, entertainment sites and souvenir shops, as well as adequate tourism infrastructure.
Na Son