VietNamNet Bridge – More and more large parks worth hundreds of billions of dong have been established in HCM City, attracting droves of childrens and their parents.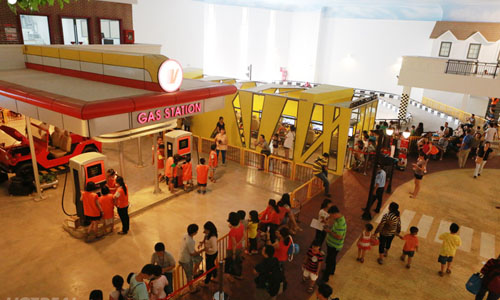 Lam, a six-year old boy, counts down every day to the weekend because his mother usually promises to bring him and his 4-year-old sister to an amusement park in the District 1 on Sundays.
The admission ticket to the park is expensive, VND80,000, for the average Vietnamese worker. However, Phuong, Lam's mother, said the services were worth the money.
Previously, Phuong occasionally brought her children to smaller amusement parks, where she paid VND40,000-50,000 for every admission ticket.  However, the small parks are getting less attractive, because children have become choosier.
In the past, amusement parks on an area of 100 square meters offering simple entertainment activities could satisfy children's requirements. However, parents nowadays tend to be more selective.
Therefore, large parks with attractive, creative games will be more competitive.
Vietnam is believed to be an attractive market for amusement park investors.
Thomas Ngo, CEO of Nkid, the developer of tiNi World amusement park chain, said the market is worth $3 billion, accounting for 60 percent of the business fields for children (education, entertainment, healthcare, etc).
The great potential has prompted investors to inject bigger money into the projects. Analysts said the investment capital is usually tens or hundreds of billions of dong.
While more and more new amusement parks have opened, existing parks have been expanding rapidly.
Nkid, for example, has developed 20 tiNi parks all over the country with total investment capital of $10 million, or over VND200 billion. In early 2014, tiNi opened the first tiNiTown-style park on an area of 2,500 square meters in HCM City.
However, Nkid now has to compete with many other rivals. In December 2013, KizWorld, the indoors entertainment center for children aged 3-16, was put into operation.
The center covers a large area of 5,500 square meters on the grounds of Parkson Flemington, a shopping mall in district 11. Vietopia in District 7, which opened in January 2014, is considered the largest amusement park for children in Vietnam. It is located on an area of 22,000 square meters and has investment capital of VND520 billion.
The market is so lucrative that it has attracted the biggest player in the real estate sector – Vingroup – the company owned by Pham Nhat Vuong, the only Vietnamese dollar billionaire on Forbes' billionaire list.
Vingroup has opened VinKC located at Vincom B Shopping Mall in District 1, HCM City. Prior to that, a similar park opened at Vincom Mega Mall Times City in Hanoi. The chain targets children up to 15 years old.
It takes investors of small centres two to three years to recoup capital. Large centers take six to eight years to recover investment capital. According to Vietopia, it costs VND 3.5-4 billion a month to run the center.
Kim Chi