VietNamNet Bridge – The recent increase in investment flows from Thai enterprises has shown that Viet Nam is vital for Thailand's economy, especially after the ASEAN Economic Community comes into effect in 2015.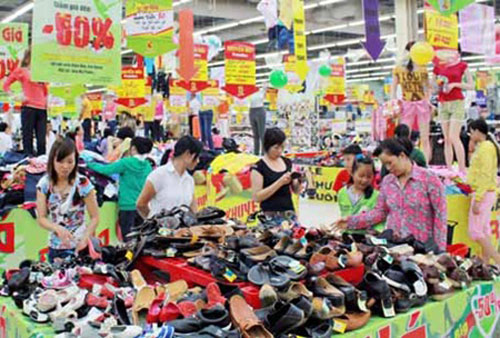 Capital flow to Viet Nam has increased sharply recently, especially after the purchase of Metro Cash & Carry Viet Nam by Thailand's Berli Jucker, for US$879 million, earlier this month. — Photo tamnhin
Recent information from the Thailand Board of Investment shows that the country's outward investment in ASEAN-member countries has undergone an upward trend since 2007, with last year's investment at US$4.5 billion, equal to Thailand's investment in the EU.
Most of the Thai investment in ASEAN was in Singapore, Indonesia, Viet Nam and Myanmar, according to Chokedee Kaewsang, deputy secretary general of the Thailand Board of Investment.
With more than US$1.4 billion between 2009 and 2013, Viet Nam was ranked third in receiving investment from Thai enterprises, after Singapore and Indonesia.
Capital flow to Viet Nam has increased sharply recently, especially after the purchase of Metro Cash & Carry Viet Nam by Thailand's Berli Jucker, for US$879 million, earlier this month.
In addition, the Thai-owned Robins department store made its Viet Nam debut in Ha Noi in April. It will also open a 12,000-square-metre store in HCM City's Crescent Mall shopping center in District 7 in November.
It also plans to open stores in other major cities, including Hai Phong, Da Nang, and Can Tho in the Mekong Delta.
Several other Thai enterprises which have invested in Viet Nam have also decided to accelerate their investments.
Amata Corporation, Thailand's largest industrial estate developer, which built a 70- sq.km2 industrial city in Thailand 25 years ago, has decided to build a modern and integrated city industrial estate, Amata Long Thanh, in Dong Nai Province covering 1,285 hectares.
According to a report in the Bangkok Post, the corporation has signed a cooperative agreement with Dong Nai Province's People's Committee to develop the US$530 million industrial estate.
With the ASEAN Economic Community taking effect next year, Thai investors are anxious to take advantage of the Vietnamese government's ambitious drive to increase economic growth to more than 8 per cent annually.
Twenty years ago, Amata built the Bien Hoa Industrial Estate in Dong Nai Province, and is now eyeing more opportunities in Viet Nam.
Two other Thai giants, Siam Cement Group and CP, which have had success investing in Viet Nam, also have plans to expand, according to the Viet Nam Chamber of Commerce and Industry.
Early this month, the US$22 billion Victory petrochemical and oil refinery project funded by Thailand's oil firm PTT and its strategic partner Saudi Aramco was approved.
The project will be located in central province of Binh Dinh.
Many Thai investors say they prefer Viet Nam to Cambodia, Laos PDR or Myanmar because of the country's political and economic stability and its geographical position near the sea.
Panpimon Suwannapongse, Thai Consul-General to HCM City, who recently organised a trip with Vietnamese provincial administrators along the Southern Economic Corridor, said that Thailand sees Viet Nam as important because of its long coastline, which makes it convenient to transport goods by boat.
In the Mekong sub-region, Viet Nam is the end-point of many major roads and the Mekong River, where goods can be easily transported to the Thai mainland.
Viet Nam's export potential and the coming single market in the ASEAN Economic Community are other factors as well.
Suwannapongse said that Viet Nam and Thailand also plans to support less-developed countries such as Cambodia, Laos, and Myanmar.
Panat Krairojananan, CEO at Surint Omya Viet Nam, said that Thai businesspeople who have been working in Viet Nam for several years said it is much more convenient to export goods to the US from Viet Nam. He added that Thai companies could export commodities from Viet Nam through Route R1.
"Thai businesspeople plan to pour cash into Viet Nam for a long time. Previously, only a few Thai companies had entered Viet Nam, but now there are many more," he said.
Because of fears of economic stability at home, Thailand also wants to invest in a country like Viet Nam that can share investment risks.
Similarity in culture and a predominantly young population of 90 million are other factors that have influenced Thai interest in Viet Nam.
"Although infrastructure in Viet Nam is still not complete, it is a good time for us to come. More companies from other countries will arrive in the future, and it will become more competitive for us," he said.
The Thai CEO said his company, Surint Omya Viet Nam, which has two factories producing calcium carbonate, will open another facility in northern Viet Nam.
Tran Huu Phuoc, deputy chairman of Long An Province's People's Committee, who visited Thailand with other provincial leaders on the recent trip on Route R1, said that Thai enterprises wanted to invest in Long An Province as well.
Phuoc added that there was still great potential for industrial, trade and tourism cooperation between the two countries.
VNS/VNN