VietNamNet Bridge - Vietnam Airlines will receive the world's most advanced aircraft Airbus 350 XWB worth US$340 million in June 2015, the first in an order for 10 A350 aircraft.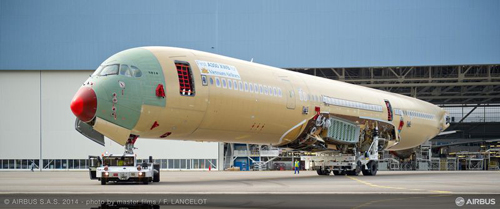 The Airbus 350 XWB will be put into operation in the third quarter next year with direct air routes from Hanoi/Ho Chi Minh City to France and several other European countries.
Vietnam Airlines is the second airline in the world to own the most advanced commercial aircraft, just behind Qatar Airways.
The A350 XWB twin-engine jetliner is shaping the future of air travel by offering a complete family of new-generation aircraft that is best suited to the market's requirements for size, range, revenue generation, passenger comfort and the environment.
In addition to providing the space for unmatched premium first-class and business solutions, the A350 XWB allows for high-comfort economy seating in a nine-abreast arrangement, with the Airbus standard 18-inch seat width.
It saves up to 25% of fuel with a fall in CO2 amount and supplies wi-fi service that allows passenger access to the internet.
According to Airbus president and CEO, Fabrice Brégier, five A350 XWB had to be tested in hot and cold environments for 14 months at McKinley Climatic Laboratory at the US Eglin Air Force Base in Florida to complete and verify its performance before delivery at the end of this year.
The European Aviation Safety Agency (EASA) in late September granted the Type Certification for the latest Airbus airliner A350-900.
VOV/VNN