VietNamNet Bridge – The Vietnam Civil Aviation Administration (CAAV) have asked Vietnam Airlines and Vietjet Air to test the Hanoi - Ho Chi Minh City direct route through the airspace of Laos and Cambodia.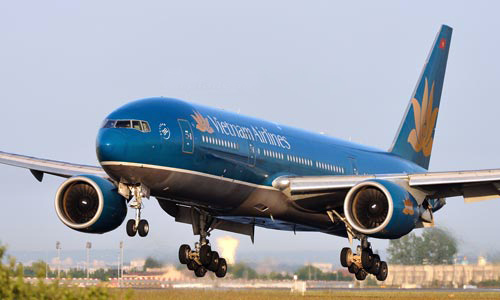 On Thursday, the agency told the two airlines to test the route in the cockpit systems for A320 aircraft and assess the costs and benefits of the direct route in comparison with the existing route before September 5.
During a recent visit to Cambodia, Transport Minister Dinh La Thang and Cambodian Deputy Prime Minister Sok An agreed in principle to creating favorable conditions for a direct air route linking Hanoi with HCM City flying through Cambodia airspace.
In March 2009, the CAAV received a proposal for the Hanoi-HCM City "golden route", made by former pilot Mai Trong Tuan.
The proposed new air route would mean planes flying between the capital and HCM City over Laos and Cambodia, rather than over the ocean, following Vietnam's "S" shaped coastline.
Tuan said a direct air route along the 106th meridian east would cut the distance between Hanoi and HCM City from 1,200 km to 1,000 km.
Flight times would be reduced from 105 minutes to 80 minutes, saving 5,000 liters of fuel per trip. However, research has been suspended after several seminars on the planned new air route.
In February 2012, Dr. Tran Dinh Ba, a member of the Vietnam Association of Economic Sciences, presented a business project that would be profitable for Vietnam Airlines, saying the new Hanoi-HCM City air route would be more efficient.
Flight times would be reduced from 105 minutes to 80 minutes, saving 5,000 litres of fuel per trip.
According to Ba, the current Hanoi-HCM City route is twisty and longer than the direct route flying through Laos and Cambodia, wasting 26 minutes on a Boeing 777 or 25 per cent of the production costs.
The Hanoi-Can Tho air route also wastes 28 percent, and the Hanoi-Phu Quoc route loses 38 percent.
Ba said the current routes were wasting $300 million per year of VNA's budgets on domestic routes. This explains why the international routes are profitable while the domestic routes incur heavy losses, said Ba.
The transport ministry and the CAAV said their proposals were good ideas but had not been realised due to various reasons.
CAAV's Chief Lai Xuan Thanh said the new research project on the direct Ha Noi-HCM City air route was similar to proposals made by Tuan and Ba. A shortened air route between Hanoi and HCM City could be established with the co-operation of the three ASEAN countries.
At a recent meeting with the CAAV, Transport Minister Thang also said he would work with the General Staff and the Air Defence-Air Force on the plan to shorten the current route, ensuring economic effectiveness and national defense.
VNE/VNA