VietNamNet Bridge – Vietnamese labor export companies have reported a sharp increase of 30 percent from Japan for Vietnamese laborers.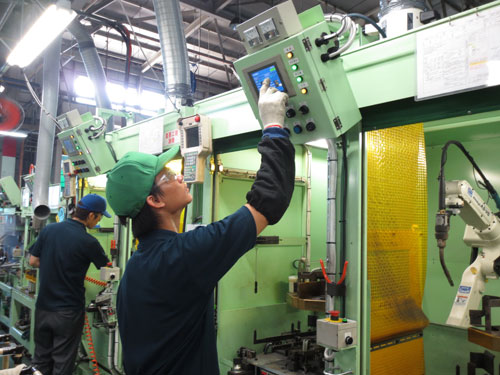 It is expected that 10,000-12,000 workers will be sent to Japan this year, compared to the 8,000 workers in the years before.
CT Esuhai has organizing many labor training courses so far this year to get ready to satisfy Japanese orders for laborers.
Le Long Son, general director of CT Esuhai, said 500 Vietnamese workers provided by CT Esuhai have been accepted by Japanese partners, an increase of 40 percent over the same period the last year.
"We have been seeking laborers for training courses because Japanese partners place orders every month," he said. "They come to Vietnam to interview Vietnamese workers directly."
The company's Japanese partners now seek workers for making cakes, assembling electronic products, trimming vegetables, and decorating dishes, offering the a minimum salary of VND25 million a month.
Besides, CT Esuhai is also looking for skilful workers in the fields of automobile design and mechanical engineering.
The director of another labor export company also noted that the demand has increased sharply, especially for workers on construction works for Olympics 2020.
He said some Japanese civil engineering groups like Taisei and Kazima have requested workers for the fields of interior decoration and refrigeration engineering.
Regarding salaries, a representative of the Vietnamese Laborers Management Board in Japan said the average pay is VND30 million a month, while engineers can receive over VND40 million.
Duong Thi Cuc, chair of Saigon Inserco, confirmed that Japanese are seeking workers in many fields, from mechanical engineering, welding and industrial plastics to electrics, electronics, from food processing, seafood processing, garments and agriculture.
"We organize two or three sessions of interviews every month to find capable workers. About 95 percent of workers we select can satisfy the requirements," she said.
The Director of the HCM City Branch of Getraco, Tran Xuan Tu, predicted that 2014 and the next few years would see a boom in the number of workers sent to Japan.
"The demand from Japan has increased by 30-40 percent," Tu said.
Analysts attributed the sharp increase in demand for Vietnamese workers to the prospering Japanese economy and to current strained relations between Japan and China relations.
According to the Vietnamese Laborers Management Board in Japan, the Japanese government has agreed to extend the Vietnamese workers' stay in Japan from three years to five years. The decision will take effect in mid-2015.
Workers who spend three years in Japan and return to Vietnam for more than one year will be allowed to return to Japan under another three-year labor contract. Under current laws, Vietnamese workers cannot return to Japan for the same purpose.
Tran Thuy