VietNamNet Bridge – Vietnamese enterprises that export rice to China across the border have said that China, as expected, has prohibited rice imports from Vietnam through unofficial channels. However, they say this will not affect the domestic market.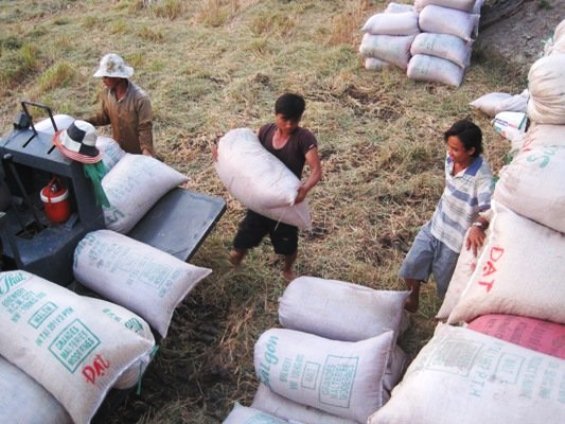 Nguyen Cong Khanh, a merchant in Hai Phong City, who collects rice from farmers to sell to Chinese businessmen, said that Vietnam's rice can be exported only through official channels, while imports that go through the border gates have been banned by the Chinese administration.
According to Khanh, China has prevented the rice imports across the border in order to tighten control over tax payments made by Chinese rice importers.
"Many Chinese importers of rice have been found evading tax. So, the Chinese administration imposed the ban, and plans to have fixed tax rates for easier control," he said.
Nguyen Thi Tu, another merchant in Hai Phong City, who specializes in providing rice to Chinese businessmen, has also confirmed that the rice import ban was issued to prevent tax evasion.
"However, they (Chinese) still have high demand for Vietnam's rice," she said.
Observers said though China stopped buying Vietnam's rice through the border gates, this will in no way affect the domestic market and rice production.
According to Lam Anh Tuan, director of Thinh Phat Company in Ben Tre Province, Chinese businessmen mostly order fragrant rice, but there is no longer an abundant domestic supply of this rice.
"I heard from some businessmen who directly export rice to China that the Chinese demand for rice is now weaker than several months ago," he said.
Meanwhile, Huynh The Nang, general director of the Southern Food Corporation (Vinafood 2), told the press on August 5 that he has not been told about the Chinese decision to prohibit rice imports from Vietnam.
However, Nang said, even if this is true, the domestic market will not be badly affected. At this moment, China is not one of the major clients to whom Vietnam wants to sell rice at any cost.
"The demand from countries other than China for Vietnam's rice is very high now, while the domestic supply is declining," he noted.
"The Philippines wants to buy more rice from Vietnam. Meanwhile, Indonesia and Malaysia are considering importing more rice. I think the current conditions are very favorable for Vietnam's rice," he maintained.
The rice price has been staying firmly high in the domestic market. In the Mekong River Delta, the rice granary of Vietnam, IR 50404 rice is sold at VND7,700 per kilo, while long-grain rice at VND7,800 per kilo.
The export rice price offered by Vietnamese exporters have regained the previous high levels after they decreased slightly some days ago. Five percent broken rice is offered at $465-475 per kilo, while the 25 percent broken rice at $415-425 per ton.
Dat Viet newspaper has quoted Oryza as saying that Vietnam's rice price has hit a record high since October 2012, which is now even higher than Thai, Indian, Pakistani and Cambodian rice.
TBKTSG