VietNamNet Bridge – World-famous shoe and handbag brands like Nike, Adidas, Puma and Timberland are transferring the bulk of their orders to Vietnam to avoid risks in China.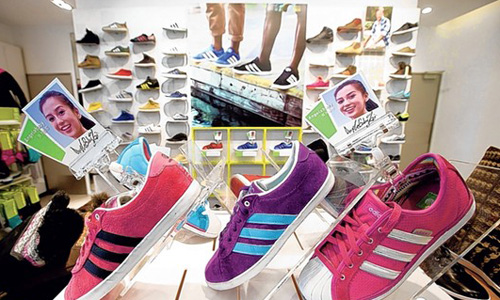 According to the Vietnam Leather and Footwear Association (LEFASO), the transfer rate is 25%, higher than the same period last year.
Particularly in the first half of 2014, the fashion brands such as Nike, Adidas, and Puma transferred large orders from China and Bangladesh to Vietnam. In addition, the Target Sourcing Services, one of the 10 largest distributors in the world, and Dansu Group also plan to expand investment in Vietnam.
Many companies that have only ordered high-end handbags from China, such as bags Lancaster and Sequoia Paris, now also want to invest in Vietnam in order to reduce the potential risk from China - which is still considered the world's largest factory.
According to LEFASO, two other footwear brands - Timberland and Puma – have offered to expand production in Vietnam to meet the increasing number of orders from China. The increasing labor and environmental costs in China is considered to be one of the reasons that big brands want to move some production lines out of China. And one of the destinations they target are Southeast Asia, including Vietnam.
Vietnam is now one of five countries with the biggest footwear export turnover in the world. The U.S., the European Union (EU) and Japan import shoes from Vietnam, ranked second after China.
In the first half of 2014, Vietnam's footwear exports had a high growth rate of 17.8% and that of backpacks and handbags growth of 40.7% over the same period in 2013.
Na Son