VietNamNet Bridge – Many well-known retailers are setting up shop in HCM City, turning it into a drink, fast food and fashion hub in the region.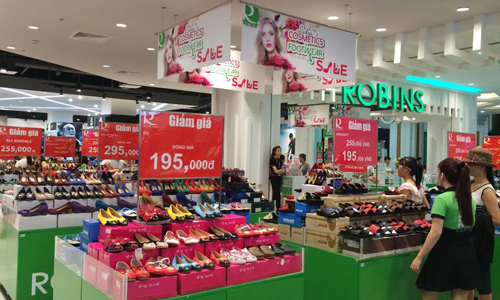 The Singaporean Mapletree group made its presence before the public in early July when it introduced its Vietnamese partner, a first step in its plan to open its store in 2015.
Vietsin, a joint venture between Saigon Co-op, one of the largest Vietnamese retailers, and Mapletree, have signed contracts with 13 retailers to lease retail premises at SC VivoCity shopping mall.
The retailers are committed to lease more than 50 percent of the area, about 21,270 square meters.
The 13 international brands include CGV, South Korea's largest cinema chain and Co.opXtra hypermarket run by a joint venture between Saigon Co-op and NTUC FairPrice.
These also include major players in the food & beverage (F&B) sector such as Starbucks, MOF, BreadTalk, ThaiExpress, Pepper Lunch and Shabu Ya.
Following Mapletree, Robins Department Store, a subsidiary of the Central group from Thailand, has announced its plan to "conquer" the southern market to start in November.
After opening its first department store in Hanoi, Robins is marching towards the south, planning to set up another department store at Crescent Mall in the new urban area of Phu My Hung.
The Japanese AEON Mall has made its official presence in Vietnam with the inauguration of the first shopping mall on January 1, 2014.
The retailer plans to open a store in Binh Duong province in the fourth quarter of the year.
The fast food giant McDonald's, which just opened its first shop in Vietnam in February, has just set up a second one.
A representative of McDonald's Vietnam revealed at the opening ceremony that it has had plans for the opening of a fourth shop in Vietnam.
Other major players have been speeding up their expansion plans in Vietnam.
Starbucks plans to open its eighth shop in the third quarter, Baskin Robbins opened its 20th shop in the second quarter, while Warren Buffett's Dairy Queen has opened a second shop, just several months after it opened the first one in January.
Caffe Bene, a South Korean brand, present in 12 countries, will open in HCM City in the third quarter.
Marc Townsend, managing director of CBRE Vietnam, a real estate service provider, in a second quarter report about the HCM City real estate market predicted that more and more international retailers would flock to HCM City in the time to come.
The senior executive cited a Nielsen survey that the Vietnamese consumer price index in the first quarter was higher than the global average level, one reason foreign retailers want to join the Vietnamese market.
Mark Burlton from Cushman & Wakefield noted that international retail groups do not need to maintain high numbers of shops in their countries, and they tend to seek opportunities in other markets, especially in Asia and Vietnam.
Kim Chi