VietNamNet Bridge – The United Nations Development Program (UNDP) in a report on green growth and fossil fuel fiscal policy in Vietnam proposes the nation remove subsidies for fossil fuel prices.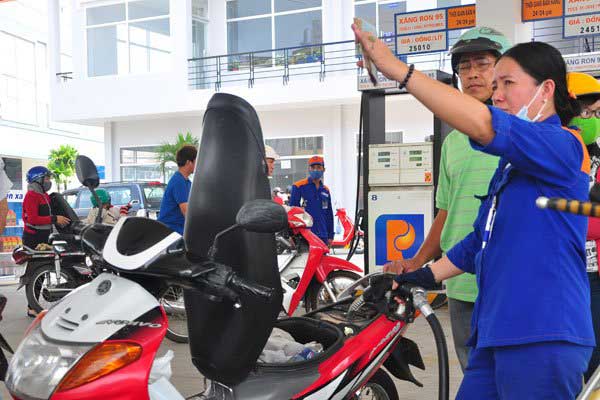 A staff member of a gas station in HCMC fills up a motorcycle tank. UNDP has proposed Vietnam remove fossil fuel price subsidies which amounted to US$1.2-4.49 billion in 2007-2012
According to the report announced at a meeting in Hanoi on Wednesday, in the 2007-2012 period, fossil fuel aid amounted to around US$1.2-4.49 billion and most of it went to State-owned energy producers and distributors.
Although the Government has committed to green development and restructuring of the electricity sector, subsidies for fossil fuels remain huge and are mainly made indirectly via preferential loans and low-cost input.
Vietnam's energy prices are lower than in regional countries. Despite significant price hikes, average retail prices remained unchanged between 2008 and 2013 and were lower than the previous five-year period based on the prices applicable in 2002 and inflationary factors included.
Government subsidies have made inroads into the State's revenues but debts of State-owned enterprises in the energy sector have increased. As a consequence, the debt burden will be passed on to citizens.
Fuel subsidies benefit the rich rather than the poor and Vietnamese people have to pay a dear price for this policy, the report said.
United Nations coordinator in Vietnam Pratibha Mehta stressed the importance of reforming the fossil fuel policy to sustain development of the energy sector.
New Zealand Ambassador to Vietnam Haike Manning supported removal of subsidies for the energy sector, saying that subsidies are eroding the Government's resources and piling pressure on the State budget.
Many partners have considered joining the energy sector in Vietnam but the subsidy policy has dampened the intention of the investors, Manning added.
However, domestic experts suggested that the first task is to reform the energy market that has been distorted by State-owned firms' monopoly.
Economist Pham Chi Lan disagreed that Vietnam's energy prices are lower than in other countries due to low environmental fees and the State's subsidies.
For electricity, Vietnam has basic natural resources to turn out products such as water, coal, hydropower and fuel. Many projects have recovered capital, so electricity prices are lower than in other countries.
Vu Xuan Nguyet Hong, deputy director of the Vietnam Central Institute for Economic Management (CIEM), said State-owned groups such as EVN, PetroVietnam, Vinacomin and Petrolimex are providing up to 85% electricity, oil and gas volumes in Vietnam.
Though the Government has approved restructuring plans of the groups, no plans have been made to remove their monopoly. The enterprises have got huge incentives in trade, finance and land access, she said.
Lan said that if State-owned groups continue to dominate the market while there are not effective market mechanisms, fuel price hikes would be dangerous.
SGT/VNN