VietNamNet Bridge – Catfish exporters, who strongly oppose a newly released decree on catfish export management, say they hope the watchdog agency will rethink its policy. The decree is to take effect on June 20.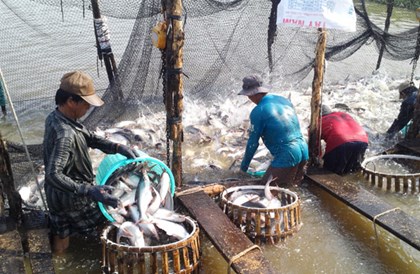 Decree No 36 stipulates that catfish exporters must register their export contracts with the Vietnam Pangasius Association (VPA).
"We don't want to report our business contracts to any individual or institution because this is a business secret. We have the right to determine the selling prices which can cover production costs and bring profits," said Nguyen Thi Mau, director of the Ngoc Ha Food Processing & Trade Company.
Meanwhile, Nguyen Thi Anh, Director of the Tien River Seafood JSC, commented that this is an "absurd requirement", which just aims to collect fees from enterprises, and it will not improve export management.
She also warned that enterprises will have to "queue up" for registering, while exports will get stuck before getting the "go-ahead" from VPA.
According to Anh, each enterprise exports tens to hundreds of containers of catfish a month.
Duong Ngoc Minh, Chair and CEO of Hung Vuong Seafood JSC, said the biggest worry of enterprises is that it will take them much time and money to export products.
It will take seven to 10 days to obtain Nafiqad (the National Agro-Forestry Fisheries Quality Assurance Department) certificates.
It will take another three days to register the export contracts with VPA, and then another two days to get the products through customs agencies.
As such, it will take enterprises 20 days to export a consignment of products, which will push production costs up and make products less competitive.
Nguyen Phuoc Buu Huy, Deputy General Director of Dong Thap-based Cadovimex, said he is disappointed about the decree which contains many problems.
"The matters have been discussed at many workshops and official meetings over the last four years. However, the watchdog agency turned a deaf ear to all our suggestions and proposals," he commented.
Truong Thi Le Khanh, chair and CEO of Vinh Hoan JSC, warned that if the regulations are unreasonable, businesses will try to "dodge the laws".
"After reading the decree, I thought I could find hundreds of ways to dodge the laws. But this will make us tired. We want to respect the laws, provided that the laws stipulate reasonable regulations and create favorable conditions for businesses," she said.
The Vietnam Association of Seafood Exporters and Producers (VASEP) has lodged a petition to the Prime Minister, requesting to amend some unreasonable provisions in the Decree No 36.
VASEP believes that the requirement to register businesses' export contracts with VPA violates the business secret principle. Meanwhile, the decree does not include any provision about the VPA's security responsibilities if the enterprises' information was exposed or used for wrong purposes.
VASEP has asked for a delay of the implementation of the decree to July 1, 2015.
Tien Phong