VietNamNet Bridge – Vietnamese economists believe that China will be careful about Vietnam-China trade because the economies of both countries are dependent on each other, while cross-border trade is now the main source of income for the poorest Chinese provinces.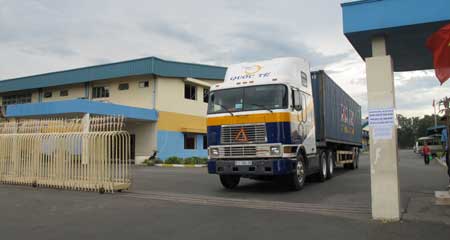 A truck transporting goods from Vietnam to China at the border gate.
Worries have been raised that Vietnam's economy, which heavily depends on China as a material supplier and finished product consumer, would suffer heavily if China unilaterally stops doing business with Vietnam amid the escalating tensions in the East Sea.
However, economists have affirmed that Vietnam should not be too worried because China understands that it will suffer if it does this, as it also depends on Vietnam economically.
Vu Tien Loc, chair of the Vietnam Chamber of Commerce and Industry (VCCI), said trade activities with Vietnam across the border have been bringing profits to Chinese, especially those in the poorest provinces.
Also, according to Loc, Vietnam is now the biggest market in South East Asia for Chinese contractors, while Chinese investors can see benefits from their investment projects, direct or portfolio, in Vietnam.
Vietnam now imports up to 60 percent of materials it needs for local production from China, while it hires Chinese EPC (engineering, procurement, construction) contractors for 90 percent of its projects.
"The great benefits Chinese can expect in Vietnam will force them to think carefully before making any decisions related to economic sanctions," Loc said.
In today's world, when production lines and global supply chains are organised in a modern way, all economies are, to some extent, dependent on each other. This is why many countries in the world, including Vietnam, want to do business with China.
"We are now in an era of global liberalization, when economies and businesses depend on each other for mutual benefit. The principle is right for both Vietnam and China," Loc said.
"We will continue struggling to ask China to withdraw the oil rig out of the Vietnamese territorial waters. And we can say that any move to damage Vietnam-China trade activities will badly affect the two economies and their businesses," Loc said, ending his seven-minute speech at the National Assembly's session yesterday.
Vu Viet Ngoan, chair of the National Finance Supervision Council, also thinks China would not choose the way which could badly affect its economy.
There are two scenarios for Vietnam's economy in 2014. Under one scenario, China would not take steps that could affect the bilateral economic relationship. If so, Vietnam's economy would not be affected much, according to Ngoan. On the other hand, if China applies the policies which are contrary to Vietnam-China mutual benefits, Vietnam's economic growth targets may be unreachable.
"However, in my opinion, the second scenario will not happen," Ngoan said.
However, Ngoan stressed that Vietnam needs to "prepare for the worst", saying that it is the right time for it to diversify markets to ease reliance on some partners.
VEPR, an economic policy research center, several days ago released a report predicting that Vietnam's GDP growth rate in 2014 will be less than 5 percent due to the problems in the East Sea.
Thanh Mai