VietNamNet Bridge – The Vice Chairman of Binh Duong Province, Tran Thanh Liem, has apologized to foreign businesses for the recent spate unfortunate incidents and affirmed his commitment to ensure the safety of their operations.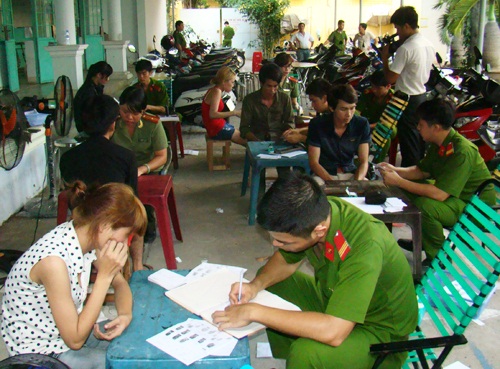 By Friday, 950 extremists in Binh Duong were arrested. Photo VNE

On Friday, Liem and officials of the southern province of Binh Duong paid a visit to foreign firms in the industrial parks of Vietnam Singapore, Viet Huong and Dong An, where many firms' operations were affected by riots a few days ago.
On behalf of Binh Duong, Liem apologized to foreign investors for the unfortunate incidents. He said the province and the Ministry of Public Security were deploying solutions to ensure security for investors.
"Binh Duong Province pledges to take all necessary measures to ensure maximum safety for businesses and to help them resume normal operations as soon as possible," Liem said.
The official also said that the province was assessing the costs of damages to foreign businesses to offer them financial assistance in order to help them resume operations.
Mr. Bui Manh Lan, Chairman of the Hung Thinh Joint Stock Company, the owner of Dong An Industrial Park, said 80% of the enterprises on his campus were unaffected by the riots and are operating normally. Of the 35 companies in the park that sustained damage, nearly 10 will resume production next week.
The general director of Bowker Vietnam Ltd., a Hong Kong-invested garment firm, said his company has been operating in Binh Duong for over 10 years and trusts the investment environment in the province. "After the incident, our factory was damaged. But thanks to the timely support of provincial authorities, we resumed operation on Friday. Currently 3,300 of our 3,500 workers are back to work," he said.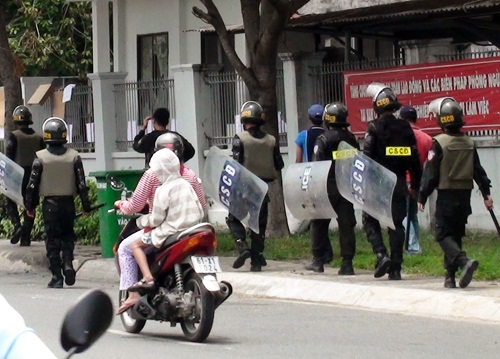 Mobile police patrol in the Vietnam Singapore IP on May 16. Photo VNE

A representative of Yang Cheng Vietnam, a Taiwanese firm, said the company was repairing its facilities to resume operation next week.
In the Vietnam Singapore Industrial Parks I and II, 65% of the enterprises have resumed production. Several other enterprises plan to operate normally from next week. At Viet Huong Industrial Park, 50 percent of the factories have returned to normal operation.
According to incomplete statistics, tens of thousands of workers in businesses across the province are on temporarily leave due to the consequences of the recent riots.
By Friday, at least 950 people accused of vandalizing or looting factories during the disturbances had been arrested.
Minister of Public Security Tran Dai Quang on Friday paid a working visit to Binh Duong Province. He instructed local authorities to promptly investigate and prosecute those who took the lead in causing disorder.
Compiled by Tran Cham