VietNamNet Bridge – The stock market fell sharply Thursday morning, possibly due to the psychological impact of the East Sea conflict between Vietnam and China. The session saw the biggest one-day decline since 2001, with the VN-Index losing more than 32 points and the HNX- Index down by 4.9.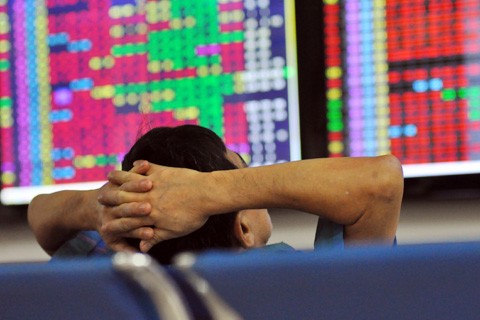 The assets of the richest members of the Vietnamese stock exchanges, including Pham Nhat Vuong, Doan Nguyen Duc, Dang Thanh Tam, Ha Van Tham and Le Phuoc Vu, fell about VND1.8 trillion ($85.7 million) on Thursday morning.
Most stock codes hit the floor, causing a fall in value of shares held by the richest people in the Vietnamese stock exchanges by $85.7 million, after only three hours.
The shares of Vingroup lost VND2,500/share compared with its closing price of the previous session. The assets value of the three largest shareholders – Chairman Pham Nhat Vuong, and the two board members Ms. Pham Thu Huong and Ms. Pham Thuy Hang – were therefore reduced by nearly VND1 trillion ($47.6 million).
Vuong, the first USD billionaire of Vietnam (according to Forbes), lost VND710 billion (about $34 million) just in the morning. Compared with his assets published by Forbes on March 4, Vuong's assets value (only shares) decreased by VND4.2 trillion, equivalent to about $200 million.
Although the price for Hoang Anh Gia Lai Group shares fell only VND1,700/share, with up to 311.6 million units, the value of assets on the stock exchanges of the group's Chairman Doan Nguyen Duc lost about VND530 billion ($25 million) after the end of the Thursday morning session.
Meanwhile, Hoa Phat Group Chair Tran Dinh Long and his wife lost VND400 billion ($20 million) worth of stocks.
MSN was in the top three falling shares, with only 15.7 million shares, but the equity held by Mr. Ho Hung Anh, Vice President of MSN, was reduced by nearly VND100 billion ($5 million).
Several other tycoons in the same situation are Mr. Dang Thanh Tam, Chairman of the Tan Tao Group, Chairman of Hoa Sen Steel Group Le Phuoc Vu and the boss of the Ocean Group Ha Van Tham.
The Chairman of the State Securities Commission, Mr. Vu Bang, says that the most important thing now is for investors to calm down.
The State Securities Commission immediately released an announcement calling for investors to keep calm and be watchful against rumors. The commission said that it would closely monitor unusual transactions.
S. Tung