VietNamNet Bridge – Vietnam's golden age of 5-star hotels, in 2007-2008, is over. However, the business sector is still deserving of investment.
In the fourth quarter of 2013 alone, two new hotels made their debuts in HCM City, including the 5-star hotel Pullman with 101 rooms developed by Saigontourist.
A report of Savills Vietnam, a real estate service provider, reveals that, as of the end of 2013, there were 92 three to five star hotels in HCM City, providing some 12,600 rooms. Sixteen of these are 5-star hotels.
Profits so-so…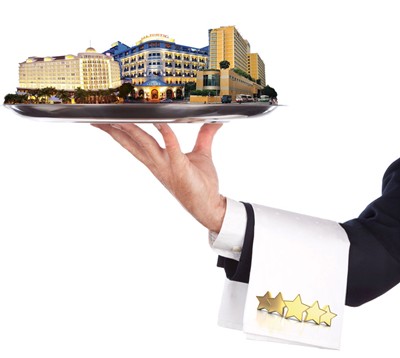 The average hotel room rate in HCM is VND1.8 million per night. Four-star hotels have the highest room occupancy rate, at 81 percent, while 3-star hotels stand at 75 percent. Five-star hotels enjoy a 70 percent rate, which is a big improvement over 2012, when their occupancy rate stood at 56 percent.
According to Grant Thornton Vietnam, the RevPARs (revenue per available room) of 3-4-5-star hotels all decreased by 0.2 percent in 2003-2012 on average.
Four-star hotels in HCM City saw a sharp decline of 4.6 percent in the period, but then saw a surprisingly robust rise of 18 percent in the first quarter of 2014. Meanwhile, there was a slight decrease of one percent for 5-star hotels.
Tao Van Nghe, CEO of REX Hotel, when asked about business performance in recent months, said the business is "tolerable", with no significant growth.
"The economy still has not fully recovered from the crisis," he explained. "Meanwhile, the presence of 3-4 star hotels has led to our revenue decreasing."
Nghe does not think the situation will improve soon. "Travelers will flock to Brazil to attend the most important event of the planet, the World Cup tournament, in June," he said.
Nguyen Anh Vu, CEO of Majestic Hotel, said business performance heavily depends on factors uncontrollable by the hotels.
Majestic, for example, was enjoying good business days in mid-March in the high tourism season, when the revenue dropped suddenly after March 20, partially because of the Malaysian MH370 aircraft accident and the political uncertainties in Thailand.
... but still attractive enough
Though confirming that the profits hotels make at this moment are not really fat, most hotel owners believe that the situation will improve. When the economy fully recovers from the crisis, Vietnam will need a profuse supply of 5-star hotels, especially in big cities like Hanoi, HCM City and Da Nang.
According to Nguyen Duc Ngoc from TD Corp, there are three categories of tourists: individual, group and corporate. The second category comprises  businessmen (managers) and incentive groups.
In the global crisis, businesses tend to cut down on travel expenses for mid-level managers. This largely explains the decline of the occupancy rate of the 5-star hotels in the last few years.
However, Ngoc said, the expense cuts have not been applied to high-grade managers (CEOs, presidents, etc.). Hence, some 5-star hotels still have been doing well.
This can be seen in a Vietnam report from Grant Thorton. In 2012, while the numbers of individual, group, MICE (meeting, incentive, conference, exhibition) tourists decreased sharply, the number of corporate tourists increased to 21.4 percent from 14.5 percent.
DNSG