VietNamNet Bridge – The US fast food giant McDonald's may not gain market share as quickly as planned, due to its late arrival in Vietnam vis-à-vis its rivals, experts say.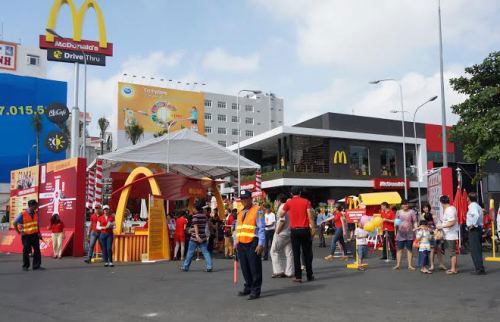 The biggest rivals of McDonald's are Lotteria, KFC and Jollibee, all of which have had a presence in Vietnam for a long time, and now command 80 percent of the fast food market segment.
Lotteria is taking the lead in demonstrating that the invasion of the Double Arches is nothing to fear. The chain is opening a series of shops on the most crowded streets of HCM City – Nguyen Du and Ly Chinh Thang.
The fast food chain and KFC are now moving ahead with their business expansion plans by marching on towards other developed cities, including Phan Thiet.
The Asian Jollibee, encouraged by its success in the struggle with McDonald's in the Filipino market, is staying calm, continuing its plan to open a new shop in District 3, targeting children.
A branding expert, when asked about the future of McDonald's in Vietnam, noted that this depends on the number of shops McDonald's plans to set up in the coming years.
If it plans to have 10-20 shops throughout the country, it will surely succeed. However, it would be impractical for it to open hundreds of shops.
In principle, once a fast food chain decides open many shops, it had better be sure it can bring the average prices of it products down to a level that fits the average Vietnamese income. That is because the company is forcing itself to target the majority of fast food customers rather than a small demographic with high incomes.
In other words, McDonald's will succeed only if its products are positioned as valuable products.
McDonald's has revealed that it will open its second shop in Vietnam on April 30, also in HCM City.
The first challenge for McDonald's when opening the second shop, according to the above said branding expert, is that the customers in HCM City will have two shops to go to. In the worst scenario, customers would flock to one shop, leaving the other more deserted than usual.
That scenario is very likely to happen. Observers have noted that most of the customers going to the first McDonald's shop are those who drive motorbikes, i.e., customers with medium incomes and young customers under the age of 25.
Moreover, the most outstanding feature of the customers under 25 is their modest income and fickle tastes. They lack the two most important characteristics that McDonald's needs – high income and loyalty.
Tamnhin.net has quoted a foreign newspaper as commenting that McDonald's McPork, priced at $3.10, is proving to be too expensive in light of the modest average Vietnamese income of $150 and the average food price in Vietnam.
McDonald's has been trying to attract an upscale segment with its drive-thru service, which targets high income earners who come to the shop in their cars. However, a businessman noted that fast food is not the kind of thing that he and his colleagues, mostly middle-aged, like.
In newly emerging markets, the nouveau riche tend prefer using those services or products which can display their high status in society. iPhone is an example. Meanwhile, young upscale diners eat at McDonald's but may not think of returning, because wolfing down a Big Mac just doesn't bring the same "intangible value" as wandering down a street with iPhone in hand.
GDVN