Japanese drum troupe tours Vietnam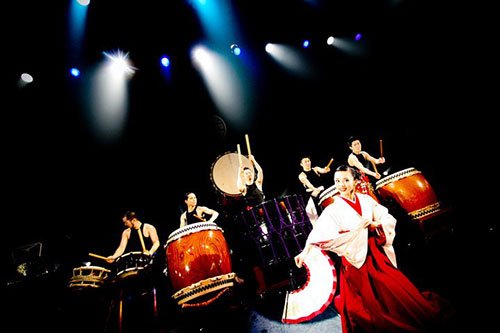 Japan's traditional drum troupe Bati-Holic will make a performance tour of Vientam next month, with the first show at the Hanoi-based Youth Theater on April 4.
The announcement was made recently by the Japan Foundation Center for Cultural Exchange in Vietnam.
Free tickets are available at Japan Foundation from 14:00 on March 28.
The troupe will then perform at the opening ceremony of 2014 Hue Festival on April 12 and a drum concert at Ngo Mon (Noon Gate) Square in Hue city on April 13.
This is the second time the troupe will have performed in Vietnam; the first was at the Nippon Genki Festival in Ho Chi Minh City in 2012.
Founded in Kyoto in 2004, the six-member group play rock, using traditional Japanese instruments. They stage more than 100 shows a year at various venues in Japan and overseas.
Youth concert to showcase enthralling orchestral music
Musical pieces composed by artists from Vietnam and across the globe will be performed live by the HCM Ballet Symphony Orchestra and Opera (HBSO) on March 29.
The concert, which is part of the Young Melody programme launched by the HBSO in 2011, offers the youth a deeper understanding of orchestra music. The audience will also be able to enjoy classic compositions by Johann Strauss II, Franz von Suppe, Mozart, Vivaldi and Bizet.
Modern pieces from movies, such as Titanic and Pirates of the Caribbean and Vietnamese piece Tro Ve Dat Me (Return to the Motherland) by Nguyen Van Thuong, will also be played by the orchestra.
The piece will feature roles of different instruments in the orchestra, including the strings, percussion and wind instrument.
A summarization of the evolution of orchestra music in Vietnam as well as introduction of the orchestra will be presented by conductor Tran Vuong Thach.
The concert will begin at 8.30pm at the municipal Opera House. Free tickets can be available at No 33 Nguyen Thi Minh Khai, Dist 1 and No 7 Cong Truong Lam Son, Dist 1.
Phu Yen fully prepared for seafood festival
The central coastal province of Phu Yen is ready for the Vietnam Seafood Festival from March 27 to April 2, said Director of the provincial Department of Culture, Sports and Tourism Ho Van Tien.
At a press briefing on March 24, Tien said the festival will include 18 events, from seafood exhibitions and aquaculture forums to workshops on fishery development and trade promotion.
A film week and book displays on fisheries and Vietnam's sea and islands will also be organised during the festival, he added.
Themed "Vietnamese Seafood – Integration and Development", the event aims to honour the craft of seafood farming and fishing, especially tuna fishing, and introduce tangible and intangible cultural values of Vietnam's coastal localities.
It will also offer chances for businesses in the seafood sector to enhance their connectivity.
Exhibition affirms Vietnam's sovereignty over Hoang Sa Archipelago
An exhibition showcasing ancient maps and documents proving Vietnam's sovereignty over Hoang Sa (Paracel) Archipelago opened to the public in the central city of Danang on March 24.
The 2nd "Hoang Sa Archipelago – Vietnam's sovereignty" exhibition was co-organised by the Danang's Department for Foreign Affairs, Hoang Sa district's People's Committee and Danang Museum at Dong A University.
The exhibition displays 70 documents, items and precious pictures, of which there are many ancient maps collected from local and foreign researchers and scholars.
In the opening ceremony, a film about Hoang Sa was also shown.
On this occasion, a representative from Dong A University presented a sand painting depicting Vietnam to Danang Museum.
The event will last for the whole week.
The next exhibition is expected to be held at Danang Polytechnic University.
Mekong Delta holds coconut festival
The 4th Ben Tre Coconut Festival will be held in Ben Tre Province on April 7-13 as approved by Deputy Prime Minister Vu Duc Dam.
Members of the World Coconut Association & farmers and companies from 10 provinces that specialize in coconut production will join the event, according to the People's Committee of Ben Tre Province.
The festival honors individuals and organizations that have contributed highly to the coconut market.
In addition, the Ministry of Culture, Sport and Tourism approved the People's Committee of Hau Giang Province to host the 6th Khmer Culture, Sports and Tourism Festival 2014.
The festival is politically significant and is an opportunity to honor and highlight the culture of the Khmer ethnic group and strengthen solidarity and exchange among the Khmer community.
Int'l experts help Vietnam preserve archives
More than 200 librarians are joining their colleagues from India, the Philippines, Sri Lanka and Singapore at a training course on preserving traditional and digital documents in Hanoi.
The March 24-25 training course is part of an initiative proposed at the 70th World Library and Information (WLIC) in Singapore last year. It aims to raise preservation capacity for Southeast Asian libraries of the Special Libraries Association (SLA) and National Libraries of Vietnam, Laos and the Philippines.
Dr Rienhard Feldmann, Director in charge of ancient collections at Munster University's Library and a library in North Rhine Westphalia in Muster City, Germany, introduced techniques to preserve, protect, retrieve, monitor, digitise and store data.
Vietnam National Library experts demonstrated skills to protect traditional documents, and shared their experience in protecting traditional and digital data with foreign colleagues.
Similar training courses will be held at the Lao National Library on March 27-28 and at the Aquinas University of Legazpi in the Philippines on April 10-12.
HCM City to host TELEFILM 2014
The Vietnam International Exhibition on Film and Television Technology (Telefilm 2014) is coming to Ho Chi Minh City on June 5-7.
The annual event, organised by Vietnam Television, aims to introduce TV programs, advertising services, latest equipment and solutions.
Domestic and foreign broadcasters and service providers will showcase state-of-the-art technology, products and services, and meet and network with thousands of visitors and hundreds of other participating companies.
The event provides a good chance for Vietnamese broadcasters and service providers to explore modern technology and equipment from global partners.
There will be seminars on TV, film and advertisement film production, and exchanges between leaders of State management agencies and businesses.
Hue Festival a national treasure: Minister
The Hue Festival is a cultural event of national significance that requires high quality programmes and services, Hoang Tuan Anh, Minister of Culture, Sports and Tourism, said yesterday.
In a meeting with the organizers of Hue Festival 2014, he said that the event is not just important to the host city, impacting as it does the nation's cultural profile.
He asked local authorities to take all security precautions needed from now until the closing of the event and stressed the importance of maintaining food hygiene and safety.
The Hue Festival is a biennial event held in the former capital city. This year will see the participation of 68 art troupes from 38 countries and territories from Asia, Europe, America and Africa, said Ngo Hoa, head of the event's organising board.
The international friends will join 14 troupes from localities within the country in performing for the nine-day (April 12-20) event, Hoa said.
The event will include a summit of culture ministers from the Association of South East Asian Nations (ASEAN).
Anh said this was an opportunity for everyone to enhance regional solidarity.
Organisers expect this year's festival to attract more visitors to the city and boost tourism development.
In the first quarter of the year, Hue received 650,662 visitors, an increase of 2.3 per cent over the same period last year.
Guitar, self-made drum performance live in Hoi An
A live musical show by two inspirational musicians, Pham Nhu Khoa, a one-armed guitarist, and French-Vietnamese drummer, Nguyen The Vinh will be held at Hoi An's U-cafe on Saturday.
The guitarist Khoa, from Binh Duong, an orphan since childhood, will perform songs composed by Trinh Cong Son, while Vinh will play natural sounds on his self-made bronze drum from 2pm to 5pm at the Hoai River side cafe at Alley No 39/41 in Tran Quang Khai Street.
Vinh, who suffers from Parkinson disease due to exposure to Agent Orange/dioxin during the war, left HCM city for France with his mother when he was just 10. He returned to Hoi An in 2012.
The French-Vietnamese has created a "sky-drum" from bronze parts of American war bombs as a memoir of his childhood experiences during the war.
The two are also scheduled to perform at the Hope Village, which is home to disabled and orphaned children, in Da Nang city, on Sunday afternoon, before a night performance at Sakura Friends, a venue for Viet Nam-Japan cultural exchange in the city.
Preparation for first Don ca tai tu festival underway
The southern Bac Lieu Province is in the final stage of preparation for the first national Don ca tai tu Festival to be organised next month.
The festival titled Hoi Ngo Tai Tu Phuong Nam (The Meeting of Talented Southern People) with the participation of artisans from 21 provinces will take place at the Ho Nam Resort between April 20-25.
Organisers will prepare 10 conical shaped cottages at the resort for Don ca tai tu artisans from the provinces to take turns performing during festive days.
Beside the performance, in the booths, images and items related to the movement of Don ca tai tu in each locality will be displayed.
Attendees at a meeting held recently by Bac Lieu Province's People's Committee and Department of Culture, Sports and Tourism said that music troupes from the 21 provinces will travel to districts in the province and play for local citizens.
Charity bike ride raises $70000
Thirty-two cyclists from the UK on Saturday completed a 500-kilometre journey to raise funds for a training programme on neonatal care at the Da Nang Obstetrics and Paediatrics Hospital.
The trip collected US$70,000 from participants and donors to support the programme by the UK's Canterbury Christ Church University (CCCU).
The British Ambassador to Viet Nam Dr Antony Stokes also participated in the last stage of the journey, from the Hai Van Pass to the hospital.
Last year, a 10-day cycle trip was organised from Lao Cai to Da Nang, covering 1,500 kilometres.
The event was organised by Newborns Vietnam, a UK-based charity which works to reduce neonatal mortality in Southeast Asia, with specific focus on Viet Nam.
Ngoc Anh wins first Popstar to Operastar contest
Ha Noi-based pop star Ngoc Anh won the first season of the Vietnamese version of the Popstar to Operastar contest held in HCM City on Sunday.
She beat the other three singers of similar talent, namely Khanh Linh, Kasim Hoang Vu and Nathan Lee, by winning the highest number of audience votes last night.
The four finalists had to perform a solo song in chamber music style and sing with one of the jury members in another opera piece.
Anh impressed the jury with her solo song, which had been composed by Pham Duy in 1947, in the background of the famous "Blue Danube" composed in 1867. Then she sang the song "Somewhere" with Bulgarian judge Evelina Krasteva.
Both her songs received a total of 39 marks from the jury, 0.5 points less than her competitor Khanh Linh, who was considered to have the most professional voice in the final round. Yet, after receiving the highest number of audience votes, Anh won the title.
HCM City-based Nathan Lee and Kasim Hoang Vu received the same jury scores of 37.
The Vietnamese version of the British Popstar to Operastar show attracted eight pop stars from across the country in eight live shows during the past three months. It was the first professional-level contest of its kind in Viet Nam to focus on opera. The jury comprised two Bulgarian singers, namely Ivaylo Mihaylov and Evelina Krusteva Stoyanova, Vietnamese opera singer Vo Thuy Ngoc Tuyen and journalist Nguyen Minh Duc.
Festival commemorates peasant hero in Dien Bien
A festival commemorating the 245th death anniversary of peasant hero Hoang Cong Chat kicked off in Dien Bien district, the northern mountainous province of Dien Bien on March 24.
Started in 1994, the Hoang Cong Chat Temple Festival takes place every year on the 25th day of the second lunar month at Ban Phu Citadel, Noong Het commune.
The festival, the largest in Dien Bien province, features a wide range of cultural, art and sports activities, including a palanquin procession, incense offering, art performances and a show of traditional costumes of local ethnic groups such as Thai, H'Mong, Kho Mu, Lu and Lao.
Many folk games and a cooking contest are also held during the two-day event.
Ban Phu Citadel was built between 1758 and 1762 by Hoang Cong Toan, the son of Hoang Cong Chat, who led local people in the movement to protect the northwestern villages from the occupation of the Phe invaders from China in the 18th century.
The citadel and the temple, which were twice recognised as a national historical and cultural relic site in 1981 and 1994, have not only become an important cultural and spiritual destination for ethnic minorities in Dien Bien province but also an attraction for all Vietnamese and foreign tourists.-
Ho Chi Minh City Book Festival kicks off
Nearly 200,000 titles are for sale at a discounted price at the eighth Ho Chi Minh City book festival at Le Van Tam Park in District 1, which opened on March 24.
More than 150 domestic and foreign publishing houses are selling books at the festival, running till March 30, with discounts of 10-20%. Prices will be slashed in half for the last three days of the festival.
Talks from well-known authors, including Nguyen Nhat Anh, Vi Thuy Linh and Nguyen Huu Tai, are scheduled over the festival.
Special exhibitions on Ho Chi Minh City, President Ho Chi Minh, the Dien Bien Phu Victory and General Vo Nguyen Giap can also be enjoyed at the festival's location.
The biennial Ho Chi Minh City book festival is organised by the Ho Chi Minh City's People's Committee, the Department of Information and Communications and Saigon Cultural Products Corporation, along with many publishing houses.
Source: SGGP/VNA/VNS/VOV/ND