VietNamNet Bridge – Strong evidence has, for the first time, been discovered suggesting that Vietnamese tombs in the central province of Thanh Hoa date from the early to late period of the Da But civilisation (6,500 – 4,700 BC).
70 ancient tombs unearthed in Thanh Hoa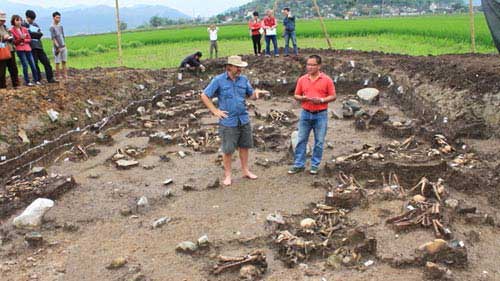 The overview of the archaeological excavations in Con Co Ngua. – File photo
According to PhD Trinh Hoang Hiep from the Vietnam Institute of Archaeology, who has worked to uncover the secrets of the province's Con Co Ngua relic site, unearthed tombstones and grave offerings have shed light on a little-known period in the history of the land.
The presence of pottery and stone items, along with the position of uncovered remains, offers valuable information about the Neolithic Era in Vietnam and the region, he stated.
A report by the institute published in early 2013 said experts had discovered some 70 ancient tombs, together with bones, teeth and other evidence of animals such as turtles, water buffalo, elk, deer, fish, scallops and oysters.
Dating back to at least 5,140 – 5,520 BC, the Con Co Ngua site – found in Ha Linh Commune, Ha Trung District – is one of the most extensive relics left behind by the Da But civilisation in the country, alongside ancient sites in the northern province of Ninh Binh.
Source: Vietnam Plus