VietNamNet Bridge – Professional and amateur painters, particularly fine arts students, can earn money by sketching portraits of passers-by at historical and cultural sites in Ha Noi -- though many quit due to the cold.
Street portrait season kicks off
Lively celeb portraits in pencil sketches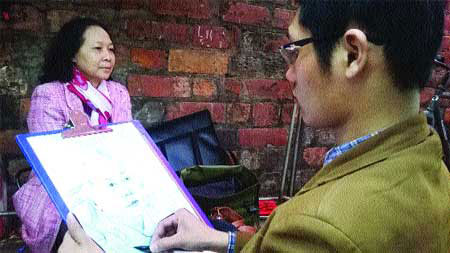 Talent required: Sketching portraits requires a quick mind and skillful hands. 
Nguyen Hung Nam, a student from Ha Noi, believes that many young people now earn a good income by sketching portraits on the streets.
During the Tet (Lunar New Year) holidays and during the early days of the year, professional and amateur painters, particularly fine arts students, can earn as much as VND1 million (US$48) per day by sketching the portraits of passers-by at historical and cultural sites in Ha Noi, such as Van Mieu (Temple of Literature), Hoan Kiem (Returned Sword) Lake and other sites renowned for their religious and cultural significance.
In Van Mieu Street, in addition to getting words calligraphed in the first days of spring, visitors are fascinated by the dozens of painters.
Sketching only on weekends, a student can earn between VND3 million and VND4 million per month. During Tet holidays, they can earn about VND10 million from street portraits.
Dozens of young people sketch portraits every weekend alongside the Pen Tower of Returned Sword Lake. Most of them are students of fine arts and architecture universities in Ha Noi.
On average, a painter can complete a portrait sketch in 15 minutes with a charge of VND100,000 to 150,000.
Nam, a third-year architecture student said, "Drawing a sketch portrait requires patience and is meticulous work. The eyes are the most important as they reflect the soul of the person whose portrait is being painted."
Nam noted that he chose not to work for design companies, like his classmates, because that job offers poor pay but is high pressure.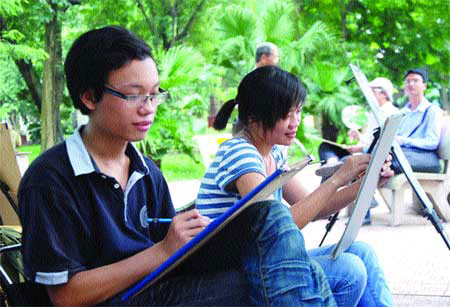 Tempting income: Many fine-arts students can earn money from sketching portraits at tourist sights around Ha Noi.
"Students who work for the architecture companies can earn only VND2.5 million per month. I sketch and each day earn at least VND300,000 to 400,000, and I have more free time."
This Lunar New Year, many architecture students rushed to Van Mieu to sketch. After nearly two weeks of working tirelessly, Nam earned more than VND10 million, enough to pay for his extra study courses.
Nguyen Phuong Loan, a fine-art student, said she chose this job because it provides good income and is fun.
"I only work on weekends so that it does not affect my studies, but each month I earn between VND3 million and 4 million. The minimum basic wage of a worker is around VND2 million, or $100. Given that income, I do not have to ask my parents for money."
However, Loan said many of her classmates, especially the girls, have quit because they could not endure the cold weather.
Besides the experience that this kind of work brings, the young sketchers in Hoan Kiem Lake also take away many beautiful memories. Nam and Loan as well as other sketchers have become friends and occasionally go singing, eating and drinking together.
Many clients also give them opportunities to earn extra income. Loan is now a tutor and earns VND200,000 per hour for tutoring the child of a client.
Duong Bao Anh, a client, appreciated their efforts.
"This is the first time I saw myself in a sketch. The painter did it very well. I will frame it and hang it in my house to celebrate a happy Tet," she said.
For young people like Nam and Loan, although they work only during the early days of the year, sketching gives them a good experience.
"Next year too you will see me working with my easel here," Nam said with a broad smile.
Source: VNS