VietNamNet Bridge – It is portrait season at historical and cultural sites in Ha Noi, such as Van Mieu (Temple of Literature) and Hoan Kiem Lake. During Tet, enterprising professional and amateur painters and fine arts students can earn as much as VND1 million (US$47) a day from creating portraits of passers-by.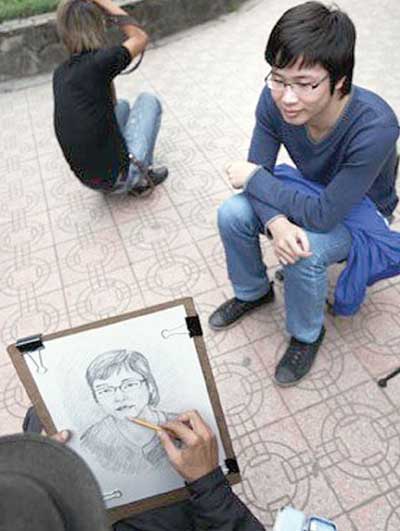 Finishing touches: It is portrait season at historical and cultural sites in Ha Noi, such as Van Mieu and Hoan Kiem Lake. — Photo: VNN

Andy Brian from Australia admired a sketch by painter Nguyen Minh Dat. Not only was Dat's sketch beautiful, Brian said, but the price of VND100,000 to 300,000 was also attractive.
Dat earns VND12-15 million each spring, when many local and foreign travellers visit the capital.
"I'm very happy because the career helps me to continue my job and get some income," said Dat.
Dao Thi Tuyet Hong from HCM City got her portrait sketched for the first time and was pleased with the decision: "The painter sketches very well. The girl in the sketch really looks like me! I will hang it on the wall in my home."
Nguyen Thanh Vinh, a third-year student at the Ha Noi University of Architecture, said he had been doing street portraits for more than a year.
"Unlike my friends, who are interested in doing extra jobs at companies, I choose to make sketches in my free time at Dong Xuan Market. But this spring I moved to Van Mieu, where thousands of guests visit. Sometimes I have to work until 2am, but I earn between VND1 to 3 million a day," said Vinh. Last Tet, he earned VND10 million a week – enough for a student budget.
"Portrait sketch requires a painter with patience and a sense of detail. All details are important, but most important are the eyes because they reveal the soul of the character," said Nguyen Ly Bang, a student from the Ha Noi University of Fine Arts.
But Pham Phuong also from the University of Fine Arts said many of her friends, particularly female ones, had given up this job because they could not endure the cold, windy weather.
Source: VNS