VietNamNet Bridge – Viet Nam has 16 ethnic minority groups at risk of disappearing due to diminishing populations. However, an ambitious new Government project aims to preserve the unique customs of these vanishing cultures.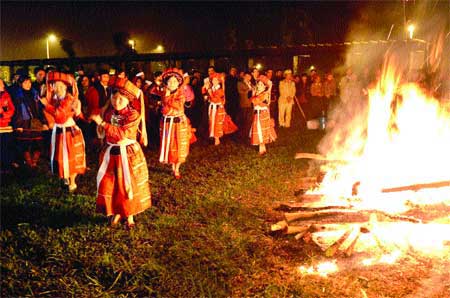 Blazing rite: A fire-dancing festival of the Pa Then ethnic group in Bac Quang and Quang Binh districts in the northern mountainous province ofHa Giang. The festival, in which people pray for the gods' blessing in the new year, is one of the traditional customs that the project aims to preserve. 
Ma Wel, a Chu Ru woman in Ma Danh Village, Lam Dong Province, and her husband are experts at making silver rings and bracelets for weddings.
But unluckily, the couple are the only ones among the Chu Ru ethnic group who know how to cast their silver rings in the traditional way.
"We have been told that the provincial authorities are planning to build a house to exhibit silver products of the Chu Ru. This will help preserve our tradition and culture," she said.
The La Hu ethnic group in the northern mountainous province of Lai Chau faces an even more serious problem. The group has only 6,000 people remaining in mountainous areas in Muong Te District. The group members are used to living a nomadic life and have few relations with other ethnic groups.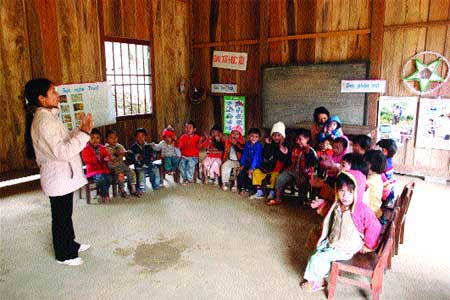 Cultural preservation: Children of ethnic minority groups hold the responsibility for keeping their traditional culture alive.
Many of their communities do not have electricity, roads, schools, healthcare facilities, markets, general information and irrigation for crops.
That is why most of them are poor and cannot speak Vietnamese, the country's national language.
Today, traditional costumes, as well as spoken languages and writing, along with customs and festivals, are being seriously eroded among many ethnic groups.
That is why the Ministry of Culture, Sports and Tourism has recently approved a project, entitled "Emergency conservation, supporting and enhancing capacity for preservation and development of ethnic culture, eliminating harmful practices among the ethnic minority regions". The project's goal is to promote and preserve the traditional culture of 16 ethnic groups that have very small populations.
Community development: Border guards help Chut ethnic people in Huong Son District, Ha Tinh Province to learn. 
The project is focusing on 16 ethnic minority groups that have populations of less than 10,000 people, including Si La, O Du, Brau, Ro Mam, Pu Peo (each having a population of less than 1,000 people); Cong, Mang, Bo Y, Lo Lo, Co Lao and Ngai (each with less than 5,000 people); Lu, Pa Then, Chut, La Ha and La Hu (each with less than 10,000) and the ethnic communities that had to be resettled during the building of hydroelectric plants.
The project has two main targets: to increase support by the State budget to help preserve ethnic cultures, while eliminating harmful practices, obsolete customs and habits.
Hoang Duc Hau, head of the ministry's Department for Ethnic Culture, said ethnic minorities in Viet Nam, especially the groups that have populations of less than 10,000 people, have extremely difficult living conditions.
"They live mainly in remote and isolated areas, often with inaccessible roads. The rate of poor households is relatively high, so their ability to preserve and promote their traditional cultures is very limited, as many groups' traditional cultures have been worn away.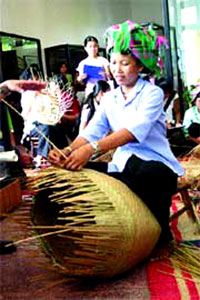 Ancient craft: La Ha women still maintain the habit of making household items from bamboo. 
"For some ethnic groups, even their spoken languages, writing and costumes were gradually lost. That is why emergency conservation of their cultures, as well as helping to improve living conditions for them, is so urgent."
He emphasised that the project aims to help these groups from losing their cultural identities.
"The project also supports people in new resettlement areas to conserve and promote traditional cultures, rebuilding their cultural lives, enhancing their cultural enjoyment, and helping them learn more about protecting their own cultures."
Hau said the project would assess the status of cultural heritages and cultural lives of the ethnic communities that were resettled in Lao Cai, Son La, Lai Chau, Dien Bien, Quang Tri, Quang Nam, Gia Lai, and Kon Tum provinces.
In addition, the project will select a number of ethnic villages to receive funding to assist in preserving their customs and traditions, including conservation of landscape and natural environment, protecting objects with high cultural value such as architecture, housing, clothing and food; and intangible culture, including customs, traditions, festivals, folk songs and dance, spoken language, writing and folk literature.
He said the project would also focus on building communities, preserving traditional villages in ethnic areas, helping local artisans who have credibility in their community so they can assume key roles in preserving and promoting their own cultures, establishing folk art and cultural clubs, organizing community cultural activities, and helping local residents maintain their festivals.
The project, to continue until 2020, is divided into two phases.
The first phase, from now until 2015, will focus on groups with a population of less than 1,000, including Si La, O Du, Brau, Ro Mam and Pu Peo, as well as people who had to be resettled for the construction of hydroelectric plants.
During this phase, authorities will work to preserve about 30 traditional villages.
The second phase, from 2015 to 2020, will focus on other ethnic groups, as 20 additional villages will be preserved.
Active participation
Province officials have also expressed their desire to actively participate in the project.
The Director of the Department of Culture, Sports and Tourism of Lao Cai Province, Tran Huu Son, said his province would focus on conservation of the Bo Y ethnic culture.
"Lao Cai Province has the Bo Y group (about 1,500 people) that benefit from the project. We made a census of the Bo Y population in all the villages, researched their cultural heritages.
"We are interested in protecting tangible cultural values, such as protecting traditional villages, including determing where villages should be located, their places of worship, as well as village regulations. We also focus on preserving traditional costumes of the Bo Y, which have their own identity and remain different from other peoples. Besides, we will find solutions to restore their spoken language, because the Bo Y language was lost about 50 years ago, and to date only some ancient writing remains."
Son said Vietnamese researchers discovered a number of cultural distinctions of the Bo Y which are very valuable.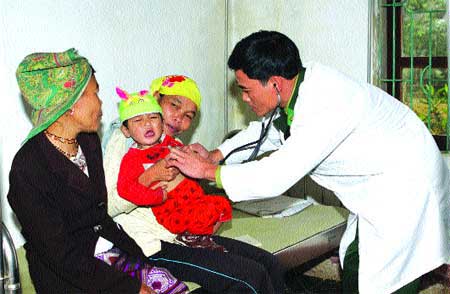 Health check: A health practitioner in Ha Tinh Province examines a Chut ethnic baby in Huong Lien Commune. Healthcare is an important part of ensuring the welfare of ethnic minorities.
"We are planning to make a dossier to propose that the Government recognize their cultural heritages at a national level, such as folk dance, paintings made of cut paper, folk music, and festivals such as the fire-dancing festival and village cleaning festival."
In the Tay Nguyen (Central Highlands) province of Gia Lai, Phan Xuan Vu, the director of the provincial Department of Culture, Sports and Tourism, said it is important to allow people to learn that they are the owners of their heritages.
"Immediately after the Ministry of Culture, Sports and Tourism launched the project, our Department conducted a survey for ethnic groups and regions to benefit from the project.
"The greatest difficulty in implementation of the project is that their customs have changed, absorbing modern life, thus many traditional cultural values of the ethnic people gradually disappeared.
"To enhance the effectiveness of the project, we will continue to train grassroots cultural workers and promote communication and support to help people realize they are the owners of their heritage and are the best ones to preserve their own ethnic heritages."
Nguyen Huu Thang, director of the Department of Culture, Sports and Tourism of Quang Tri, said in recent years the province has put in place many activities to preserve the typical cultural values of ethnic minorities.
"We focus on building a new lifestyle, eliminating backwards habits, and improving the cultural enjoyment for people, as well as build community houses, provide books, newspapers and movies for people."
For ethnic residents, such as Ma Wel and her husband, their traditional cultures still have hope of being restored, but only time will tell if the project will be successful.
Source: VNS