Japanese couple brightens wall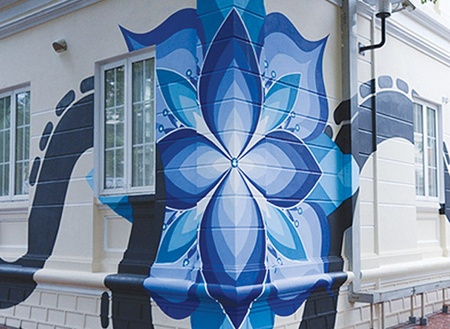 A giant wall mural at the Japan Foundation Centre for Cultural Exchange has brightened the entire building, which is especially welcoming on grey and rainy winter days in Ha Noi.
The blue mural, depicting a large multi-petal flower and several bold curved lines, is part of the art display entitled Abilight – the Viet Nam debut exhibition of the Japanese artistic collaboration Hitotzuki.
Founded in 1999 by the wife-and-husband couple, Kami and Sasu, it seeks to promote creativity rooted in the dimension of street culture, as the artworks present the harmony between that which is feminine and masculine.
Their distinctive worldview stems from the interaction between the dynamically flowing curves fashioned by Kami – the husband, and the strong and flamboyant symmetric motifs engineered by Sasu – the wife. This vision breathes new life into the sense of beauty derived from the street, and has succeeded in invigorating the era with a steady of vivid new landscapes.
"Hitotzuki stands for the sun and the moon, being contrary to one another. They differ, but fuse together. That is how we are. And this ideology has also been reflected in all our works," Sasu said.
When asked about the meaning of the exhibition's name, the couple explained: "Abilight is a newly coined word by the couple, deriving from 'Abi[lity]' and 'Light'.
"It conveys a positive message to the visitors in Viet Nam to share a forward-looking feeling," they added.
The couple worked nine days to complete the mural paintings in the main building of the Japan Foundation Centre.
"Although we did not have any difficulty while creating many giant murals before, we were challenged by the wall at the Japan Foundation Centre in Viet Nam. There are many deep lines, which are original dcor details for the wall, as well as permanent lights. Of course, it is easier to paint on a smooth surface than on a rough one," Kami said, when asked about the project in Ha Noi.
While wandering Ha Noi streets during their breaks, the couple found many interesting places. "We hope we will have the chance to draw those places on our next visit to Ha Noi," said Sasu.
Alongside painting murals, the couple has also designed a series of products, ranging from t-shirts, bags, key chains, caps, skateboards, watches, and mugs, with their signature motifs. These products can also be seen at the exhibition.
"I have no idea about art, but I was attracted by flamboyant colours, which, in my opinion, express the strong vitality and the youth of the young artist couple," a Japanese-language student said.
The murals also impressed older visitors.
"It can be said there are two words describing Japanese culture: refined and sophisticated. Although the artists draw murals with modern symmetric motifs, I still able to see those features in their artworks," Kim Anh, a middle-age woman, said.
Before their Viet Nam debut, the couple had unveiled their murals in Praha in 2008, Berlin in 2009, Melbourne in 2010, and Los Angeles in 2011.
Alongside the Hitotzuki exhibitions, each artist also has a solo exhibition.
The Abilight exhibition will continue until February 16, 2014 at 27 Quang Trung Street.
Tenor wins annual TV singing contest
Pham Trung Kien of Binh Thuan Province has won HCM City Television's Tieng Hat Truyen Hinh annual singing contest, which wrapped up on Friday.
The skilled and confident 22-year-old tenor got 19.73 points from the judges.
In the final at HTV Theatre, Kien, who won HTV's 2010 Tieng Ca Hoc Duong (Singing School) contest, performed a solo and duets with Duc Tuan and another finalist.
Receiving the cash prize of VND100 million (US$4,760), he said tearfully: "I want to devote this victory to my parents who always encourage me during a competition."
Pham Khanh Ngoc of HCM City was the runner-up with 19.63 points. The 25-year-old from the Military Zone 7 arts troupe was also voted "Favourite Singer" by viewers.
Tieng Hat Truyen Hinh was first held 22 years ago, and has unearthed several talented singers like Duc Tuan, Thanh Thuy, and Nam Khanh.
Argentina Week boosts cultural links
Hanoi officially launched its "Argentina Culture Week" on December 14, beginning a range of artistic and cultural celebrations to honour the 40th anniversary of the two countries' diplomatic ties.
Argentina hosted its own "Vietnam Culture Week" earlier in September.
As part of the week-long event, the Hanoi Opera House will host the Argentine Tango and Folklore Concert on the night of December 16, featuring the renowned Seleccion Nacional de Tango and Compadia Nuevo Arte Nativo.
The Vietnamese Ministry of Culture, Sports, and Tourism has worked with the Argentine Ministry of Culture on the Eva Peron, Ambassador of Peace photo exhibition at Hanoi's National Library. Dedicated to Peron, the late First Lady of Argentina (1919–1952), the exhibition includes a seminar on her life and career and marks the Vietnamese language debut of her book "La Razon de Mi Vida (The Reason of My Life).
The Hanoi National Cinema's Argentine Film Week will open on December 18.
Planned screenings include Leandro Ipia's Revolucion: El Cruce de los Andes (Revolution: The Crossing of the Andes), Ariel Winograd's Vino Para Robar (To Fool a Thief), and Maria Veronica Ramierz's animated Anima Buenos Aires. The week will conclude with Aniceto, directed by Leonardo Favio.
Argentinian Ambassador to Vietnam Claudio R. Gutierrez expressed his hopes Argentina Culture Week will inspire renewed enthusiasm for cultural cooperation between the two countries and help introduce their respective peoples to the richness of each other's cultural identities.
Documents prove VN owns islands
An exhibition that opened in the capital city yesterday provides irrefutable documentary evidence of Viet Nam's sovereignty over the Hoang Sa and Truong Sa archipelagoes.
Titled "Viet Nam's Hoang Sa and Truong Sa – Historical Evidence," the exhibition at 45 Trang Tien Street, aiming to heighten public awareness of national sovereignty, features over 58 maps, 33 historical documents and 31 books and writings collected by domestic and international researchers and scholars.
The documents provide historical and legal evidence that the southernmost territory of China is Hainan Island and that Viet Nam has exercised sovereignty over Hoang Sa and Truong Sa archipelagos for many centuries.
Apart from the documents in the Vietnamese, Chinese and French languages dating from the 17th to the 19th centuries, the exhibition presents 100 photographs of delegations from Ha Noi visiting Truong Sa; and of moments in the daily lives of soldiers and civilians on the archipelago.
Nguyen Thi Bich Ngoc, deputy chairwoman of the Ha Noi People's Committee, said that event will popularise the fact of Viet Nam's sovereignty over the two archipelagos.
It will raise solidarity and awareness of the responsibility to defend the sovereignty of the nation's seas and islands, she said.
The exhibition shows clearly that the collection and research of documents and evidence of the nation's sovereignty over its seas and islands have been carried out for a long time, she added.
National Television Festival to kick off
Television employees from throughout the country will gather in the northern coastal city of Ha Long at the annual National Television Festival, being held from Wednesday to Saturday.
More than 480 television works in nine categories, including feature films, documentaries, reportage, talk shows and theatre shows, will compete at the festival.
Three conferences and an exchange workshop will be held, as both domestic and foreign experts in the field will speak during the festival.
An exhibition on national television will also be held, and participants will have a chance to talk with local audiences.
Ho Chi Minh City locals enjoy French food
A France-Vietnam cuisine festival opened at September 23 Park in Ho Chi Minh City on December 14 as the biggest street event of its kind to mark the 40th anniversary of diplomatic ties between the two countries.
The two-day event showcased 30 booths of French agricultural products and high-quality food imported or produced in Vietnam.
Addressing the opening ceremony on December 14, Vice Chairman of the municipal People's Committee Le Thanh Liem said the event wrapped up the French Year in Vietnam and is set to open the Vietnamese Year in France in 2014.
According to Jean Noel Poirier, French Ambassador to Vietnam , the feast aims to introduce his country's specialties to Vietnamese locals, contributing to boosting the two countries' cultural exchange and economic links.
The show drew the participation of as many as 50 local bread makers and included a bread making contest. The winner will represent Vietnam to attend the Bakery World Cup in Paris in 2016.
In spotlight were also an outdoor music show entitled "Bonjour Vietnam " and an exhibition of made-of-bread sculpture items.
HCM City offers comedy films, Hollywood blockbusters for Christmas
With Christmas and New Year holiday season round the corner, cinemas across the City are preparing to screen a series of Hollywood blockbusters and Vietnamese comedy films to entertain young and old alike.
A Comedy Film Festival titled 'FunFest' will be held at BHD Star Cineplex at MaxiMark in District 10 and BHD Star Cineplex Icon at Hai Trieu Street in District 1 from December 13-19.
The funfest will present to audiences popular Vietnamese comedy movies including Long Ruoi, De Mai Tinh (Deal with it Tomorrow), Cuoi Ngay Keo Lo (Married Now ), Co Dau Dai Chien (Battle of the Brides), and Nha Co 5 Nang Tien (Five Fairies in the House). The films have popular movie stars such as Johnny Tri Nguyen, Thai Hoa, Dustin Nguyen, Hoai Linh and Chi Tai.
'American Hustle' by director David O Russell featuring Christian Bale, Amy Adams, Jennifer Lawrence, and Bradley Cooper tells about a political corruption based on the Abscam scandal of the '70s.
'The Hobbit-The Desolation of Smaug' is a Warner Bros' 2013 epic fantasy adventure film. It is the second installment of a three-part film series based on J. R. R. Tolkien's 1937 novel The Hobbit, beginning with An Unexpected Journey (2012).
'Saving Mr Bank' starring Emma Thompson, Tom Hanks, Paul Giamatti, Jason Schwa is directed by John Lee Hancock and produced by Walt Disney Studios. The film depicts the two-week period in 1961 when Travers, the author of 'Mary Poppins' visited Los Angeles and reflects on her difficult childhood while meeting with filmmaker Walt Disney during production for the adaptation of her novel 'Mary Poppins'.
'Wolf of Wall Street' directed by Martin Scorsese depicts the true story of a wealthy New York stockbroker named Jordan Belfort, portrayed by veteran actor Leonardo DiCaprio.
'The Invisible Woman' is a feature film about the relationship between Charles Dickens and Ternan, who was an English actress and known as the mistress of the famous English writer.
Stamp exhibition marks 315th founding anniversary of HCMC
A stamp exhibition featuring Ho Chi Minh City in the past is being held at the Southeastern Armed Forces Museum-Military Zone 7.
The exhibition introduces 22 stamp collections and 128 stamp sets by 45 collectors nationwide, including 'Saigon-Ho Chi Minh City:300 years' by collector Van Thi Ly; 'Notre Dame Cathedral' by Nguyen Viet Linh; 'Saigon-Ho Chi Minh City:300 years' by Nguyen Nu Ngoc Han; 'Sai Gon-Ho Chi Minh City:300 years and Saigon Central Post Office:100 years' by Vu Thanh; 'Saigon in the Past and Present' by Tran Huu Hue; 'Miss Saigon' by Hoang Anh Thi; and 'Notre Dame Cathedral' by Ngo Thanh Tung.
The event is being organized by Viet Stamp Club to mark the 315th founding anniversary of Saigon or Ho Chi Minh City (1698-2013).
Pearl Museum opens in Phan Thiet City
The Pearl Museum was inaugurated in Phan Thiet City on 96 Nguyen Dinh Chieu Street in the southern coastal province of Binh Thuan on December 13.
The two-storey building covering an area of about 1,400 square meters will display collections of different types of pearls and pearl jewelry such as necklaces, rings, bracelets, earrings and watches.
After the success of the first Pearl Museum in Phu Quoc, the investor--Long Beach Pear Group selected Mui Ne, the most famous tourist destination in Phan Thiet, for building the second museum.
The enterprise will invest in other such museums in Nha Trang and Ho Chi Minh City in upcoming time.
VNA/VNS/VOV/SGGP