Thang Long citadel needs excavations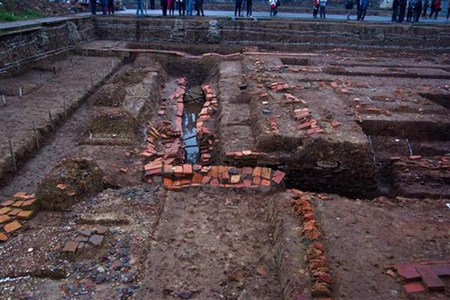 The Thang Long royal citadel relics require further excavations, which may take one to two more centuries, according to Prof Tong Trung Tin, director of Viet Nam Archaeology Institute.
Kinh Thien Palace is a main building in the central sector of the Thang Long imperial citadel, which is located in present downtown Ha Noi. It sits in the centre of the complex, facing Doan Mon (south gate) and Flag Tower.
The palace, which was built in 1428, was believed to be the most important building, hosting many royal ceremonies. It is also in this palace where royal audiences were opened to discuss national issues.
The palace, however, was almost destroyed at the end of the 19th century by the French, and what remains today are a 100 cm-high banister to the south and large stone steps carved with dragons.
"We are touching an elephant and do not know its whole body," he told Viet Nam News, "Our findings on layers of Ly, Tran and Le dynasties are only small pieces of the story. The area that has been excavated is too small to explain the entire old royal capital."
Scientists have excavated two holes of 100sq.m and found continuous layers from the Dai La citadel (8th-9th centuries), Ly (1009-1225), Tran (1225-1400), Le (1428-1527) and Nguyen (1802-1945) dynasties.
Tin said it might take one to two centuries to explore the entire royal citadel relic site, and it might require 60 years to just thoroughly understand the central area, he said.
Scientists participating in the workshop shared the same opinion about setting up more short and long-term research studies at the site.
"We should plan a continuous study to take many years, not just one or two years," said Prof Han Van Khan.
According to the report by the institute, which conducted the excavations throughout this year, a trace of the building's foundation and tiled court yard dated to the Ly dynasty, which was discovered for the first time. Many scientists believe this was a remnant of a yard which was used for royal meetings.
A water drainage pipe dating to the Tran dynasty has also been unearthed, with a width of nearly 50cm, depth of 1.5m and length of 16m.
The drainage system was built in brick and runs east-west, then turns to the north.
The entire original foundation of the Kinh Thien Palace, which was built during the Le dynasty, has been defined as a square structure with a total measurement of 1ha, as each side measures around 125m long.
There are some traces of building dating back to the Ly and Tran dynasties in the same area, which made scientists believe that the palace was also used as an administration area.
Deputy culture minister Dang Bich Lien has asked the institute to make a detailed archaeology excavation plan to explore the remnants of Thang Long citadel during a five year period and to seek assistance from other agencies.
"Many people proposed rebuilding the Kinh Thien Palace from the present traces," Tin said, "But with the astonishing excavation results, I think we should wait for a long time to try to understand the entire area before doing that."
He gave the example of the Nara citadel in Japan, which also experienced a 50-year-research period before being rebuilt.
The Thang Long Imperial Citadel was built in the 11th century by the Ly dynasty, marking the independence of the Dai Viet. The central sector of the imperial citadel was listed in UNESCO's World Heritage Site on July 31, 2010.
Hue Festival 2014 plans diverse celebrations
The Ministry of Culture, Sports, and Tourism and Thua Thien Hue Provincial People's Committee have introduced the programme for the 2014 Hue Festival at a December 12 press conference in Hanoi.
The eighth iteration of the festival, themed "Integrating and Developing Cultural Heritage", will take place in Thua Thien Hue Province from April 12–20, 2014.
The festival will encompass exhibitions, Hue kite flying demonstrations, calligraphy, rowing races, art installations and street art, music, scientific seminars, a tourism fair, and a festival for disadvantaged children
Thua Thien Hue Provincial People's Committee Vice Chairman Ngo Hoa said a meeting of the ASEAN Ministers Responsible for Culture and Arts has been scheduled to coincide with the festival.
The Ministry of Foreign Affairs has designated the festival an official cultural and art exchange program between East Asian and Latin American nations, he said.
French biography of medical hero Yersin introduced in Vietnam
The Vietnamese version of the novel " Yersin- Peste et Cholera " by French leading author Patrick Deville was introduced to Vietnamese readers during a French week held in the central highland city of Da Lat on December 11 by the French Embassy in Vietnam and Young Publishing House.
The work depicts the life and career of Swiss-French physician and bacteriologist Alexandre Yersin, his lifelong dedication to medicine and his 50-year stay in Vietnam, his second hometown .
The book was released in Vietnam on the occasion of the 70th death anniversary of Yersin and 120 years since the establishment of Da Lat city, which was discovered by Yersin himself in 1893. It is a meaningful piece of culture for Vietnamese book lovers and a way of showing gratitude to the French doctor.
The work won the 2012 Femina prize in France and entered the finals of the famed Goncourt prize.
Alexandre Yersin (1863 – 1943) is most remembered as the co-discoverer of the bacillus responsible for the bubonic plague in 1894.
The venerated doctor was credited in Vietnam with discovering Liang Biang Plateau, the site for Da Lat city in 1893 and founding the Nha Trang Pasteur institute in 1895.
Patrick Deville has published 11 works and they were translated into 12 languages.
Alongside " Yersin- Peste et Cholera ", " Longue Vue" – the author's first successful science fiction novel was also introduced to Vietnamese readers through the Vietnamese version translated by Nha Nam.-
New season of Vietnam Idol kicks off Sunday
The reality show to search for singing talents, Vietnam Idol, will return for a fifth season with new features on VTV3 channel on Sunday at 8 p.m.
This year's contest has a new format to infuse some freshness into the series with 25,000 people registering for auditions across the country.
Hanoi-based musician Anh Quan, husband of diva My Linh, is a new judge together with regulars – movie director Nguyen Quang Dung and pop singer My Tam. Additionally, singer Thu Minh will be a guest judge during the auditions in HCMC.
To search for talents nationwide, the organizers – VTV3, Unilever and PepsiCo Vietnam – held auditions in Hue, Danang, Nha Trang, Dalat, Haiphong, Can Tho, Hanoi and HCMC. Contestants also sent video clips to the Facebook page of judge Dung in a bid to win eight yellow tickets for the contest apart from another 64 tickets collected at nationwide auditions.
From the 72 contestants taking part in the theater round, 48 will be eliminated in the singing with microphone challenge, with 12 more cut in singing with piano challenge.
There will be nine finalists not ten like previous seasons entering the gala round which will be broadcasted live on VTV3. Audiences will vote for their favorites after each live show. The judging panel has only one chance to save their favorite singer during these live shows. The last one standing will bring home a cash prize of VND600 million and will be featured in a video clip by Pepsi and will be representatives for Clear and Close-up brands of Unilever.
For updated information on the contest go to www.vietnamidol.vtv.vn or http://www.facebook.com/Vietnam.Idol.Show.
DJ Jazzy Jeff comes to downtown club Lush
DJ Jazzy Jeff (Townes) who is best known for the early 90s hit Summertime with Will Smith (aka the Fresh Prince) will be starring at Lush nightclub on December 19 in District 1.
Jeff, who made a number of appearances on his old pal's award-winning Fresh Prince of Bel Air TV series in cameo roles as Jazz, is a veteran on the scene.
Having been around since 1985, the West Philadelphia native has wowed us with his flawless turntable skills, innovative production and musical versatility. Jeff was just 10 when he started spinning records at parties and using his family's basement as his training ground.
He now runs a critically-acclaimed production company "A Touch of Jazz",  and he proves time and time again that he is always one of the top DJs out there. He continues to work his magic through solo projects, collaborations, mixtapes and live shows.
His love of music shines through in everything he does. Over the course of his career, Jeff has achieved many accomplishments including a DMC Championship and multiple Grammy American Music Awards and nominations. But he is a humble man who is still doing it as his 2002 hit said: "For Da Love of Da Game."
His set is estimated to take place from 9:00 p.m. until 11:55 p.m. Lush nightclub is on Ly Tu Trong Street, District 1, tel 091 863 0742, website: http://www.facebook.com/LushSaigon.
Three movies shown to honor late director Ozu Yasujito
To commemorate the late Ozu Yasujito, a Japanese cinema icon who died half a century ago, Hoa Sen University in association with Art House Cine will screen three masterpieces directed by Yasujito at Room 204, floor 2 at 8 Nguyen Van Trang, District 1 from today until Saturday. All the screening sessions will be hosted by Vietnamese director Ba Vu.
At 7 p.m. tonight Late Spring (1949) will be featured, at 7 p.m. tomorrow you can see Tokyo Story (1953) and at 7 p.m. on Saturday An Autumn Afternoon (1963) – his final film will be screened.
On the occasion of his 110th birth year on December 12 and the 50th anniversary of his death, the three movies mark three important stages of director Yasujito's career.
* The HCMC Goethe Institute will host a fairytale film day, allowing visitors to make Platzchen cake and watch the Brothers Grimm's classic stories Rapunzel and The Feather Fairy. Each film is in German with English and Vietnamese subtitles. The event takes place from 9 a.m. on Saturday at HCMC Goethe Institute, 18 Road No. 1, Cu Xa Do Thanh, District 3.
Slavic Concert is Sunday treat for classical fans
Pianist Urs Buchmann and clarinetist Michael Eidel will arrive in the city to perform at the Slavic Concert held by HCMC Ballet Symphony Orchestra and Opera (HBSO) at 8 p.m. on Sunday.
It will feature Concerto for Clarinet & Orchestra in E flat Major, op.36 by Franz Krommer and the Slavic Concerto for piano & orchestra, op. 54 by Boris Lyatoshinsk. These two concertos will be performed in Vietnam for the first time, promising to bring a rare treat for music lovers.
Buchmann began to play the piano aged five in Brussels, Belgium. As an amateur pianist, he performed chamber music with partners in Europe and Asia. He has served as a senior executive for a major international bank in China and Asia since 1987.
Eidel began the clarinet at eight at his local music school in Offenburg, Germany. At the age of 14, he discovered classical music, assuming the position of second clarinetist in the Symphonic Youth Orchestra Offenburg. He has performed in Germany, France, Italy, Switzerland, the Czech Republic, the U.S., Canada, and Japan.
The concert will be conducted by local artist Tran Vuong Thach at HCMC Conservatory of Music, 112 Nguyen Du Street in District 1.
Admission is from VND200,00 to VND400,000 per person while students just pay VND80,000. Tickets are available at HBSO Box Office at 7 Lam Son Square in District 1. For bookings and delivery, tel: 08 3823 7419, email: info@hbso.org.vn, or check out website: http://www.hbso.org.vn.
Weekend concerts in HCMC, Hanoi ring in festive season
A guitar evening with emphasis on ensemble music will charm music lovers at the City Conservatory of Music on December 14 and at L'Espace in Hanoi on December 16-17.
Well-known local guitarists including Le Hoang Minh, Duong Kim Dung, Nguyen Tri Doan and others will be onstage together with Kozo Tate from Japan and the Guitar Trek quartet of Australia.
Audiences will feel the fresh inspiration, the rich tone colors and the rolling waves of energy when there is more than one guitar on the stage.
In addition, Vietnam-Australia Concert celebrating the 40th anniversary of diplomatic relations between Vietnam and Australia will be held at the HCMC Opera House on December 13.
The audience will have a chance to enjoy the performance of special Vietnamese-origin talent in Australia, pianist Nguyen Van Anh.
With Christmas and New Year holiday season round the corner, Ho Chi Minh City is preparing a series of cultural activities for the festive season. Among these, a concert featuring the Loboc Children's Choir from Philippines will bring a peaceful Christmas season to music lovers at the HCMC Conservatory of Music on December 13.
Founded in 1980 at the Loboc Central Elementary School in Loboc, Bohol, the group is a school-based choir composed of schoolchildren between the ages of nine and thirteen years.
The choir's current conductor, Alma Fernando-Taldo or 'Ma'am Taldo' teaches at the Loboc Elementary School, handling English and Character Education for fifth-grade students.
The choir won first prizes at National Music Competitions for Young Artists in 1993 and 1995. The choir has performed in many concerts all over the Philippines and abroad.
Ngoi Sao online newspaper awards announced
Ngoi Sao (Star) online newspaper awards were granted to outstanding artists of the year on December 12.
Former model Thuy Vinh received the 'Mother of the Year' title. Master of ceremonies Phan Anh and model Thanh Hang won the 'Man of the Year' and 'Beauty of the Year' titles.
'Couple of the Year' title went to singers Dong Nhi and Ong Cao Thang. Model Ngoc Thach and her husband, businessman Binh Duong, took the 'Wedding of the Year' title for their more than VND3 billion marriage celebrations in September.
'Baby of the Year' title went to Sonic, the son of actress Kim Hien.
The organizers also awarded a minor title to Phuong My Chi, the runner-up of the first season of 'The Voice' for Vietnamese Kids.
The results are based on 30 percent reader votes, 40 percent jury votes and 30 percent direct votes at the awards ceremony by artists.
One-pillar pagoda to be repaired
The historic Buddhist temple known as the 'one-pillar' pagoda in Hanoi will be renovated, said the People's Committee of Ba Dinh district on December 12.
Together with repairing degraded parts, monks' accommodation and a joss paper burner will be built in a style which matches with the surroundings.
The project is scheduled to launch by the end of this month or at the beginning of January, 2014 with VND18.6 billion (US$874,000) being provided from the State budget and socialised capital.
A draft plan on the reparation and innovation has been publicised to collect ideas from relevant agencies in accordance with legal regulations on cultural heritage, approved by the Ministry of Culture, Sports and Tourism.
King Ly Thai Tong had this temple constructed in 1049, by erecting a pillar in the middle of a lotus pond, and a temple of lotus-shape on it. The unique design of the pagoda together with a legend related to the King's dream has attracted countless domestic and international tourists.
Organisation and management of festivals see positive changes
Festivals across the country in 2012 were well organised and accommodate the characteristics of each locality, meeting the spiritual needs of the people.
The affirmation was released at the online conference held by the Ministry of Culture, Sports and Tourism in Hanoi, Ho Chi Minh City and Da Nang city on December 12 to review the organisation and management of festivals in 2013 and set directions for 2014.
Participants agreed that festivals were held as prescribed by regulations, which promoted the cultural traditions and civilised lifestyle.
The co-ordination among functional departments, as well as the inspection and ensuring security and order in festivals have advanced compared with previous years.
Addressing the conference, the Deputy Minister of Culture, Sports and Tourism Huỵnh Vinh Ai said that the provincial and municipal departments should actively advise the leaders of provinces and cities to issue guidance documents on the organisation of management of festivals.
The departments should also co-operate with local governments and relevant agencies to build detailed plans on the organistaion of festivals in 2014 and inspect and strictly handle law violations as well as to promote propaganda on maintaining a civilised style in the festivals.
Currently, Vietnam holds around 8000 festivals of varying size, including more than 7000 folk and 544 religious festivals.
Stamps featuring Vietnamese primates to be released
A new set of postage stamps entitled 'Vietnamese Primates' will be issued in 2014 to commemorate the 25th International Conference on Primates, to be held for the first time in Vietnam.
The announcement was made by the Ministry of Information and Communication and the Vietnam Post Corporation.
According to the International Union for Conservation of Nature's (IUCN) 'Red List', there are seven species of critically endangered primates in Vietnam, as well as nine endangered primate species and seven vulnerable species at risk of becoming endangered.
According to the IUCN, 90% of Vietnam's primate species live under the threat of extinction. For this reason, experts on primates and international conservation have named five species located in Vietnam to the list of the world's 25 most endangered primates.
The stamp initiative, featuring rarely-seen primates endemic to Vietnam, aims to contribute to the conservation of the primates and other endangered wildlife.
VNA/VOV/SGT/SGGP/VNS