VietNamNet Bridge – HCM City authorities have asked the Ministry of Culture, Sports and Tourism to recognize 46 items as national treasures, including an ancient seal, several banknote zincographs, Roman coins, king clothing...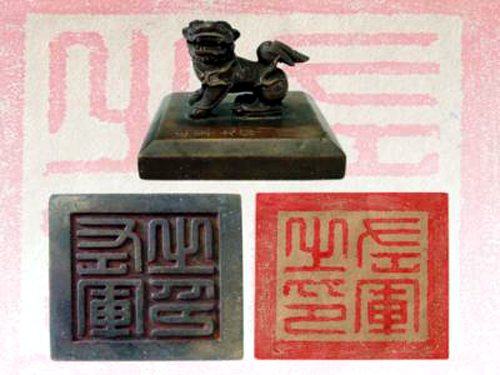 The seal of Military Governor Le Van Duyet, which was cast in 1802.
These objects are being preserved by several agencies in the city. Of these, 12 objects are kept by the HCM City Museum, including the seal of Military Governor Le Van Duyet, which was cast in 1802 and 11 banknote zincographs of Vietnam from 1946 to 1952.
The bronze seal of Military Governor Le Van Duyet weighs 1.82 kg, 7.2 cm high, carved with four Chinese scripts meaning the seal of the Military Governor. Photo: HCM City Museum.
The HCM City Fine Arts Museum has 23 exhibits, including a lacquer painting and 22 sketches related to this work by Nguyen Gia Tri, Vietnam's leading lacquer painter. The remaining items, consisting of a Roman coin, seven statues, a bronze seal, a King coat and a prince coat being held in Ho Chi Minh City History Museum are preserved at the HCM City Museum of History.
In January 2012, Prime Minister Nguyen Tan Dung signed a decision recognizing the first over 30 national treasures of Vietnam, including a Ngoc Lu bronze drum, a Hoang Ha bronze drum, a Dao Thinh jar, a seal of the Tran Dynasty, a pottery vase of the Later Le Dynasty, a copper statue featuring one carrying another on his back of the Dong Son Culture, a Canh Thinh bronze drum of the Tay Son Dynasty, the works by President Ho Chi Minh, etc..
T. Van