VietNamNet Bridge – The exhibition "Japan in Me" introduces the works by Ando Saeko - the Japanese artist who used Vietnam lacquer techniques to show the art of Japan.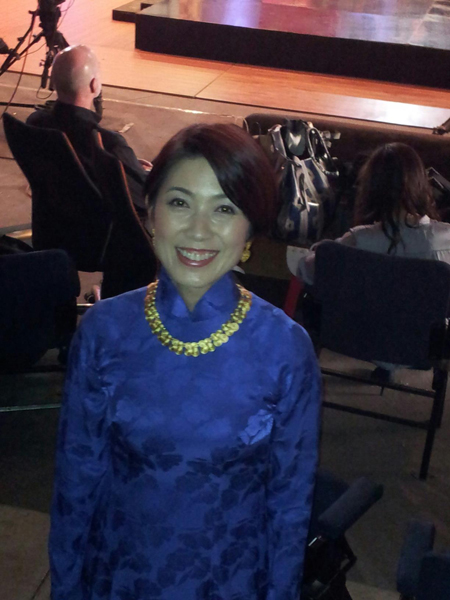 Ando Saeko.
Saeko Ando was born in Japan but now she lives and works in Vietnam. She is a member of the Hanoi Fine Arts Association. Majoring in Philosophy at the University of Waseda, Japan, Saeko became a flight attendant. In two years (1992 - 1994), Saeko traveled to many places in the world and she was attracted to various art forms. Determined to pursue the love of art, Seako quit her job and moved to Vietnam to learn lacquer painting.
She has lived in Hanoi and pursued her passion as a lacquer artist for 18 years and has mastered the art here in Vietnam.
At the beginning, she worked with artist Trinh Tuan and then conducted further studies of lacquer art with painter Doan Chi Trung.
Saeko's works depict aspects of life in the natural world that people usually fail to notice. Her command of lacquer techniques, use of rich colors and bold compositions, and creation of elaborate textures, enable her to transform these into enchanting characters each with their own stories.
She creates the illusion of texture using colors and materials that are built up in complex layers until they look almost three-dimensional. This layering suggests that traditional lacquer paintings are impossible to sand to a flat finish, yet Saeko's paintings are astonishingly flat. This is just one way in which she challenges established theory about Vietnamese lacquer work.
Saeko has a mission: to introduce the fascinating art of lacquer to the world through her exhibitions, lectures, and the symposia she attends. Because of her devotion to the lacquer craft and her profound understanding of Vietnamese culture, she has often appeared in magazines and on television in Japan and Vietnam. She is the first foreign member accepted by Hanoi Art Association and her "Vietnameseness" has always caught people's attention.
At this exhibition – Japan in Me – Saeko will offer a new insight into herself, proudly presenting, through her work, her Japanese side. For the first time, her "Japaneseness", its philosophy and aesthetic, comes under the spotlight. Although the materials and techniques Saeko uses are almost all Vietnamese, art critics and fellow artists agree that Saeko's Japanese soul exudes from her work. Along with her art, the exhibition will offer a series of short essays Saeko has written to explain the secrets of her works.
The exhibition is free admission and held at the Japan Foundation, 27 Quang Trung, Hoan Kiem, Hanoi. Its opening starts at 10:00 on Saturday 9 November with the artist's talk and runs until Sunday 1 December 2013. Free admission.
Some lacquer works by Saeko:
T. Van