VietNamNet Bridge – Following the death of the legendary General Vo Nguyen Giap, experts and relevant authorities have said a museum should be established in memory of the General.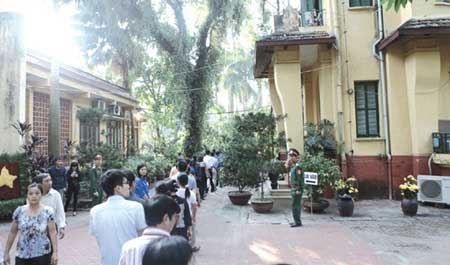 In memoriam: A long queue of people waiting to enter General Vo Nguyen Giap's house to pray for him after his death on October 4, aged 103. Following his death, experts and relevant authorities said a museum should be established in memory of the legendary General.
According to Dr Le Thi Minh Ly from the Institute of Culture and Arts, this was the right time to embark on research into the project, which she said would attract many volunteers.
"The sooner the better because the most precious value of the museum will carry the spirit, memory and of educational significance of the General," Ly said.
"General Giap's life was full of events and stories. We may be talking about his personal life, but it is closely associated with national history.
"We love and respect the General not only for his glorious feats of arms, but also because he led the life of a great humanitarian with the courage to rise up in any situation. He was a man who never stopped learning, setting a vivid example for us, especially the younger generation.
"Through his simple and moderate lifestyle and love for his family, comrades and countrymen, he has left behind countless moral lessons."
Former director of the Viet Nam Museum of Ethnology Dr Nguyen Van Huy stressed the importance of opening a museum to document the General's life and career.
"The General's life is a national treasure that is worthy of a museum," Huy said, adding that the museum should be simple and intimate.
Huy gave examples of other museums around the world that are small but lure huge numbers of visitors because the artefacts are properly displayed and the stories are told in the right way.
"We have 135 museums in Viet Nam, but many of them are substandard. For the Vo Nguyen Giap Museum, a contingent of experienced experts should be involved to help enrich the museum's 'soul' and tell real life stories."
Agreeing with Dr Huy on the importance of building the museum, Colonel Nguyen Duy Thieu, head of the Armed Forces' Museum in the southeast region, said it was the wish of both the civil and armed forces.
"We have so many famous generals who performed glorious deeds for the country, such as Ly Thuong Kiet, Tran Hung Dao and Quang Trung, but there is not much material left about them now," said Thieu.
"We have plenty of material about General Giap, and a museum would be a valuable archive for future generations to learn and study."
Ideal location
Regarding the location for the museum, Ly from the Culture and Arts Institute said that Giap's house at 30 Hoang Dieu Street would be ideal.
"The house itself is a witness. It is filled with memorabilia and the General's soul. It has left a lasting impression of national heritage on many people."
Director of the Party History Institute, Dr Nguyen Manh Ha, agreed.
"Millions of people young and old, many of whom never met the General in person, have visited 30 Hoang Dieu to express their admiration for him and mourn his death," he said.
"I'm a complete advocate for a museum named after General Giap at 30 Hoang Dieu. The house should be a library and a museum so future generations can study his life and career."
Dr Huy explained that General Giap had lived and worked at 30 Hoang Dieu for 60 years.
"Each tree branch, every blade of grass, every piece of gravel, and just the sunlight in the early morning is connected to the General. Just visiting this place is enough to move anyone."
Source: VNS