VietNamNet Bridge – Nguyen Van Duoc, Chairman of the Vietnam War Veterans Association, has asked the Vietnam Father Front for approval for turning Late General Vo Nguyen Giap's private house into a museum bearing his name.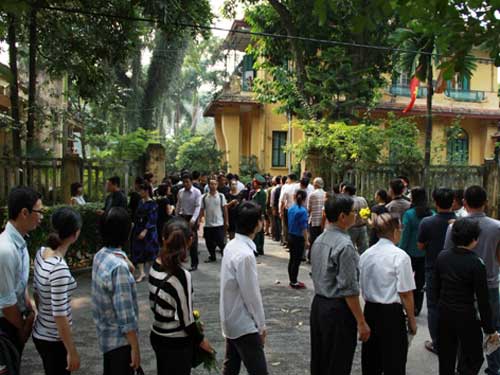 People come to the house at No. 30, Hoang Dieu Street to pay tribute to Late General Vo Nguyen Giap.
The house is located at No. 30 Hoang Dieu Street, in Hanoi.
Chairman of the Vietnam Father Front Nguyen Thien Nhan said they will consider the association's proposal.
Dr. Nguyen Van Huy, former Director of the Vietnam Museum of Ethnology, said General Vo Nguyen Giap lived in the house since 1954 after he left the northernmost Vietnam base for Hanoi. The houses have witnessed many historic events involving the national hero.
"I think the public's expectation and desire is to see this place turned into a museum, and that the Party and the State should consider that," Huy said.
Currently, Vietnam has 135 museums, but only two of them are devoted to well-known individuals: Ho Chi Minh and Ton Duc Thang Museum.
"We have some relics of leaders and the poet Nguyen Du, but the works are still very poorly equipped, This is why we should use the house at No. 30 on Hoang Dieu Street as a museum devoted to General Vo Nguyen Giap's life and his contributions to national liberation."
Phan Huy Le, Chairman of the Vietnam Association of Historical Sciences, said that the association will be ready to contribute to the museum project and his home should be preserved.
DTriNews/Tien Phong