VietNamNet Bridge – Bearing inside them a lively and thrilling beauty, a solemn philosophy, these stones have long been endowed with the spirit of heaven and earth.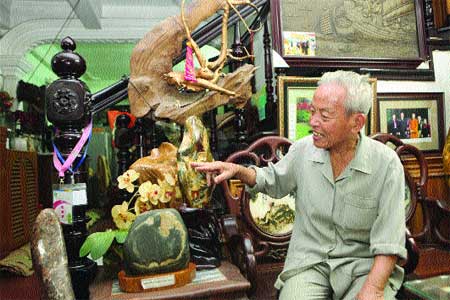 Gems of wisdom: Nguyen Van My, the chairman of the Viet Nam Gemstone Association, claims to have a spiritual bond with each of his gemstones, which number over 1,000. He claims that the stones bring good fortune to their owner.
My's house is located on a big alley on Vinh Ho Street in Ha Noi. His name is known to most of the households, due to his reputation of 70 years collecting gemstones in collectors' circles.
Truly, this man lives up to his fame. Visitors to My's house are invited to a colourful feast of various kinds of gemstone. From the gate to the front yard, many gemstones are displayed in an airy space. Inside, the gentle aroma of jasmine tea is enchanting enough to keep heart of any lost soul.
"The quintessence of the Creator assembled into the gemstone is truly the reason for human beings and heaven and earth to collide. If gold represents wealth, gemstones are a symbol of good fortune and good luck. When you get close to gemstones, a magical remedy is found to enable you to reach the eternity of mother Nature, so that you are set free in your spirit," says My as he pours another drink of jasmine tea for us.
Finishing our tea, he treats us to a walk around his "mini" gemstone museum. Over 500 varieties of stone are placed in order, spreading across five floors from top to bottom.
Amid all of these, stands out numerous blue stones, naturally shaped into images suggesting Ha Long Bay, the Hoa Lu ancient capital and the One-Pillar Pagoda.
My says, the most impressive part of his stone treasure is his collection of pebbles showing the 12 animals of the Chinese horoscope which he spent 23 years travelling to find in streams from Ha Giang to southern Phu Yen Province.
"In my collection, there are gemstones which are shaped like human beings. At first glance, I thought they were created by human's hands. However, amazingly they are all products of nature," My adds.
The 84-years-old stresses that alongside the devotion and love for stones, collectors must have a fate with them. "For me, I began travelling with my parents North and South when I was early teen, and an invisible love for precious and semi-precious stones had grown up inside me," he adds.
As a long-term member of three international gemstone organisations – the Asian Bonsai Suseki-Pacific, the European Gemstone and international gemstone hunting group – My has had many chances to carry out research and learn about gemstone in many countries around the world. In his lifetime of collecting gemstones, it took My everything that a collector needs to satisfy his habit: money, energy and a lifetime of dedication.
Another precious gemstone that My treasures most is the 100kg Ky Son Thach (Amazing Gemstone) that is loved in domestic and international collectors. "I fell in love with it at first sight, and insisted the owner sell it to me at any cost. However, he only asked me for 20kg of rice to have it. It was one of the most memorable moments in my life, when I finally got to own for myself a magnificent masterpieces of nature. This stone has many sides. Every side has a differently image, like a swan soaring on its wings, or flying dragons. Many times people tried to persuade me to sell it, but I turn them down," My says.
Indeed, the collector looks younger and healthier than his age. Perhaps the love for stones and a spiritual bond that was formed between him and these natural objects has kept him so young and strong in life.
"I collect stones not for sale. To me, it has become an indispensable part of life that I cannot live without," My says.
Source: VNS