Vietnamese books attract attention at Frankfurt Book Fair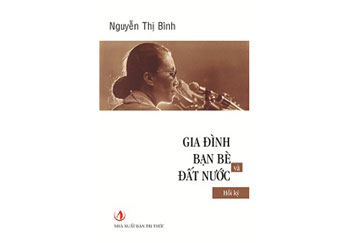 The Vietnamese display booth at the 2013 Frankfurt International Book Fair has attracted a lot of visitors.
Slovenian Modrijan Publishing House, China National Publications Import and Export Corp, partners from Malaysia, Canada, France and Colombia have offered cooperation and purchase of copyrights from local publishers.
Vietnamese participants include the Ho Chi Minh City Book Distribution Joint Stock Company-Fahasa, Phuong Nam Cultural Corp., Dai Truong Phat Company, Tre Publishing House, Dong A Book Company, Ho Chi Minh City General Publishing House, First News, Thong Nhat Print Company, Viet Book Company, Phuong Dong Company and Thai Thinh Intellectual Company.
Publishers have presented to international readers more than 1,000 books and e-books on various subjects introducing Vietnamese tradition, cultural, land and people.
Exchanges and forums on Vietnamese books and cooperation will be held during the book fair.
2013 Frankfurt International Book Fair was held from October 9-13. The event is one of the world's largest trade fairs for books, attracting a large number of publishers from around the globe.
Heineken announces raft of events
Heineken Viet Nam will stage a celebration series for the first time throughout Viet Nam in the coming months.
Youth in Da Nang (October 26), Nha Trang (November 23) and Can Tho (December 7) will take part in the events, followed by a grand finale in HCM City and Ha Noi on New Year's Eve. These events will feature live music, magical lighting and colourful floats.
A series of lighting events from mid-December to January will provide a magnificent background for a night of performances on December 31.
TV singing contest kicks off next week
HCM City Television's annual Tieng Hat Truyen Hinh (TV Singing) contest will accept entries next week.
People aged 16 to 28 can register in HCM City and Da Nang from next Monday to Sunday at Hoa Lu Stadium and the House of Children, respectively, and in Ha Noi from Friday (October 18) at the Viet Nam National Academy of Music.
Professional singers are not barred from contesting but foreign-language songs cannot be sung.
The winner will get VND200 million, and the first, second and third runners-up, VND60, 40, and 20 million, respectively.
The contest is in its 23th season.
AFD screens films to call for environmental protection
The French Development Agency (AFD) will screen five documentary films about 'water' at 6 p.m. on Monday and Tuesday at BHD Star Icon on the 68th floor of the Bitexco Tower, 2 Hai Trieu, District 1 to raise public awareness on environmental protection.
Himalaya and Born Sweet are chosen to be screened on Monday, while Pots De Chaging, Antenia and 'Su bien mat cua mua nuoc noi' (Disappearance of flooding season' will come on Tuesday. The films reflect shocking images of polluted water in developing countries.
After screenings, moviegoers can have a chance to exchange with local and foreign experts about the role of water in life.
SHB, BSH, Collagen Vietnam host drama project for Hanoi students
Saigon-Hanoi Commercial Bank (SHB), Saigon – Hanoi Insurance Corporation (BSH), Collagen Vietnam and Tuoi Tre (Youth) Theater have announced an art project called Chap canh niem tin to feature the popular drama Mua ha cuoi cung (last summer) by late author Luu Quang Vu and a stage club for Hanoi students.
Under the VND2-billion project which runs from this month until December 2014, the organizers will host 100 drama performances and other activities for students at 120 high-schools and universities in the capital. Around 550 free tickets will be delivered to teachers, students and school staff members for the shows which will be held at the Youth Theater, 11 Ngo Thi Nham. All participants have the chance to join lucky draws to win some interesting prizes and memberships of the theater as well as SHB.  
Especially, the organizers will create a stage club for students to share passion for drama and there will be 1,000 vocational scholarships available to enable students to be contributors and gain internships at SHB, BSH and Collagen Vietnam.
"Chap canh niem tin is geared to help students gain knowledge about life as well as equipping them with a financial building plan so they can be useful citizens for the country," said Ngo Thu Ha, deputy general director of SHB, in a statement.
18 artists gather to present 'Autumn'
Nearly fifty artworks of mixed media and oil on canvas by 18 local artists on Thursday were presented at group show 'Autumn' at HCMC Association of Fine Arts, 218A Pasteur Street in District 3.
Most of the paintings are made in realism style, depicting lively daily life in the city and countryside. Visitors will see memories awakened with the familiar images of women washing on river banks, fruit and flower boats drifting on the river, animated spring atmosphere, people walking under the city lights, farmers working on the fields, buffalo boys in hills or ethnic women weaving brocades. Visitors' eyes will be also feasted with landscapes from mountainous regions to coastal areas nationwide and the Mekong Delta.
The show runs until October 19.
Hoang Duong Cam recalls 'The day before the Renaissance'
'The day before the Renaissance' is the fifth solo exhibition by Hoang Duong Cam and opens tomorrow at Galerie Quynh downtown, featuring new and rarely seen works by Cam.
If focuses on two bodies of work by the artist: 'Pinhole, 1972' (2012 – 2013) and 'The Bathers' (2009), both of which are inspired by the Renaissance, a period of history that the artist equates with personal liberation.
Cam draws upon the historical accounts of Hanoi in former East German journalist Thomas Billhardt's 1972 photo essay Hanoi Am Tage vor dem Friede when the country was still at war with the U.S. The paintings themselves depict deceptively innocent images that are simultaneously figurative and abstract with elusive forms and suspended, colorful fragments.
'The Bathers', too, was inspired by photo essays but from those originating in North Korea while Cam was in Tokyo on an artist residency.
Cam, born in 1974 in Hanoi, completed his studies at the Hanoi University of Fine Arts in 1996. He has participated in numerous exhibitions and biennales in Asia, North America and Europe.
The exhibition will run until November 9 at the gallery, 65 De Tham Street downtown.
VTV6 debuts more game shows to lure southern viewers
VTV6 youth channel of Vietnam Television (VTV) and Blue Ocean Communication Corp. on Thursday announced that it is broadcasting in HD definition and the launch of a series of game shows to attract more viewers, especially in the southern region.
"These innovations aim to mark the 43rd anniversary of VTV (September 7, 1970-2013) as well as serving the entertainment demands of young people. Especially, we also aim to approach viewers in HCMC and other southern regions," said Dang Diem Quynh, deputy head of VTV6, at a press conference held on Thursday in HCMC's District 1.
Specifically, VTV6 has launched three game shows with foreign formats, namely Tre em luon dung (The Kids Are All Right) hosted by Anh Vu, Mot buoc de chien thang (Step Right Up) hosted by Minxu and Yumi Duong and Nguoi ke tiep (Next One) hosted by veteran MC Thanh Bach at 9 p.m. on Monday, Tuesday and Thursday respectively.
"Prior to the debut of these new programs, we conducted numerous surveys on people's entertainment trends during the past two years. Watching TV is many people's favorite activity, besides playing games, and Internet surfing among others. Additionally, the ratings for our show Step Right Up have rocketed from September to October. Thus, we believe TV game shows in general and our shows in particular hit the mark for the audiences," Quynh added.
This is the second season of The Kids Are All Right where a group of seven children aged between 9 and 15 and four adults aged from 25 and 40 compete on their knowledge of life. The first prize is up to VND90 million.
Step Right Up is an action game show with four challenges - rolling iron balls into holes, throwing apples, sliding glasses and pushing a supermarket trolley - where participants use their mind, talent and luck to win prizes.
Next One is a show based on knowledge combined with special tricks. The differences compared to other Q&A TV shows are that the rules are changed during the game in order to force players to express their knowledge and fast responses. Especially, the contestants who enter the final round have to give wrong answers instead of right answers to 21 questions in 150 seconds. This is the first time this format has been used.
People who are interested in taking part or finding out more about the programs can visit http://www.motbuocdechienthang.vn/, http://www.nguoiketiep.vn/ and http://treemluondung.vn.
Artists' club celebrates 7th anniversary
Nineteen artists of the Viet Painting Club are showcasing their latest works at the HCM City Fine Arts Association to celebrate its seventh anniversary.
The Mua Thu (Autumn) exhibition, which opened on Thursday, displays 50 oil on canvas paintings of landscapes and daily life of the countryside from the northern region to the Cuu Long (Mekong) Delta, as well as life in HCM City. Family life is also depicted.
The club, which consists of amateur and professional artists of the city, organise annual exhibitions at the HCM City Labour Union.
The exhibition closes on October 19 at 218A Pasteur Street in District 3.
3D cartoon commemorates General Giap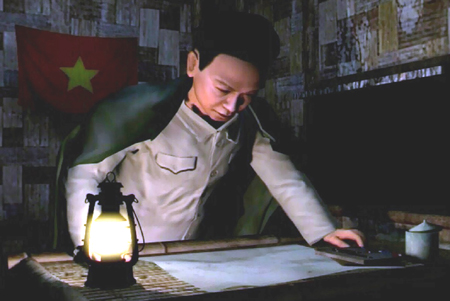 Vietnam Television (VTV) received an original version of a 3D cartoon about General Vo Nguyen Giap for national broadcast during the late military hero's state funeral.
Upon the authority of General Giap's family, HIPT Company handed over the original disk of the film "Quyet Dinh Lich Su" or Historic Decision and the permanent rights to air the film to VTV.
This is the first 3D cartoon about General Giap and the victory at Dien Bien Phu. The film was made in 2010 to mark General Giap's centenary birthday.
The film features General Vo Nguyen Giap during the night of January 25, 1954, riddled with thoughts and worries before coming to a decision to temporarily withdraw from the battle field.
The decision was aimed to consolidate forces and move from the guideline of "quick attack, quick victory" to "firm attack, firm victory".
This has been considered a brilliant and historic decision that helped prepare for the Dien Bien Phu victory on May 7, 1954.
The 20-minute film was in production for nearly 2 years and portrays general Giap's careful preparation for the fight, including scenes of transporting equipment and goods and surveying the field.
"One of the biggest difficulties during the making of the film was portraying of General Giap. Even though he was commonly called "Van" or "Literature", his profession was military career, so it's really difficult to combine literary style and aggressiveness in the military leader's appearance and characteristics," the film producer said.
In order to build up this portrait of General Giap, the film maker had to change several graphic designers, as many were too young and lacked of historic background. They also had to talk to several people who were close to the leader, study his memoirs and visit the old battle field in Dien Bien, De Castries' trench, and the place where General Giap worked during the war.
The film also features heroic martyrs such as To Vinh Dien, Phan Dinh Giot and Be Van Dan who sacrificed their body to block cannons from slipping down the mountain and covering the holes of hideouts to protect comrades.
The film was broadcast on VTV1 on October 11, and VTV3, VTV4 and VTV6 on October 12-13.
First Japanese-language eloquence contest marks Vietnam-Japan ties
The first Japanese-language eloquence contest was held in the northern port city of Hai Phong on October 12 as part of activities to mark the 40th anniversary of diplomatic ties between Vietnam and Japan (1973-2013).
Twelve most outstanding candidates from the city's universities and joint venture companies took part in the contest, which focused on bilateral ties as well as the work and daily lives of Vietnamese expats in Japan .
Organised by the municipal People's Committee and the Japan International Cooperation Agency (JICA), the event aims to give local youngsters an insight of the Japanese culture and people, thus developing bilateral relations.-
Exhibition highlights Vietnam's presence in France
An exhibition highlighting the presence of Vietnam in French books and newspapers from the 17th century to 1956 was open in France on October 12 on the occasion of Vietnam-France friendship exchange year.
The book covers and extracts taken from over 100 books printed and published in France over the past three centuries were collected by French researchers and scholars working for the Centre for Information and Documentation on contemporary Vietnam (CID-Vietnam) since 1984.
The event helps visitors better understand about politics, history, geography as well as literature and artistic works marking different historical periods in the Vietnam-France relations.
Exhibits also show the early presence of Vietnamese people in France , starting from Louis XIV King's reign, and the integration by Vietnamese into the French society.
A number of works in French language featuring General Vo Nguyen Giap who passed away in Hanoi on October 4 are also displayed during the event to commemorate the deceased.
The exhibition will run until October 26.-
Exhibition of General Giap's documents and photographs
General Vo Nguyen Giap's documents and photographs are on display in the National Library of Vietnam, at 31 Trang Thi street in Hanoi.
On display are photographs on General Giap's life and career through different periods of history.
Apart from photographs of himself as a great military commander, a cultural activist and a talented historian, viewers can see the simplicity, closeness and modesty of a teacher that was closely associated with soldiers and people.  
Among the war-related documents are a decree to rank Vo Nguyen Giap as general and his secret telegram to the Liberation Army heading towards Saigon.
There are also many books on General Giap, including "General Vo Nguyen Giap-a complete collection of theses", "101 moments with General Vo Nguyen Giap", "Vo Nguyen Giap-a century, two long wars", and "The historic journey-Vo Nguyen Giap".
The exhibition will last through to October 18.