VietNamNet Bridge – The legendary General Vo Nguyen Giap may have died, but he will forever live in the hearts of millions of Vietnamese people and friends around the world.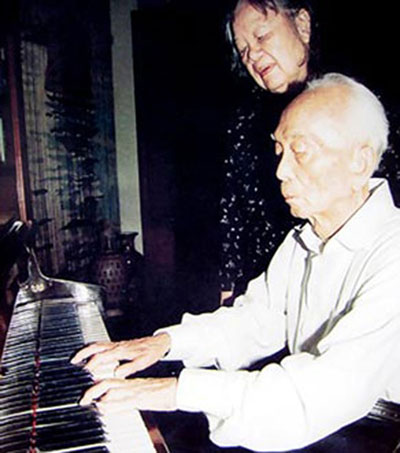 Man of many talents: Not only a military genius, General Giap was also a skillful pianist. — Photo sggp.org.vn
Not only a military genius, General Giap was also a skilful pianist, who began learning in 1963 when he was 52 years old.
According to his piano teacher, Nguyen Thi Hong Hanh, although the General just wanted to learn playing piano for leisure, he was always serious whenever he practised.
"Despite being extremely busy, he never missed any of my lectures. He was very smart and absorbed knowledge quickly," recalled the teacher, who now is 78 years old.
Hanh also said that General Giap was a modest and warm-hearted person. "I called him Van [Literature, the name was given by President Ho Chi Minh] instead of the formal name General Giap. For me, he was a beloved brother. He was also one of my best piano students," she said.
The General also enjoyed listening to Vietnamese folk music quan ho (love-duet singing). He even asked Hanh to teach him to play folk melodies.
His studies were interrupted in 1965 when Hanh left Viet Nam to study in the Soviet Union. However, at that time, the General could smoothly play many Vietnamese and classical pieces, including Elise by Beethoven and Roudo by Mozart.
Endless inspiration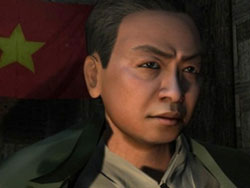 Making history: Many people have been searching the internet for the 3D animation film about General Giap, Quyet Dinh Lich Su (The Historical Decision).
Although a 3D animation film Quyet Dinh Lich Su (The Historical Decision) about General Giap has not been released officially, some scenes can be seen on Youtube.
A film crew spent two years making the 20-minute movie, which features soldiers pulling canons over the slopes for the historical Dien Bien campaign, the battle that made a name for General Giap, turning him into one of the greatest military geniuses of the 20th century.
Director Nguyen Ha Bac said his crew had to replicate the vast Muong Thanh rice field with hundreds of airplanes and tanks. The rice field was the battlefield where Viet Minh soldiers encircled French troops for eight-weeks, from March 13 to May 7, 1954.
Eventually, French General Christian de Castries had to yield, ending the First Indochina War.
"Every member of our film crew were proud to have a chance to make a movie about General Giap – a great man. We produced the movie with a deep love for him," Bac said.
The famous Dien Bien battle was also the inspiration for the play Bai Ca Dien Bien (Dien Bien Song) of the Viet Nam Drama Theatre in 1984.
Directed by People's Artist Doan Hoang Giang, the play featured 300 actors and actresses – the biggest ever cast in Vietnamese stage history.
During his life, the military genius also featured in many documentaries by Vietnamese and foreign directors, including The Battle between a Tiger and an Elephant by Daniel Roussel, Dai Tuong Vo Nguyen Giap (General Vo Nguyen Giap) by Cao Nguyen Dung, Dai Tuong Vo Nguyen Giap: Mot The Ky – Mot Doi Nguoi (General Vo Nguyen Giap: A Century of Life), and Nua The Ky Mot Ngay (Half Century and One Day) by Dao Trong Khanh.
Most of these documentaries were produced by director Khanh, who spent nearly 30 years filming the great man's life. The movies are being re-screened on TV since he died on Friday.
Silent tribute
Since the news about his death spread, many people have paid tribute to the legendary general.
The jazz concert of saxophonist Quyen Thien Dac on Friday night reserved a minute's silence in memory of General Giap, so did the Favourite Songs show on Sunday night.
The chorus opening the live show in Ha Noi was dedicated to the deceased. The audience of hundreds stood up and observed a minute's silence for the great man.
Many Vietnamese people have also expressed their loss by writing poems about the General.
Source: VNS