VietNamNet Bridge – A famous master of Vietnamese martial arts, living in the central coastal province of Phu Yen, has dedicated his life to discovering and preserving antiquities that originate from his homeland.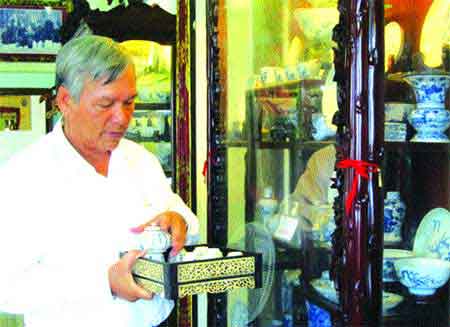 My precious: Doan Phuoc Thuan and his tea set called Chau phu tu gia huan. The tea set is the antiquarian's most treasured item. — File Photos
He is Doan Phuoc Thuan, a well-known, collector. The 61-year-old, currently Chairman of his province's UNESCO club for antique research and collection, has amassed a collection of more than 500 antiquities so far.
Thuan was inspired by and guided into the world of antiquities when he was a boy.
"In the past, my grandfather and father were keen on collecting antiquities. I was the only son in my family. Therefore, I received all of the ancient items they collected through inheritance," he said.
Since 1990, the antiquarian began travelling all over the country in search of antiques, taking great pains to acquire the good pieces, and learning as much about antiques as he could along the way. He look particularly for the types of antiquities that he likes, such as Hue blue porcelain, Chinese porcelain, ceramics from Go Sanh, Quang Duc, and Champa Kingdom.
"At first, I met many difficulties in coming to know, and assessing the value of ancient items because there was a shortage of information about antiquities available. Also, I couldn't buy some of the ancient items I desired because of their high prices," the collector said.
Currently, his abundant collection mostly consists of Hue blue porcelain and Quang Duc pottery.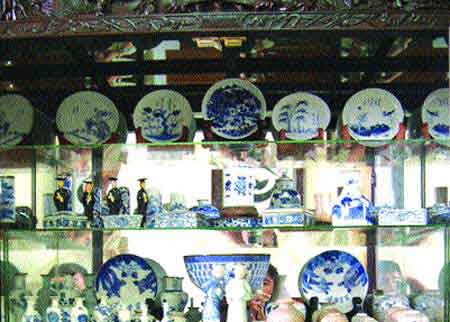 Hue haven: Thuan's collection of Hue blue porcelain holds pride of place in a cupboard at his house.
"I give priority to collecting Hue blue porcelain and Quang Duc pottery because they originate from my homeland, in the central region," Thuan said, adding that they are evidence of the area's rich cultural heritage.
In addition to buying pieces, to enrich his collection, he barters his objects with friends and acquaintances.
Thuan's collection of Hue blue porcelain includes items having belonged to royalty and commoners from the period of Lord Nguyen Phuc Chu (1675-1725), the Tay Son dynasty (1778-1802) and the Nguyen dynasty (1802-1945). The majority of the collection is composed of cups, plates, bowls, vases, and tea sets, all distinctly designed.
Some are decorated with ochna integerrima (a five-petaled flower), others with birds, such a crane, or even verses written in Nom (Vietnamese ideographic) characters.
Many international and domestic researchers have visited Thuan's home to study his treasures, which he displays on the second floor.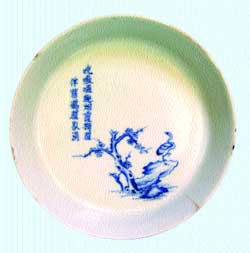 Pricey round: The ancient tea tray was the most expensive piece in the collection, according to some antique experts.
Tran Duc Anh Son, an expert on the Nguyen dynasty and Hue culture, in turn for being allowed to exam the collection, has provided Thuan with many useful documents about blue ceramics, and commented: "Thuan's porcelain collection is the best in the region and earns the admiration of the most specialised collectors in Hue and Ho Chi Minh City."
An ancient tea tray adorned with verse, written in the traditional form of six and eight syllables, was the most expensive and now most valuable piece in the collection, according to some antique experts.
"A tea set called Chau phu tu gia huan, which I acquired long ago, is the item that I treasure the most," Thuan said.
"The set includes a tray, a pot, and six cups, all carefully displayed in a cupboard in my house. It always recalls for me a book named Gia huan ca (moral lessons for family members) which guided people on how to properly behave in life," he added.
For Thuan, collecting antiques is not just for his own benefit. He often donates antiquities to State-owned museums across the country.
His donations include works from the Nguyen dynasty given to the Hue Royal Antiques Museum; as well as a Champa terracotta pot, dating from the 9th-12th century, four ancient bronze seals belonging to officials and traders, and nearly six kilograms of old coins, given to the Phu Yen Museum.
"I want them to be in the hands of the researchers who specialized in these kinds of antiques so that they receive better preservation. Also, more and more people will have a chance to contemplate these antiquities," he said.
Moreover, in recognition of his contribution to the Hung Vuong Museum in northern Phu Tho Province, the People's Committee of the province granted him a certificate of merit in 2010.
For nearly 13 years, the number of Hue blue porcelain and Quang Duc pottery Thuan has collected and donated continued to rise - and there will be many more pieces to come. He does not wish to miss a single day of his self appointed work.
"Thuan's collections have brought ancient cultures back to life, and contributed to the preservation of the cultural heritage of the country," wrote Professor Thomas Ulbrich.
Source: VNS