VietNamNet Bridge – The Performing Arts Agency has asked the organizers of the Vietnam's Next Top Model 2013 to explain about the participation of transgender contestants, which is a violation to the contest's rules.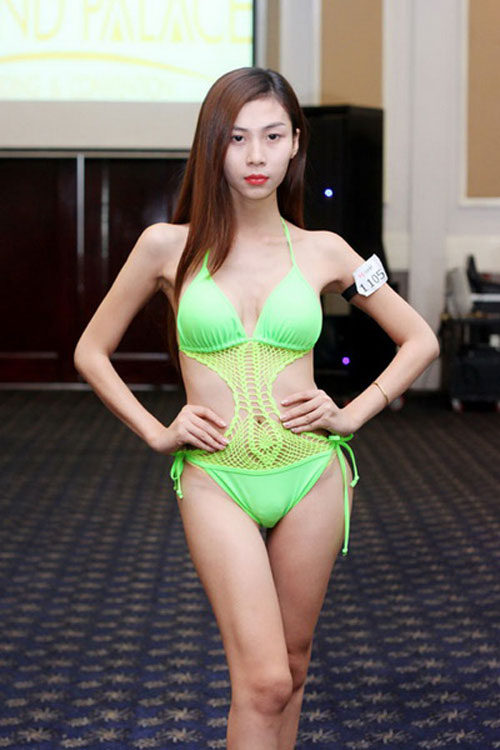 Lan Phuong – a transgender contestant in the interview round at Vietnam's Next Top Model this year - Photo: The organizing board
Thousands of contestants took part in the preliminary round of the Vietnam's Next Top Model in Hanoi and Ho Chi Minh City, including many candidates who conducted entire or partly transgender surgery, transvestites, bisexuals or the third gender.
In the preliminary competition in HCM City, transgender contestant Dong Phuong Tran entered the bikini round while Lan Phuong entered the interview round. Many other contestants who are transsexuals and transvestites were named by the press, such as Duong My My, Ngoc Anh and Truong Giang.
Although all these candidates have been excluded, the Performing Arts Agency will still review and handle this case. The organizers of the Vietnam's Next Top Model are alleged to have violated the rules of their own. According to the rules of the program, the contestants must not be transgenders.
But according to the State, are the transgenders not allowed to participate in modeling contest or not?
Mr. Nguyen Thanh Nhan, from the Performing Arts Agency, said the Decree 79 on performing arts, fashion shows, beauty contests and modeling, in beauty contests--the contestants must have natural beauty, meaning no cosmetic surgery but the modeling contests do not have this provision. So the above rules on transgenders are stipulated by the Vietnam's Next Top Model organizing board.
Vietnam's Next Top Model is the Vietnamese version of America's Next Top Model. But America's Next Top Model accepts transgenders, bisexuals and the third genders. The contestants and the judges do not hesitate to publish their real status.
In 2009, Isis King - a transgender model - overcame a lot of contestants to win the America's Next Top Model. Currently, she is a famous model and designer in the U.S.
America's Next Top Model this year has changed its format and accepts both male and female contestants. In particular, many bisexual contestants, the third genders and transgenders take part in the contest.
Virgg, a 19-year-old contestant, admitted that she is a transsexual. Cory, 22-year-old male contestant, is not ashamed to recognize himself as a gay.
In Vietnamese showbiz, there are several transgenders such as Cindy Thai Tai, Huong Giang Idol and Lam Chi Khanh.
T. Van