VietNamNet Bridge – Hat Then (Then singing), a distinctive musical genre and a special combination of the spiritual and cultural life of Tay, Nung and Thai ethnic groups in Vietnam, has drawn the attention of many collectors and researchers over the past decade.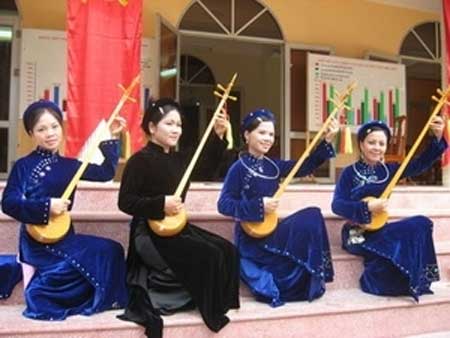 A performance of Then singing (Source: tuyenquang.gov.vn)
Then singing is practised in many northern provinces, including Cao Bang, Bac Kan, Thai Nguyen, Lang Son, Ha Giang, Quang Ninh, Son La, Lai Chau, Lao Cai, Bac Giang and Yen Bai, and the Central Highlands province of Dak Lak.
It is believed to be handed down from the God belonging to a mysterious world to which only "Ong Then" and "Ba Then" can contact.
During rituals, "Ong Then" and "Ba Then" sing and play a musical instrument at the same time while presenting offerings to the god, representing the ethnic community to contact with the God and ask him for things such as good health, bumper crops, happiness and a long life.
As a unique combination of music and song, Then singing is traditionally accompanied by a handmade gourd lute, called Dan Tinh or Tinh Tau.
The form of art plays an important role in the spiritual life of Tay, Nung and Thai ethnic people as it combines a wide range of arts such as literature, music, painting and performance.
The art form has had an impact on local and national identities through its influence on literature, language, poetry, music, dance, rituals and spiritual practices.
Closely linked with the spiritual life of ethnic minority groups who often use ceremonial offerings to treat illnesses, Then singing is seen as a therapy, together with medicine, helping to ease the worries of patients and their families.
According to Phung Quang Muoi from the Lao Cai provincial Department of Culture, Sports and Tourism, before 1991, Then singing was banned as a kind of superstition, pushing the art into the shadows.
Since 1993, with its real values recognised, Then singing has been gradually restored. However, the number of people who can master this style of singing remains limited.
Presently, Tay people often organise Then singing ceremonies with the aim to drive away bad luck, pray for good crops and call back the soul of the death, he added.
The music encourages ethnic people who gather around the fire every night after a hard working day in the fields to sing together traditional Then songs.
It is really a beautiful image to see Tay girls and boys in traditional clothes signing with high and clear voices amid the imposing scene of mountains and forests.
Writer Hoang Trieu An, who has spent much time researching Then singing, said the art form creates a great vitality in the spiritual life of Tay, Nung and Thai people, noting the style of singing is a pride of the ethnic people.
At a time when Then singing artists are getting older and not many young people show their love for the tradition, it is necessary to diversify methods to preserve the singing.
Apart from collection and restoration of traditional Then songs, relevant agencies should pay special attention to Then singing artists, who can impart both Then singing skills and their passion for the art to younger generations.
Many have suggested the establishment of Then singing clubs and including the art form to the school curriculum. It should be further promoted on mass media, helping young people understand about the nation's art heritage and raise their responsibility for preserving and developing it.
In December 2012, the Ministry of Culture, Sports and Tourism added Then singing to the official national intangible cultural heritage list.
The National Academy of Music said that traditional Then singing will be submitted to UNESCO in a bid for it to be recognised as a piece of intangible cultural world heritage.
Source: Vietnam Plus