VietNamNet Bridge – A circular of the Ministry of Culture - Sports and Tourism on the preservation, renovation, restoration of monuments has taken effect from July 1.
Many relics changed up to 70 percent after renovations: says expert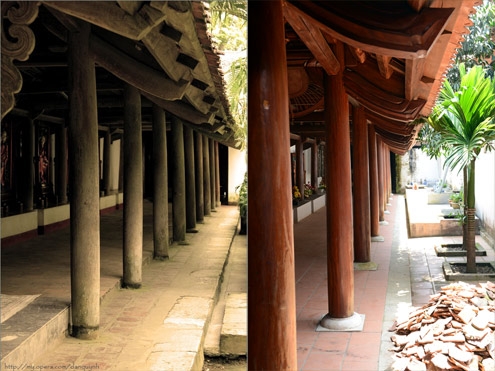 Hanoi's Tram Gian Temple before and after renovations.
The issuance of this circular is commented as "Shutting the stable door after the horse has bolted" because many relics in the country were ruined after they had been restored by those who lacked expertise.
However, better late than never, with the regulations that the participants in restoring monuments must have practicing certificates, the circular is expected to restrict unnecessary mistakes.
The Department of Cultural Heritage will grant the certification for those who are architects and civil engineers and have the certificate of a course on relic preservation. According to the agency, this will prevent those who do architecture but do not know about relic conservation involved in preservation and restoration of monuments.
Responding to question whether a short-term course on relic preservation is enough, a leader of the Cultural Heritage Administration admitted: "To raise the knowledge on relic restoration, we need a long-term process. Anyway, we cannot take too harsh measures because the related people will take response."
To "wait in front" of this circular, many people registered to take part in classes on relic restoration. One of the reputable addresses is the Institute for Conservation of Monuments, which has organized seven courses from 2010. A four-week training class with over 50 trainees is now held in the city of Hoi An.
Architect Le Thanh Vinh, Director of the Institute for Conservation of Monuments, admitted: "It is difficult to talk about the quality of the trainees. Students of the first course were the best because they are the best in restoring monuments. But the quality of students of the subsequent courses reduced slowly. It actually reflects the factor of relic restoration in our country."
However, Vinh praised the circular as a big move. "That is pretty good. It is better than nothing," he said. But some students said after the course that thanks to the training, they knew that they had did wrong things in restoration before.
The need for the relic restoration certificate urges many units to offer training courses, such as the Hanoi and HCM City University of Culture. Anyone who attends such a course is granted with the certificate. Thus, the certificate is not enough to ensure that relics will be treated better.
T.Van