VietNamNet Bridge – Bat Trang Village has long been known as a place to buy quality pottery, but rarely have these works been exhibited for the public. A small museum offers a rare glimpse into this cultural tradition.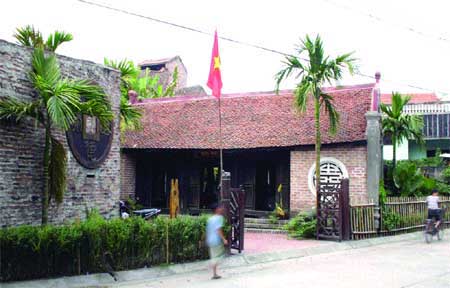 Making connections: A lane near the entrance leads to the central market.
Arriving in Bat Trang pottery and porcelain village on the outskirts of Ha Noi, we encounter pottery collector Tran Ngoc Lam, who tells us about his private pottery museum called Van Van.
Opened in 2002, the museum is in a small house near the village, the entrance to which is a lane leading to Bat Trang central market. The house exterior is unremarkable and partly covered by liana creeper, so it can be difficult to find.
The interior is divided into four display sections. Three contain pottery from the 15th to 19th century while the other has 300 contemporary creations from Bat Trang Village.
"The ancient pottery zone contains 600 items on display. It's the first gallery ever in Viet Nam to showcase traditional pottery," says Lam.
Born in Ngoc Ha flower village, Lam was noted for his talent with flowers and says he would have preferred to be a gardener, even after graduating from Ha Noi Law University.
But things changed when Lam visited Bat Trang in 1998.
"I realised the village had a long history of potterymaking but had not kept a record of it. A craft village should not only make the products, it should also have a cultural value, especially when it comes to tourism development," Lam says.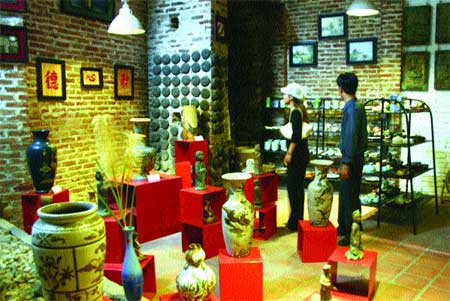 Antique haven: The first private museum in Bat Trang, with 600 items on display.
He set out on a new path as a collector, reading books, researching and seeking help from pottery experts, only to find that a lot of Bat Trang products had been taken to other countries.
He began collecting and after seven years of working in the field, he has an impressive accumulation of flower pots, lime-pots, ancient tobacco pipes and animal statues.
The development of cultural and social affairs through the centuries are clearly shown in each product. Ancient antiques from the 15th century are magnificent, including Van Van's oldest items: decorated bricks from the Tran dynasty (1225-1400).
There are also two 19th century dragon vases, which Lam was asked to sell to the National Museum of Vietnamese History.
"I turned down the request because I wanted the public to be able to see their beautiful enamel for free," Lam says.
Pham Quoc Quan, director of the National Museum of Vietnamese History, says the nation is grateful to Lam.
"It is such an honour that Viet Nam has for its own a treasury like that," Quan says.
"Van Van is a worthy first private museum of Bat Trang and Ha Noi."
Dao Phan Long, editor-in-chief of Co Vat Tinh Hoa (Antique Quintessence) magazine, also has praise for Lam and says his museum needs to be expanded.
"I really appreciate this man's effort to collect and introduce the products of Bat Trang to the national and foreign community, Long says. "There are not many people in Viet Nam who are able to do that."
Meanwhile, Lam also wants the museum to aim at people who collect antiques.
"If any visitor has a real passion for objects here, we will consider exchanging them," he says.
"The museum has been open constantly and willingly for free entry. Sightseers can sit on the bamboo benches to view the collection and discuss pottery and porcelain to their hearts' content."
Source: VNS