VietNamNet Bridge – Although the ship was submerged in the sea of Binh Chau in the central province of Quang Ngai for nearly 700 years, it remains intact, making experts surprised.
In pictures: 500-year-old artifacts from Binh Chau wreck
Waves menace 500-year-old antiques on Binh Chau wreck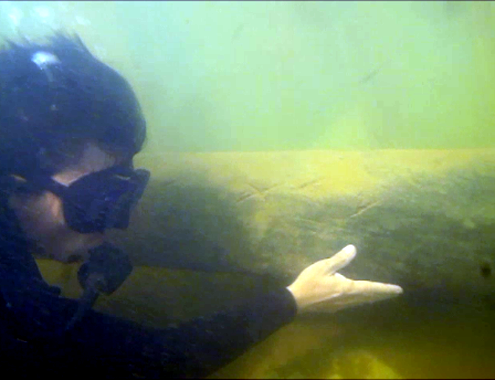 After nearly one month of excavation, experts collected thousands of artifacts from the wreck. The wood boat has also been exposed before the eyes of experts, remaining intact even though it was under the sea for nearly 700 years.
The ship is almost 25m long, 5m wide. It was sunk vertically. Antiquities were arranged tidily in the 12 compartments. In addition to ceramic items, excavators found a number of things of the crew, such as bronze coins and scale weights.
"The ship sank beneath the seabed for nearly 700 years but it is still intact. There are many mysteries hidden inside the wreck that can surprise archaeologists," said Dr. Doan Ngoc Khoi, Deputy Director of the Quang Ngai Museum. Khoi added that this is one of the oldest wrecks in Vietnam.
Quang Ngai authorities decided to change the plan from salvaging antiques to preserving the ancient ship on-the-spot in order to promote the value of cultural heritage under water in the sea of Binh Chau.
Doan Anh Duong Co., Ltd. has completed excavation of the antiques inside the vessel. It is seeking artifacts within 600 m2 around the shipwreck. It is expected that the archaeological excavations in the waters of Binh Chau will end on July 15.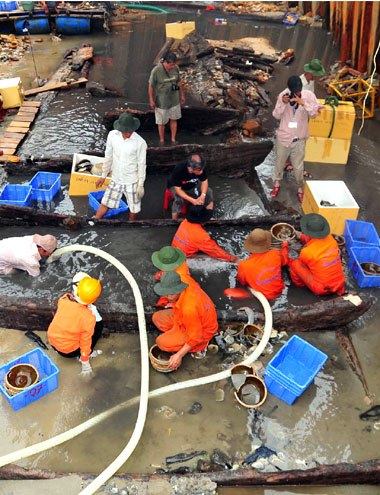 Mr. Doan Sung, adviser of Doan Anh Duong Co., Ltd., said the artifacts will be displayed after the excavation finishes.
Dr. Nguyen Viet, Director of the Southeast Asian Prehistory Research Center said this is the first time in Asia, an ancient ship is discovered intact with the rudder.
"This ship is a lively example for the researchers of the shipbuilding history and world trade. It was sunken in these waters so this area must be a point of busy trade, with an important role of commercial exchange in Asia in the past," said Dr. Viet.
Phong Van