VietNamNet Bridge – Prof. Dr. Tran Lam Bien said that after renovation, many relics were changed up to 70 percent. The restoration of relics like repairing houses is unacceptable.
Destroying legacy for restoration!
Relic restoration: The opportunity to make money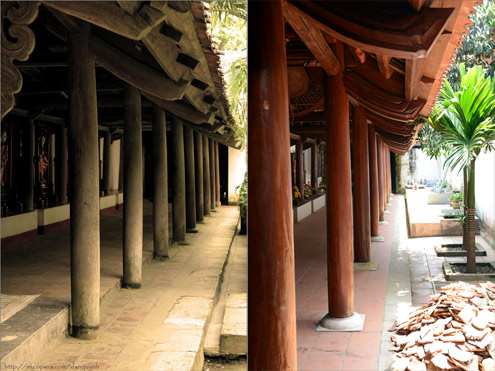 Tram Gian Temple before and after renovations.
At a recent conference on the management of relics, officials of the Cultural Heritage Agency and experts spoke about problems associated with management of relics in Vietnam.
Dr. Tran Lam Bien said that because of poor knowledge, the people who are in charge of relic restoration have destroyed relics through restoration activities. Many relics were changed up to 70 percent after they were "restored," Lam said, citing Tram Gian Pagoda and Ngu Nhue Temple as typical examples. Without timely intervention by local media and relevant authorities, the unprofessional restoration of the Tram Gian (100 Compartments) pagoda in Chuong My District, Hanoi, last year would have damaged the 1000-year-old structure.
Vice Chairman of the National Heritage Council – Mr. Dang Van Bai said that the state should clearly define the heritage value, risks and work out action plans to preserve the relics. Bai criticized the current policy that allows people to restore relics without the supervision of specialized agencies. He suggested a new mechanism for restoring relics, with the combination and supervision of both people and state.
Prof. Nguyen Duc Thinh said that people must be involved in protecting relics so relics will not degraded and live in the hearts of people forever. He cited the Giong festival as an example, saying that the festival has been well preserved by Phu Dong villagers for many centuries so the festival has not been "urbanized." The state agency's task is doing communication tasks to raise people's awareness and knowledge about belief and religion.
At the meeting, Deputy Minister of Culture, Sports and Tourism – Mrs. Dang Thi Bich Lien asked provinces to report on the situation of relics before July. Based on the reports, the Ministry will have renovation and restoration plans.
Lien said the Ministry would coordinate with the Ministry of Education and Training to introduce relics to students and to take students to visit and learn about historical relics. The cultural sector will also hold heritage days to mobilize society to protect relics.
Vietnam has around 40,000 relics and heritage sites, of which seven tangible heritages were honoured by the United Nations Educational, Scientific and Cultural Organisation (UNESCO), and 34 relics are recognised as national special relics.
T. Van