VietNamNet Bridge - Waves of more than 5m high hit the wreck that contains 500-year-old antiques in the waters of Binh Chau in the central province of Quang Ngai this morning, June 11. The excavation was suspended for the safety of dozens of professionals and workers.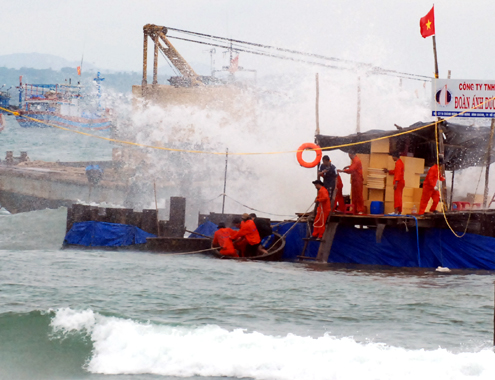 Big waves of over 5m high covered the area of the ancient wreck in Binh Chau this morning. Photo: VNE
Owing to the influence of an abnormal northeast monsoon, big waves flushed down the ancient ship, so the excavations had to be postponed.
Mr. Doan Sung, an advisor of Anh Duong Co., said the company had to urgently move its barges out of the site and took dozens of experts and workers to shore.
"At least three days later the sea will become quiet and the new excavations can resume. Due to the tidal characteristics in this area, we have changed the time for excavation in the afternoon or at night," said Sung.
According to Sung, last evening, big waves overturned a basket boat, destroying cell phones and cameras of several experts and employees of the company. Thankfully, everyone could swim so they were safe.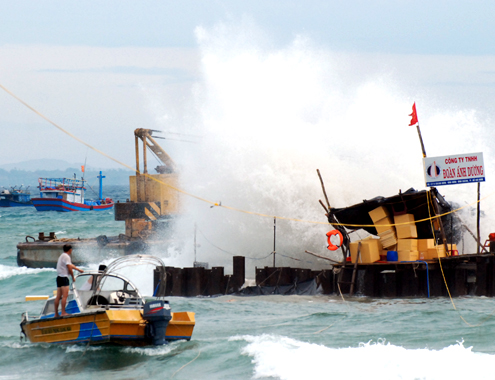 Mr. Nguyen Son Ka, a former official of the Institute of Archaeology added that if the weather is favorable, the site will be drained to dispose the wreck for excavation. "Yesterday afternoon, the bow and stern of the ship showed off on the sandy ground. I made a sketch with 11 compartments to serve the excavation this morning but big waves flooded the site again so the excavation was postponed," he said.
Experts estimate that 40,000 artifacts are inside the wreck in the waters of Binh Chau, mainly household ceramic wares such as bowls, pots, cups, plates, incense burners, boxes ... This volume of antiques can bring about VND54 billion ($2.5 million).
However, experts are worrying that big waves may break antiques in the 500-year-old ship.
T. Van