VietNamNet Bridge – Groups of young people are reinvigorating traditional arts, introducing folk songs and paintings to a new generation.
Art designer Tran Thanh Tung says that many young Vietnamese people have fallen in love with South Korean movies, European music and different global cultures.
"But if you ask them what Vietnamese culture is, many of them are unsure.
"My colleagues and I are also stumped by these questions, especially during conversations with foreign friends, which comes as a surprise to them."
In modern society, sometimes traditional values can be forgotten, and many youngsters are turning their backs on their heritage. However, there is hope because some groups of young people have found creative ways to protect and promote the values of cultural heritage.
Tung and his friends at Circle Group (five companies focused on the investment and development of applied arts) decided to form the Hoi Quan Di San (Heritage Inns) group based in Ha Noi's Ba Dinh District.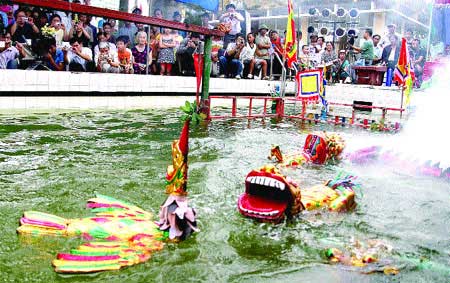 Making a splash: Water puppetry is an aspect of cultural heritage that many young artists are working to preserve.
Heritage Inns has organised recent noteworthy cultural events free of charge featuring traditional instruments and folk songs.
Many people wonder what Heritage Inns is because organising traditional cultural and art programmes is very difficult, especially for a non-profit organisation that is trying to attract folk singers, musicians, artisans and researchers from different fields to entertain audiences free of charge. In the past, only State agencies held these events, but in 2012 alone, Heritage Inns carried out 11 programmes, driven by their passion for the arts, Tung says.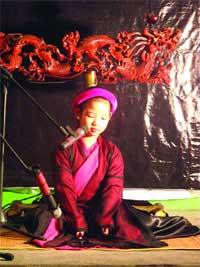 Traditional tunes: A young girl performs at a Heritage Inns event. Photos courtesy of Heritage Inns
The group's members all share a common passion to learn about and discover Vietnamese culture so they can share it with the community.
Pham Quynh Phuong, a member of Heritage Inns, says the attraction was almost magnetic.
"I started to organise traditional weddings recently. I took field trips to study different customs around the country. During my interviews with people of different ages, I was excited and fascinated by the many different traditions and ways of life and thinking that vary through the generations," she explains.
The event Colour of Time - Old Weddings held recently attracted many people of all ages because of its practical interest and nostalgia.
Tran Anh Tuan remembers when they held an exhibition of Dong Ho paintings and folk games, during which they had to shuttle between Ha Noi and Bac Ninh Province many times.
"We learnt a lot through the whole experience. Members must be involved in art and willing to explore and dedicate themselves to the work."
Pointing at the Dong Ho folk paintings, Tung says: "There are pieces here that everyone can relate to, but not all of them know their true meaning. For example, in this painting a boy holds a rooster and a girl holds a duck. In the old days, people named them Glory and Wealth. The rooster symbolises a gentleman, while the duck symbolises a virtuous and gentle woman. That's why many people used to hang folk paintings in their homes.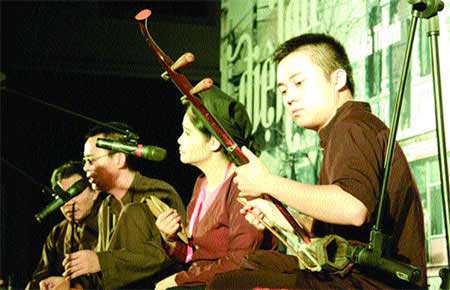 Street sounds: Hat xam (blind buskers' songs) has made a comeback, attracting many contemporary fans.
"Dong Ho paintings are just one example of Vietnamese culture that people are unaware of today, but if they were I think that they would become popular again."
Tung says they are happy to welcome more young people to their events.
"Many Vietnamese people living and studying abroad have found out about us via our website www.hoiquandisan.com and Facebook, and provide us with materials about national culture that we were unaware of before."
Heritage Inns plans to hold 23 events this year, including: Bat Trang Pottery Village: Traditional and Modern; Reading Culture and the Youth; Water Puppetry; Folk Cuisine, and a programme about traditional musical instruments.
"We are pleased because many heritage preservation organisations are taking note of what we are doing, and we will try to expand this model and coordinate with relevant offices to share them with the community," he says.
Heritage Inns is not the only young people who are trying to restore cultural heritage.
Traditional Music
While the public is anxious about the influence of modern music, many future owners of the capital are eager to learn traditional music.
Hat xam (blind buskers' songs) is a special kind of music, and each song represents street culture and the people. Introducing this genre to the public was initiated by the Viet Nam Music Art Development Centre in early 2000.
"We did not expect so many people to love old tunes of xam songs so much. More surprisingly, a lot of young people came to meet us with a desire to learn how to sing it," says musician Thao Giang, the centre's deputy director.
In an attempt to revitalise this art, regular performances are held in front of Dong Xuan Market at the weekends, and a free class is available at Hao Nam Communal House on Nguyen Luong Bang Street.
When news of the class spread, the centre was inundated with applications from youngsters wishing to learn how to sing buskers' songs in former times and play traditional instruments.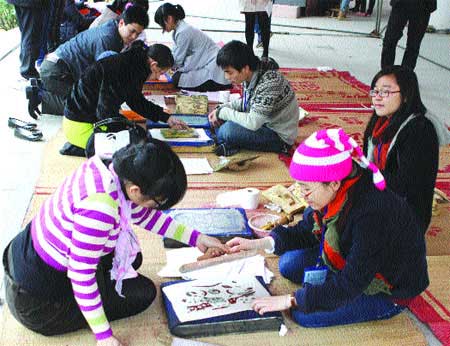 Art lessons: Young people learn how to print in the traditional Dong Ho style.
Romantic songs about Ha Noi such as Moonlight over the Tea Garden and Thirty-six Streets of Ha Noi captivated Mai Duc Thien, 21, from Long Bien District.
"When I was a little boy, my grandmother told me about the old Ha Noi, with rumbling trams and the voices of blind street musicians. Suddenly that memory resurfaced and something inside me awoke."
Seeing his love for folk music, the artists were keen to teach him, Thien describes.
In Ha Noi, the youngest hat xam student is Hoang Anh Thai Phuong.
When she was just three years old, she was able to sing xam song and other forms of folk music. Now at the age of six, Phuong often perfoms with her father, monochord artist Hoang Anh Tu, behind Ly Thai To statue.
"It used to take me a long time to master a song, but now it only takes about 30 minutes," Phuong says.
The younger generation seems to be sowing the seeds to preserve unique traditional culture and arts, and the movement is growing in popularity.
Source: VNS