VietNamNet Bridge - More than 100 Vietnamese singers have signed copyright protection contracts on YouTube.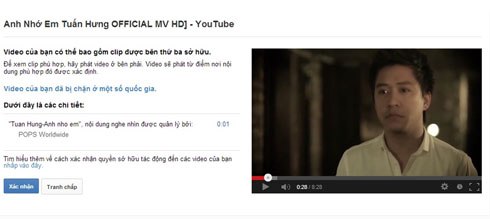 Copyright notice in an MV of singer Tuan Hung.
In August 2011, POPS Worldwide signed a contract with YouTube on copyright protection of Vietnamese music on this video sharing channel. Accordingly, Vietnamese music content in the form of video clips posted on YouTube by the users is registered and protected.
This move will have direct influence on the two main subjects: content creators and users on YouTube. Many singers said that if they do not officially post their music products to YouTube, they sooner or later will be uploaded to YouTube by the audience. This is the way for singers to control the use of their products on YouTube.
Dam Vinh Hung, Tuan Hung, Le Hieu, Nhat Kim Anh and Ly Hai are among the first 100 Vietnamese singers who signed the contract to control the ability of the users to use their music products on YouTube.
When a user uploads the whole or part of a music video of a singer on YouTube or uses part or the whole soundtrack of the singer in the video clip created by the user himself, YouTube will notify copyright belongs to whom.
Registering copyright with YouTube, singers can select the features that allow users to view and share content through posting their video clips to the user's channel or use the music as background music for the user's own clip. In this case, the user will receive a copyright notice. Another way is to allow users to watch the clips on the official pages of singers, not upload the video clips on their pages. In case the users try to use the music products without being licensed, the singer has the right to remove the infringing content from YouTube system.
In addition, in case the users libel the image of a singer or use the singer's music products for inappropriate ads, the singer may request POPS to ask the user to remove this content. If the user does not remove it, POPS can remove the inappropriate content from YouTube.
Vietnamese users are still familiar with the thought that YouTube is free and free to upload. After singers signed copyright protection contracts with YouTube, many people worry that they will have to pay fees. However, POPS said the users continue to use the copyrighted content on YouTube without any fees. YouTube will pay copyright fees to the owners by sharing advertising revenue. The difference is the users have to comply with the rights of singers otherwise after three times of violations, their accounts will be deactivated on YouTube.
P. Linh