VietNamNet Bridge – Vietnamese people read 0.8 books a year on average, said an official of the Ministry of Culture - Sports - Tourism at a press conference last week. The figure stunned the press.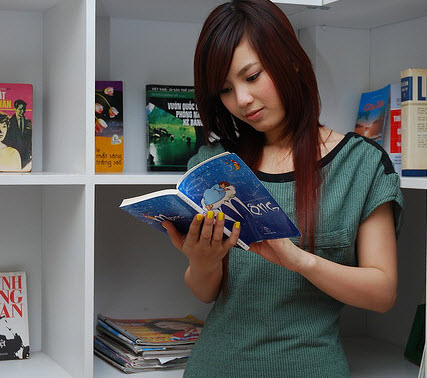 Preparing for the Festival of Books and Reading Culture 2013, titled "The book that changes life," Deputy Minister Huynh Vinh Ai had a passionate speech about the importance of books at the press conference on April 12.
Another official from the Ministry, Mrs. Nguyen Thi Thanh Mai, released some sadly information about reading in Vietnam. According to Mai, compared to other countries in Southeast Asia, the proportion of people reading books in Vietnam is quite low. On average, Vietnamese read 0.8 book/year (less than one book). The rate at public libraries is 0.38 book/person.
Mr. Nguyen Quang Thach, who initiated the project to bring books to the countryside, said that he conducted a survey in 2011. All 253 respondents who were farmers said they did not read book. Rural children read 0.2-0.8 book/year compared to 5 books/year for urban kids.
Mr. Tran Trong Thanh, Chairman of Alezza e-book Company, said that in Malaysia 10 years ago, the people read two books per year on average. In 2012, the number is 10-20 books and it is increasing. Thanh believed that when books are more digitalized, it will take five year for Vietnam to reach that rate.
The third Book and Reading Culture Festival 2013 will be held at Van Mieu – Quoc Tu Giam or the Temple of Literature in Hanoi on April 20 to mark the World Book and Copyright Day (April 23). A large number of books covering a wide variety of fields from publishing houses across the country will be introduced to readers during the festival. Additionally, visitors will have the opportunity to participate in educational games and buy books at prices discounted from 30% to 50%. The annual event, held by the Ministry of Culture, Sports and Tourism, aims to honor the reading culture and create an opportunity for authors to introduce their works to the readers.
Ho Huong Giang