VietNamNet Bridge – On March 13, the 3rd Miss Ethnic Vietnam pageant was licensed by the Ministry of Culture, Sports and Tourism. The competition will take place in the ancient city Hoi An, Quang Nam Province this June.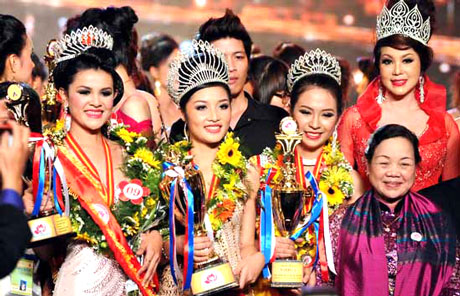 Trieu Thi Ha (center) was crowned Miss Ethnic Vietnam 2011. 
The pageant was held for the first time in Da Lat City, Lam Dong Province in 2007 and the second time in Ho Chi Minh City in 2013.
The 3rd Miss Ethnic Vietnam is designed as part of the fifth "Quang Nam Heritage Festival" in 2013, in response to the 10th anniversary of the Convention on protection of intangible cultural heritage of UNESCO and to further develop the spirit of national unity.
The final round of the competition will take place from June 5 - 21 in the city of Hoi An. The final night is scheduled at 19h30 on June 20 with the following competitions: traditional ethnic costumes; swimsuit and evening gown to choose the top 15 contestants, the 5 contestants for the interview round, then select the winner. The final night will be broadcast live on the Vietnam Television (VTV).
The winner of the Miss Ethnic Vietnam pageant will receive the award worth VND100 million ($5,000), while the 1st runner-up will receive VND50 million and the second runner-up VND30 million.
Other titles – Best in traditional costume, Charming Face, Most Talent, Miss Quang Nam etc. – will be present, with bonus from VND10 to VND20 million.
The preliminary round will take place in early May 2013. The semi-finals will be held from May 9-19 in Hanoi and HCM City. The top 40 candidates will be selected to the final round.
T. Van