VietNamNet Bridge – "Chiec Khan Pieu" (Pieu Scarf,) a song compiled by Doan Nho over 50 years ago, re-mixed by Nguyen Le and performed by Tung Duong, won the 2012 Song of the Year award with the huge bonus of $50,000 for the singer and $15,000 for the composer.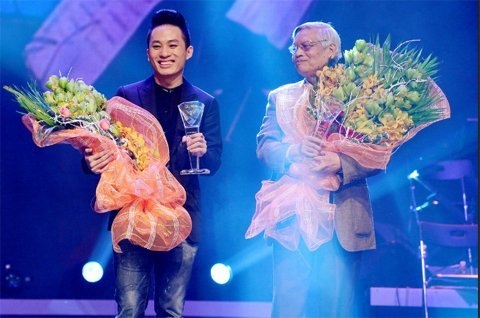 Singer Tung Duong (left) and songwriter Doan Nho receive the awards.
This is the award of the "Bai Hat Yeu Thich" (Favorite Song) program, held by the national Vietnam Television (VTV).
"Chiec Khan Pieu" is a very popular song that was performed by dozens of famous singers. But the young singer--Tung Duong, blew a whole new musical breeze on this song.
The creative remix by Nguyen Le and the strong and sweet voice of Tung Duong created a complete new style for "Chiec Khan Pieu". The remix has won a lot of compliments from the audience and experts.
This is the first time a singer received such a grand bonus for a song. Tung Duong will have VND300 million ($15,000) in cash and VND700 million ($35,000) in gifts. The singer said he would donate VND150 million ($7,500) to the poor in the mountainous region.
However, there is a scandal related to the award when singer Uyen Linh and songwriter Luu Thien Huong sent a petition to the organizers, complaining the organizers' of unfair treatment resulting in the winning of "Chiec Khan Pieu."
Uyen Linh and Thien Huong's "Nguoi Hat Tinh Ca" (Love song singer) was the major rival of Tung Duong and Doan Nho for the "Song of the Year" award.
According to the petition, the organizers did not recognize a large number of the voting texts for "Nguoi Hat Tinh Ca," resulting in the failure of this song in the competition with "Chiec Khan Pieu."
They also complained that the organizers did not clearly explain about this to them.
Son Ha