VietNamNet Bridge - After actress Ly Nha Ky completed the mission of the 2012 Tourism Ambassador, the Ministry of Culture, Sports and Tourism is seeking nominees for the Tourism Ambassador 2013 position.
On January 4, the Ministry reviewed international cooperation activities and the results of cultural, sports and tourism promotion in 2012. Director of the International Cooperation Department Nguyen Van Tinh said that last year, organizing overseas cultural events played an important role in contributing to enhancing international cooperation, political and diplomatic tasks of the country.
For the first time, Vietnamese culture was introduced in remote areas such as North America, South America, South Africa and Central Asia, with the typical activities including the Vietnamese Cultural Week in Laos, Vietnam Day at the EXPO 2012 in Yeosu (South Korea), Vietnamese cultural tourism festival in Russia, Vietnamese Culture Day in Uzbekistan and Kazakhstan, etc. Also in 2012 Vietnam built cultural centers abroad and trained a contingent of cultural attaches.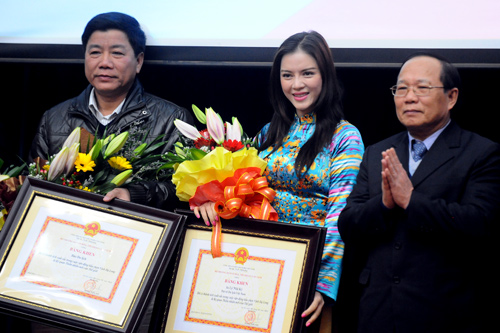 The first Tourism Ambassador Ly Nha Ky (middle) has completed the tasks and the Ministry of Culture, Sports and Tourism is seeking a new one for 2013.
Promoting the image of Vietnam was also carried out through the international activities in Vietnam such as the Ukrainian culture day, Lao and Cambodian cultural week in Vietnam, international puppet, circus and film festivals in Hanoi. In addition, Vietnam effective used foreign aid in translation of books, relic restoration, research and development of cultural policies.
According to Mr. Tinh, Vietnamese tourism was advertised extensively on major international TV channels. Thanks to Vietnam's efforts, Ha Long Bay has become a new natural wonder of the world and Hanoi is selected as the host of the biggest sporting event of the continent - Asiad 2019.
In 2012, Vietnam had its first Tourism Ambassadors - actress Ly Nha Ky. Tinh said that the Tourism Ambassador greatly contributed to lobbying the election of Ha Long Bay and expanding the image of Vietnam at home and abroad.
"The Tourism Ambassadors has successfully completed her task and opened a path, an effective way to Vietnam's tourism," he stressed.
The official announced that from January 4 to February 28, the Ministry will receive recommendations for the 2013 Ambassador of Tourism position.
Individuals are encouraged to apply to the position via the Department for International Cooperation of the Ministry of Culture, Sports and Tourism.
Earlier, the Ministry received the application of Miss Tourism Huynh Thi Ngoc Han. Ly Nha Ky said that she is willing to serve as the Ambassador of Tourism in 2013.
Vietnam Tourism Ambassador is the honorary title granted by the Ministry of Culture, Sports and Tourism for eligible individuals who are suitable for promoting the image of Vietnam's tourism.
Na Son